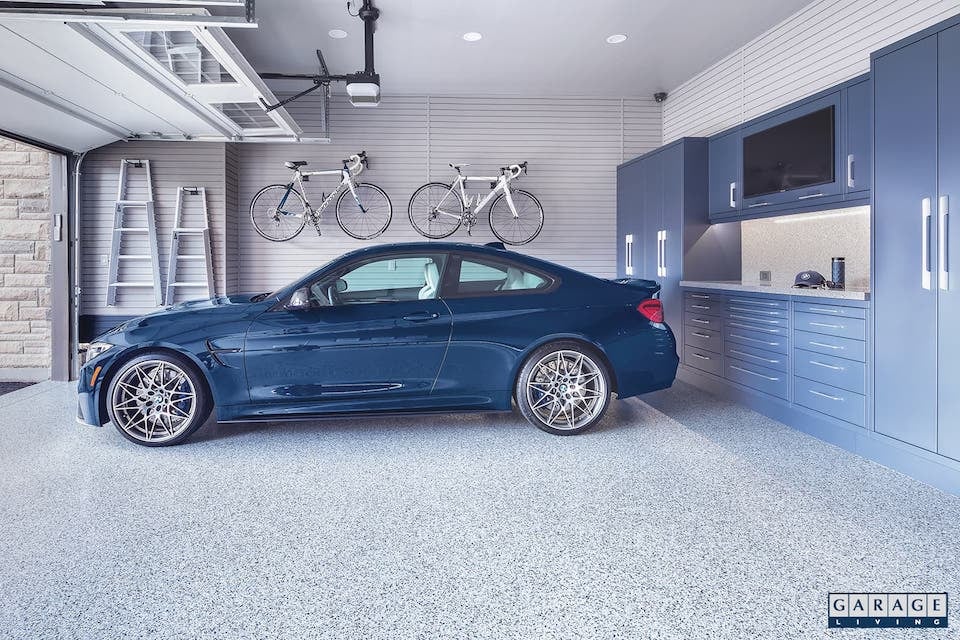 Just 11% of homeowners say they're content with their garage and wouldn't want to improve it in some way.
That's according to a Wall Street Journal survey. And a Peachtree Consulting survey found that over 50% of homeowners plan on reorganizing their garage within the next two years.
These numbers aren't surprising, considering the garage is typically the most disorganized room in a house. It's also usually the most overlooked room when considering home improvement upgrades.
So what essential ideas and goals should be on a garage wish list for anyone looking to transform this space?
17 must-have goals for your garage wish list
If you're thinking about upgrading your garage, your garage wish list may only have a few items on it. But if you're planning your dream garage, why not dream big?
These are some of the most common ways homeowners are looking to make improvements to their garages:
gaining more storage space
having less floor clutter
making the room look nicer
creating more parking space
adding modern features and conveniences
All of the above are huge benefits of having a garage makeover done. There are other areas that merit attention when planning a garage remodel, however.
We've put together a comprehensive list of 17 ways to make any garage stand out. Hopefully, you'll get a few more ideas to make your garage wish list more complete.
With a little extra thought and the expertise of a reliable garage makeover pro, you can far exceed your original vision of how your garage looks and functions once the project is completed.
1. A garage that looks tidy and clean
The biggest pet peeve of anyone who is unhappy with their garage is that it always looks like a mess.
Having garage floor clutter might feel like one of those things in life that you just have to accept. It's actually not difficult at all to eliminate it. All you need to do is use better storage systems (like slatwall panels) that keep things organized with less effort.
Storage systems can be set up to hang tools and accommodate all of those infrequently used things (such as bulky seasonal items) that are permanently clogging up your garage floor.
Even using more hidden storage space with cabinetry gets rid of the visual clutter that a bunch of items stored on open shelving creates in a garage.
Modern garage storage system additions and dècor upgrades have a huge impact on the appearance of garages. For example, there's no comparison between how much cleaner a polyaspartic-coated floor looks compared to the typical garage floor, which is cracked, grimy, and dull grey.
And naturally, a clutter-free garage is that much easier to clean.
2. More garage storage space
Any garage wish list will have more storage space as a top priority.
Some homeowners resort to making their garage larger, buying a shed, or renting a self-storage unit to fulfill their storage needs. Choosing any of those options is unnecessary, however.
The main key to maximizing your garage's storage space is actually rather simple – just choose the right storage systems and utilize the walls and ceiling areas more efficiently.
Your garage's underused vertical space is your best friend in the battle against floor clutter. Slatwall panels are a great storage solution and can be personalized to your needs with hanging accessories that can be arranged in an endless number of configurations.
Wall-mounted and overhead storage racks for bulky things like tires, patio furniture, storage bins with holiday decorations, and other seasonal items will help to get the most out of your garage's storage capabilities.
A more organized garage means parking vehicles will be easier, but you can even take advantage of your unused ceiling space to add a car lift for storing another vehicle.
Make no mistake – if you have years of collected junk in your garage, it'll require a healthy investment of your time to purge your belongings down to only what's really needed. Once that's done, though, you'll be well on your way to enjoying a part of your home that's able to be a lot more functional.
3. Looks that your neighbors will envy
When it comes to curb appeal and garages, your garage doors might seem to be the only thing that affects how neighbors, visitors, and passersby view your house's appearance.
They're unquestionably important, considering garage doors can account for as much as a third of a home's front exterior.
Don't forget about what's behind the garage doors, however. Whenever those doors are open, your garage's interior appearance reveals to others the standards you have for your entire home.
For many homeowners, it's not something they're eager to share with the rest of the world. An Impulse Research survey found that 24% of homeowners are embarrassed to leave their garage doors open.
A garage remodel not only takes care of the clutter that makes garages an eyesore, you can also create a unique, high-end look that stands out amongst the other homes in your neighborhood.
Owning a garage the neighbors wish was their own is more common than you might think. Just over half of those who participated in a study by the Thompson's Company wanted to own a garage their neighbors envied.
4. A reliable pro to do your garage makeover
Unless you're super handy, a major garage remodel is not exactly the kind of home improvement project you want to DIY.
It's natural to feel a little overwhelmed about how to successfully pull off a successful garage makeover. That includes worrying about finding a contractor that can do the job right.
As with any home improvement project you're undertaking, hiring a professional with expertise, trustworthiness, and great products will result in a completed project you're completely happy with.
You need to work within your budget, of course, but remember that first-rate work and high quality products are worth the extra cost.
Garage Living has been specializing in garage redesigns for 15 years, with thousands of completed projects under our belt across North America. That kind of experience and our high quality of work has made us an industry leader in garage makeovers.
5. A durable, nicer-looking floor
How your garage floor looks can make or break the room's overall appearance.
Let's face it, any garage with a concrete floor that's grey, stained, pitted, and cracked (which describes most garage floors, unfortunately) is fighting an uphill battle when it comes to projecting an appealing look.
Applying floor paint to an ugly garage floor is the equivalent of treating the symptom and not curing the disease, to quote the old expression.
DIY epoxy floor coating kits will produce better results than floor paint, but are still vastly inferior to polyaspartic garage floor coatings.
Here's why a polyaspartic floor coating like Floortex™ should be on the garage wish list of anyone planning a makeover:
polyaspartic coatings provide superior protection for the concrete surface
they're extremely durable and long-lasting
coated floors are sealed to protect from long-term damage caused by water and chemical spills
a Floortex™-coated floor is easy to clean
the shiny surface and customized colors give your garage a stylish appearance that complements your interior décor
the decorative flakes provide improved traction
6. An organized space where things are easy to find
"Garage organization" might seem like an oxymoron to those with category 5 garage catastrophes on their hands.
Messy garages end up frustratingly costing you hours of wasted time every year trying to find things. When your garage is set up with a proper organization system that simplifies how things are stored, you'll wonder why you waited so long to correct the problem.
Establishing storage zones that keep things together by category helps, as does making your most often-used items more accessible.
For example, let's say you live in a northern climate. From the spring until late fall, yard and gardening tools should be hung on an easy-to-access spot on the slatwall. Bikes and sports gear that are frequently used during this time of year would also be candidates for prime slatwall storage space.
When winter comes, rotate out the things stored on those wall hanging spaces and replace them with items like snow shovels and winter sports equipment.
For the most infrequently used items in the garage, put them up high and out of the way in overhead racks. Something like bulky plastic storage bins filled with Christmas decorations will literally only need to be retrieved once a year from the garage. Why let them take up floor space against the garage wall for 10 or 11 months of the year?
Hand tools often get lost because they're small and don't have a dedicated storage area. In addition to the aggravation of not being able to find that one tool needed for a particular job, lost tools end up getting repurchased. With a cabinet storage system, tool organization worries become a thing of the past.
When everything in your garage has a home, there's less guesswork involved finding things. The chances that your belongings will get put back in their rightful location are also greatly improved.
7. Plenty of parking space
A garage's main purpose is for parking vehicles, yet according to a Sparefoot survey, just under half of the 1,000 homeowners polled said they had problems parking in their garages.
A U.S. Department of Energy study found that 25% of people with 2-car garages don't park in them at all. A third can only park one car. There's a good chance your garage wish list includes headache-free parking as a goal.
Dealing with your clutter opens up your garage once again to accommodate vehicle parking and enjoying all the benefits that come with garage parking. Remember that your vehicles should own the space on your garage floor, not a bunch of dusty, seldom-used clutter.
And don't settle for just enough space to barely squeeze your cars into the garage. Freeing up all of your floor space enables you to drive in and out of the garage (as well as enter and exit vehicles) comfortably.
To supplement the amount of garage parking space that's available, consider getting a car lift. This convenient and easy-to-use product can store one car on an elevated platform, while allowing you to park another vehicle safely below it.
8. More garage functionality
In addition to parking and storage, garages are prime candidates to be used for other purposes that make them an even more functional part of your home.
Many of our clients have asked us to design garages that made room for:
a workshop outfitted with custom cabinetry
doing vehicle maintenance (which 25% of homeowners surveyed by the Wall Street Journal used their garages for)
a home gym
working on crafting projects
doing gardening tasks
Heating and air conditioning systems can be added to any garage to make the room more comfortable when the weather is hot or cold.
Because our makeovers result in the garages being so clean, modern-looking, and tidy, it's even ideal for use as an entertainment space. You can have your buddies over to watch a sporting event on the TV that's mounted in the garage's cabinet system.
9. An easier to clean garage
When you think of most garages you've ever been in, the word "clean" is not exactly the first word that comes to mind to describe them.
You've heard the expression "it's not a bug, it's a feature"? Well, just like floor clutter, a musty smell and dirty floor don't need to fall into that category in every garage.
That's the old way of thinking. Modern garages that have gotten the makeover treatment look so much cleaner because their décor has gotten a refresh and they're simply much easier spaces to maintain.
It starts with the elimination of floor clutter and all of that useless stuff that hasn't been touched in years. Getting rid of that junk has a direct impact on the garage's cleanliness in these ways:
there are fewer things for dust to collect on
less clutter reduces the likelihood of pest problems
an empty garage floor without obstacles is easier to sweep and give a deeper cleaning
the garage's airflow improves
People that own houses are a lot more conscious about the air quality in their homes these days. That's why an increasing number of homeowners have added ventilation system upgrades to improve the exchange of air in their garages.
Have you ever tried to clean an old sheet of drywall? Good luck. PVC slatwall panels, on the other hand, can be easily wiped down with a damp cloth.
How about spills on the garage floor? Previously, they'd be difficult to clean because the floor surface might not be intact or spills that weren't dealt with quickly would set into the unprotected concrete.
One of the nice features of a Floortex™ floor coating is that it not only provides great flooring protection, you can also easily clean up spills involving most household and automotive fluids.
Bonus Floortex™ features: The topcoat seal minimizes the amount of dust and debris produced on a concrete floor from wear and tear. The decorative flake design also makes dust and dirt less visible.
10. More convenient garage features
Quality of life improvements in the form of more modern, convenient features should be on every garage wish list.
We've already mentioned adding climate control systems and a TV to the garage. That's just for starters. Here are some additional ideas:
keyless garage entry
smart home tech products
outlets for charging mobile devices
floor drainage
extra electrical outlets (including higher voltage outlets for power tools or a car lift)
a sink for cleaning up
more vertical space by raising your garage door's opening height with a high lift conversion
11. High quality garage storage solutions
There are a lot of cheap products for the garage out there that don't stand the test of time.
Thin pegboard wall panels with unimpressive load-bearing capabilities that chip easily and flimsy storage cabinets that quickly rust and start to buckle immediately come to mind.
Then there's the DIY shelving or repurposed kitchen cupboards that are found in a lot of garages. You can do better than this!
Invest in higher quality storage solutions for your garage and you won't be replacing those storage systems for a good long while.
Garage Living's slatwall panels have an industrial rigid cellular PVC construction with a 5/8″ thickness and load capacity of 300 lbs per panel.
Cheap garage cabinet systems don't last because they commonly use lower gauge steel manufactured overseas. These steels are less sturdy and rust quicker than higher grade steels made in the U.S. and Canada.
All five lines of our cabinet systems are constructed with high quality materials, including powder-coated finishes to protect against rusting. Our heavy-duty overhead storage racks are also powder-coated to prolong the life of the product.
12. Garage décor and storage system customization
Anyone planning a garage wish list has a specific vision for how they want their garage to look. They want it to reflect their style and have all the features and functionality they'll ever need.
Satisfying these requirements doesn't happen with off-the-shelf storage systems and products found in big box stores. The professional handling the makeover needs to have the ability to customize your garage design.
Having a variety of colors and styles to choose from for the flooring, slatwall, cabinets, and garage doors are an obvious must-have.
Look beyond these obvious décor-related considerations for more ways to make a garage space unique.
Can the cabinet system you have in mind be customized to accommodate things you want to hide in the garage like a central vac system or electrical panel?
If the colors you want for certain parts of your project aren't among the standard offerings available from your garage makeover pro, can they come up with a custom color that meets your needs?
How about creating a more seamless look between your garage floor and walls by adding a coated application to the wall base and steps into your living space?
Garage Living can do all of these custom features and much more. Just ask us. One of our teams even created an indoor basketball court in a large garage!
13. Better garage lighting
What good is having a beautiful new garage interior if it's difficult to see?
Upgraded lighting is a cost-effective (and just plain effective) way to improve the appearance and comfort level of a garage.
LED light fixtures or pot lights will significantly improve your lighting coverage and be more energy efficient than incandescent bulbs. Undercabinet lighting in cabinet systems provides useful task lighting.
How about adding some perimeter LED lights below the lower strip of your slatwall panels to boost the room's ambiance and create a distinct look?
Lighting upgrades don't just help to show off your makeover – parking becomes easier, finding things is less of a chore, and it makes the garage safer to navigate in.
14. Improved garage and car security
The best car theft prevention measure you can take is to park any vehicles you own in the garage. Garage parking also protects against weather-related damage and other potential problems, such as body damage from tree sap.
If you're using an ancient garage door opener, consider upgrading to a newer model that's more reliable, secure, quieter, and energy efficient.
Many modern garage door openers come with high-tech features like enabling remote garage door access via a smartphone app. This allows you to control and monitor your garage door when you're away from home. You can use the feature to let delivery drivers drop off packages inside the garage instead of risking having them stolen by a "porch pirate", as is becoming commonplace nowadays.
A garage security system with one or two low profile cameras protects one of your home's more vulnerable access points and deters burglars, without detracting from the room's appearance. It's a smart investment that ensures your valuables stay safe and provides you with some peace of mind.
15. A safer garage
So far, we've explained how reducing tripping hazards with less floor clutter, better lighting, and more secure storage systems makes your garage safer.
A polyaspartic coating's smooth floor surface is another way to make a garage safer, with better traction and no worries of walking on a damaged, uneven surface.
Don't just stop there!
Locks can be added to a cabinet system's drawers and doors. That not only protects valuable tools, it keeps kids safe from hazardous items in the garage.
Smoke alarms should be replaced every ten years. Ideally, they should be tested monthly or, at the very least, once per season. Having a fire extinguisher close to the garage is another good idea.
Having backup emergency lighting in the garage is another safety measure worth considering.
16. Better energy efficiency
Better energy efficiency in the garage isn't just good for the planet, it's also good for your wallet (well, not initially, but in the long run).
You don't have to break the bank by adding a fancy solar panel system to power your garage. Simply upgrading the room's wall and ceiling insulation will make a big difference in the energy efficiency of the entire home.
Insulated garage doors with a bottom seal minimizes the transfer of warm and cold air in and out of the garage. Door insulation also limits the transfer of noise between the outdoors and the garage.
If your garage still has old single pane windows, upgrading to energy-saving windows is worth a look.
To reduce drafts, use weatherstripping around window frames. Apply sealants or foam insulation around wall outlets and light fixtures, pipe inlets, and air ducts for additional draft protection.
Maybe the access door into your living space could use an update. Besides replacing it with a more energy efficient door, you could add weatherstripping around the frame and make sure the door sweep is doing its job to keep drafts out.
17. Upgrades that add value to your home
Anyone putting together a garage wish list and having a pro transform their garage not only wants to improve their home, they want to add value to it, too.
Cosmetic and functional upgrades for the garage do just that. If your family and neighbors are ultra-impressed with how your new garage looks, imagine how prospective homebuyers will view it in the future.
Messy, unattractive garages with insufficient storage can be dealbreakers for buyers. A Braun Research survey of realtors found that garages ranked higher as a desirable storage space for homebuyers than basements or attics.
An attractive, organized garage that stands out from the pack is a feather in your cap down the road when it comes time to sell your home and set an asking price.
Year after year when you look at lists that tell you which home improvement projects deliver the best return on investment, adding new garage doors is consistently rated as one of the best.
Transform your garage wish list into your dream garage
Wouldn't it be nice for a garage to be a space you actually look forward to driving into every time, not a part of the home that makes you cringe whenever you look at it?
We specialize in making garages home showpieces that truly feel like a desired destination and an enjoyable extension of your living space. You too can experience the feeling of luxury the moment you arrive home.
Show us your garage wish list and we'll begin the collaborative process that will lead to a beautiful garage that you'll cherish for years to come.
All it takes is a few seconds to schedule your free design consultation with us.
Please share this post if you found it useful.
See also: