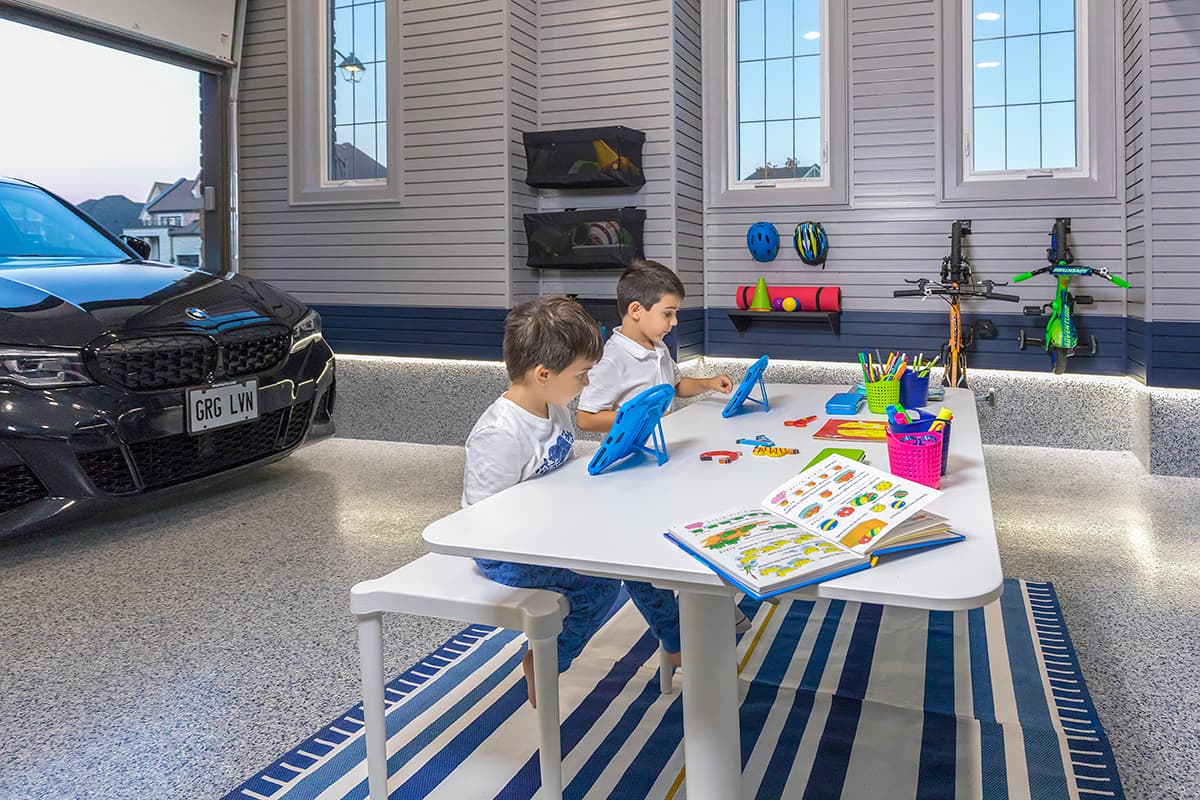 2020 has thrown a lot at us. One of the biggest challenges for parents and their kids has been adjusting to at-home learning.
Parents have needed to find a workable balance between being full-time teachers (or part-time educators supplementing their kids' remote learning studies) and their own parental, work, and household responsibilities.
It's been a lot to deal with.
With a new school year underway, lots of schools remain closed. Even if schools are open in their area, many parents and students are uneasy about returning to traditional classroom settings. As a result, homeschooling will continue on a widescale level across the U.S. and Canada for the foreseeable future.
So what's the best homeschooling environment for your kids? If you don't have a dedicated home study room, using the dining room table, living room, or the kitchen as a classroom may not be the most learning-friendly environment for your little ones.
Here's a suggestion: create a learning space for your kids in your garage. A garage to classroom setup is smart for a number of reasons and you don't need a large garage to make it happen.
Your kids' home learning environment matters
Classroom environments have a big impact on how well kids learn. As an early childhood education expert explains here, an ideal classroom environment will "help children feel safe, secure, and valued. As a result, self-esteem increases, and students are motivated to engage in the learning process."
Learning in high-traffic areas like the kitchen, living room, and dining room can be too distracting for kids. With families spending so much time indoors right now, the abundance of background noise from things like meals being prepared, ringing phones, and conversations makes it particularly challenging for youngsters to focus on their studies.
Letting your kids do their homeschooling from a desk in their bedroom isn't ideal, either. Supervising them becomes more difficult, for starters.
And the same reasons medical professionals recommend adults not work in the same room where they sleep applies to students – a lack of separation between one's work and home life leads to poor sleeping habits and lower work productivity.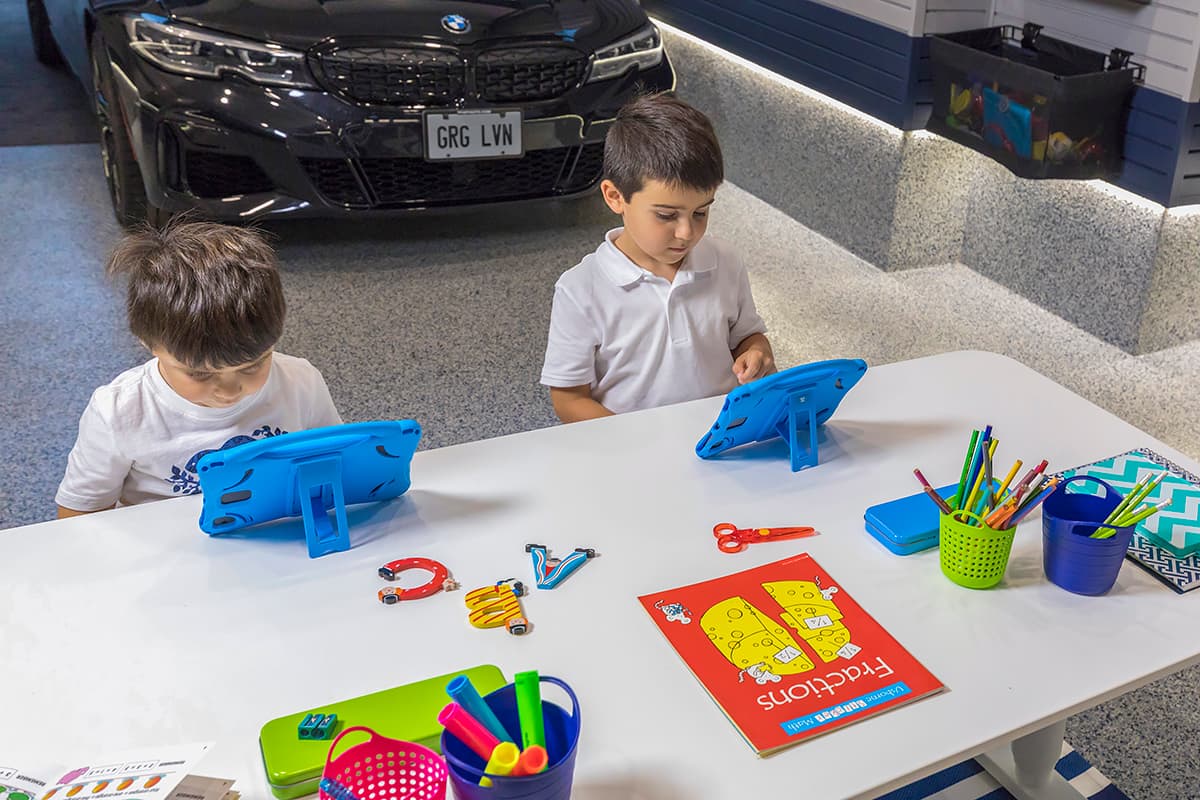 Why a garage to classroom setup makes so much sense
A garage to classroom setup can provide the perfect space for at-home schooling. It's a safe environment that's a part of the home, while still being removed enough from the distractions in the rest of the house.
As an extension of your living space, a classroom area in the garage can improve how your children focus and learn.
A garage classroom also helps establish more structure for their daily studies. They'll have a consistent, dedicated learning space and not be studying at the dining table one day and then moving to the kitchen for their school work the following day.
Lots of parents have made the "garage to classroom pivot" to accommodate their kids' schooling needs.
For some parents, they're just homeschooling their own children. If local social gathering rules allow for it, other parents are getting together with a few neighbors and friends they trust and feel safe with to create garage classroom "learning pods" for their kids, as this mother in Maine did.
How to create your own garage classroom
"How can my garage handle its normal duties as a space for parking, household storage, and function as an at-home classroom?", you may be wondering.
It all comes down to how well your garage is set up. Since comfort is so important for a learning space, a clean, finished garage interior with modern design features is essential.
Having some flexibility within the garage so you can add something like a learning space is important as well. Anyone who has a multi-purpose garage space knows that good organization is the key to making the garage function at a high level.
A garage to classroom setup can work quite effectively in a garage of any size. This recently remodeled single car garage was well-positioned to accommodate adding a learning space with minimal effort.
Here's how to make your garage to classroom setup successful.
Create enough space in the garage
A lot of garages are too cluttered to park vehicles in, which makes them little more than one-dimensional junk storage spaces.
To free up floor space that will allow a part of the garage to be used as a classroom, storage systems like slatwall panels and overhead racks are invaluable.
These storage systems utilize your garage's walls and ceiling areas to maximize the storage space in the room, which opens up a range of possibilities for other ways the garage can be used. In the photo above, just look at how much floor square footage is freed up by storing all those bulky storage bins in the overhead racking!
The slatwall panels and accompanying hanging accessories make it a breeze to keep the garage more organized. Items like yard tools, power cords, and sports equipment and toys the kids can use when taking breaks from their learning are easily accessible.
Use cabinetry in your garage classroom
A storage cabinet system is perfect for a garage learning space, but not just for the reason you might be thinking.
Sure, cabinets provide you with room to store and organize things like school and art supplies, lesson books, and other learning materials. Our high-quality cabinet drawers are at a kid-friendly height and have full extension drawer glides to make access easy for your little ones, too.
A cabinet system is also useful for a garage classroom in the following ways:
incorporate a mounted TV into the cabinet system for watching digital classroom lessons and educational videos, as well as making Zoom calls with teachers and other students
the cabinet doors can be used to display your kids' artwork, which builds their confidence
displaying artwork makes children feel more connected to their learning environment
they provide a backdrop for hanging up motivational sayings or educational posters
use a cabinet sink for a handwashing station
cabinet countertops function as a clean work surface and area for displaying and storing school books
under cabinet task lighting brightens up the countertop space
tablets and laptops can stay charged with the cabinet system's built-in electrical and device charging outlets


Make the garage feel more like a classroom
When you're used to learning in a school classroom, adjusting to a different full-time learning environment isn't easy for every child.
To make your kids feel more comfortable with their at-home schooling experience, include a few of the core familiar features of a traditional classroom.
Naturally, that includes desks and chairs. If you're planning on doing longer classroom sessions, one option is to invest in some ergonomic-friendly desks and chairs that are more comfortable to use for extended periods.
Use some small easel-style or wall-hung chalkboards or dry erase boards, which are great for developing a child's writing, drawing, and reading skills.
Another garage to classroom setup idea you may want to consider is keeping a clock or other type of timekeeping device visible to the students in the room. Some teachers find that using a timer for work tasks gives students a greater sense of urgency while learning and helps them understand things a little better.
Increase the garage's comfort level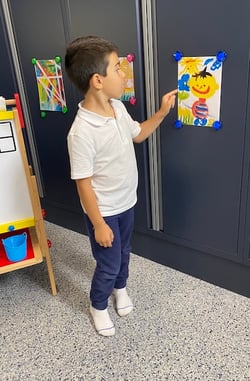 A garage with modern design upgrades is simply a nicer space to spend time in, which makes it a more learning-friendly environment.
Aesthetic upgrades like finishing the garage's walls and ceiling will make a big difference. Upgrading the floor with a Floortex™ floor coating is a game-changer when it comes to transforming the appearance of a garage, too.
In addition to its high-end look, the floor coating is well-suited for use in a garage classroom setting for these reasons:
it has a safe, ultra-low level of VOCs (volatile organic compounds), which are chemicals found in many products that slowly off-gas
the floor surface is easy to maintain and keep clean with just a squeegee, some water, and a mild floor cleaner
Floortex™ coatings deliver heavy-duty floor protection from wear and tear, abrasions, and spills, but are also comfortable and clean enough to walk on in your socks or even bare feet
Feel comfortable in the garage year-round
You can also do a few more things to increase the comfort level of your garage.
If your garage lacks a few features, cold and hot weather make using the room year-round problematic.
To fix this issue, insulate the walls, ceiling, and doors to boost the garage's energy efficiency. Vapor barrier might be helpful as well, depending on where you live and a few other factors.
A garage heating system or portable air conditioner will help you maintain a comfortable working temperature in the garage year-round.
And if the weather is pleasant, bring in some fresh air by partially or fully opening the garage doors.
Stay safe
With the new normal, hand sanitization has become a part of everyday life. As part of your efforts to create a safe learning environment, you can set up a hand sanitizing station. This will be even more essential if you have a small group of kids attending classes in your garage.
In the garage featured in this blog post, a bottle of hand sanitizer and tissues are kept on a slatwall metal shelf that's conveniently located right beside the home's access door. A mini trash bin sits below it. A paper towel rack accessory could also be hung on the slatwall.
An optional cabinet sink that can be used as a handwashing station gives you an additional way to maintain safe health standards in the garage.
3 final ideas for a garage to classroom setup
We've covered a lot in showing you how to make a garage to classroom setup work effectively and here are three final ideas worth considering:
Put down a colorful outdoor rug as a base for the desks and chairs that helps make your classroom area feel like a more defined space.
Don't underestimate the importance of good lighting for the learning space. Lots of natural light is great and high-quality overhead lighting will reduce eye strain.
A garage classroom will require reliable online connectivity and in many cases is going to be completely dependent on the internet to function. There are numerous ways to boost your garage's WiFi signal so that your tablets, laptops, and smart TV have a reliable online connection.
Talk to us about making your garage a learning space
If you're considering your options for homeschooling your kids, we can turn any garage into a learning-friendly space without limiting its functionality.
Schedule a free design consultation with Garage Living.
We'll work with you to design a garage to classroom setup that gives you the peace of mind that your kids are getting their education in a safe space right in your own home.
Please share this post if you found it useful.
See also: