What room in homes would you think is commonly the most cluttered?
According to a recent home organization study done by Moen, it's the garage. Numerous other home organization studies and surveys also find this to be the case.
In a National Association of Professional Organizers survey, 50% of respondents said the garage was their home's most disorganized area.
Among 1,500 homeowners who recently participated in a Garage Living survey, 20% said they were unable to park in their garage.
So why does this happen?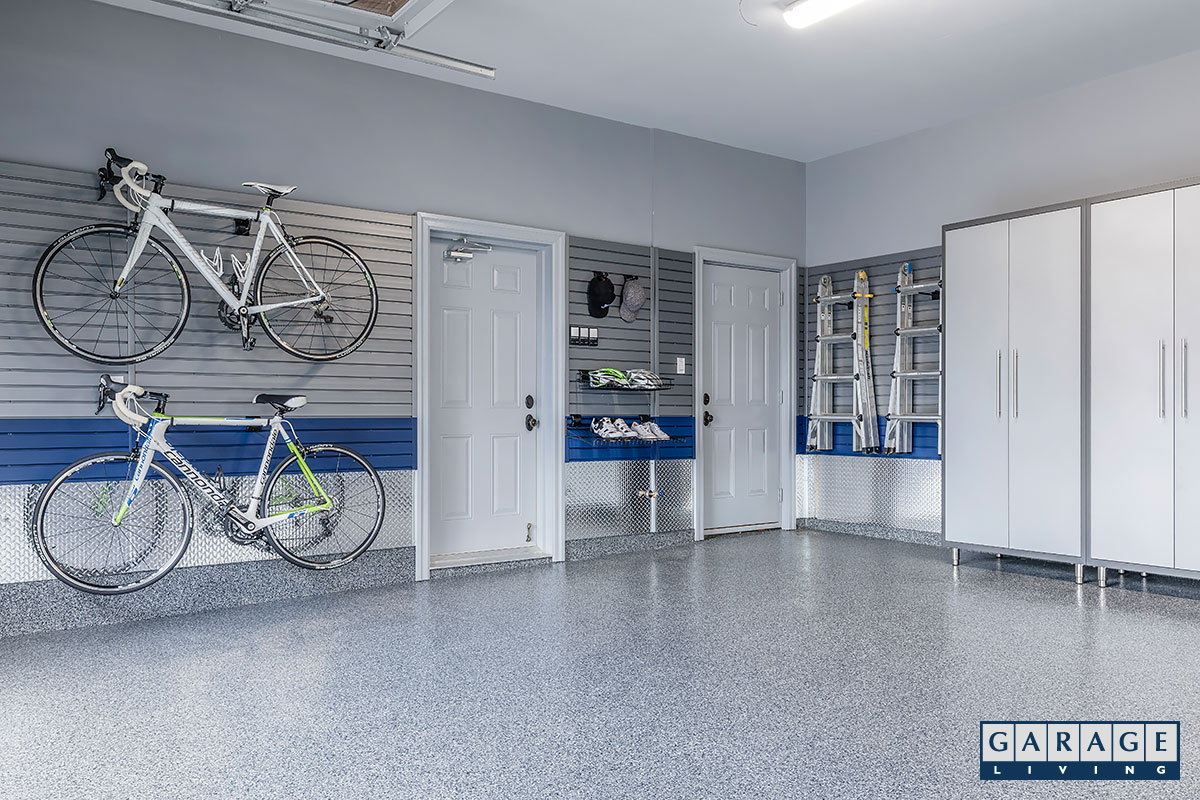 Garage storage mistakes (and how to avoid making them)
It typically comes down to five main reasons that garages become cluttered and less functional:
simple garage storage mistakes
a garage space is too small
garages being treated as a home's go-to overflow storage space
a reluctance to part with our belongings
we tend to buy more than we actually need
In this blog post, we're going to highlight nine common garage storage mistakes and how you can avoid making them.
Fixing even just a few of these issues will produce immediately noticeable results and enable you to start making better use of your garage again.
1. Bikes
One of the more common garage storage mistakes is leaving bikes on the floor. Doing this takes up garage floor space and poses a safety hazard.
Leaning or freestanding bikes with their kickstands engaged also puts them at risk of damage from vehicles entering and exiting the garage. It doesn't take much for a car or truck weighing a few thousand pounds to damage a bike's gears, frame, tires, or wheel rims.
It's smarter to hang your bikes on the garage walls, which saves floor space, stores them securely, and protects them from damage.
Add slatwall panels to your walls and hang the bikes with sturdy hooks that allow bikes to be stored horizontally or vertically. You can also add hanging accessories to keep all your cycling gear and accessories organized in one area.
If you own a large garage where having enough floor space is a non-issue, a grid bike rack is another option for holding multiple bikes safely.
2. Yard tools
Yard tools are responsible for another one of the most frequently made garage storage mistakes.
Are your yard tools stored leaning against a wall, on the floor, in a low-quality tool caddy, or hanging on rusty hooks or nails? If so, a slatwall storage system is a better way to keep everything organized and easy to find.
And you might not think of them as tools, but your step ladder or extension ladder are, indeed, considered tools. Instead of unsafely leaning your ladders against the garage wall, get them up off the floor and hang them vertically or horizontally on the wall.
An additional benefit of slatwall is that it gives your garage's interior a more finished, modern look.
You may use your garage as a workshop, meaning most of your hand and power tools are stored in the space. A garage cabinet system is perfect for keeping your tool collection organized.
3. Sports equipment
If you or other members of your family are physically active, sports equipment and gear stored in the garage can become a struggle to keep organized. The more kids you have participating in organized sports, the worse the problem gets.
It goes without saying that rolling objects like balls, skateboards, and scooters pose a major safety hazard to anyone using your garage and don't belong on the floor.
Once again, off-the-floor storage using slatwall is the best way to go in order to fix the problem. Any good slatwall system should present you with a number of hook, rack, basket, bin, and shelving hanging accessory options to serve your storage needs.
Garage Living carries slatwall accessories that range from:
ball racks that adjust to hold balls of various sizes
specialized racks for holding golf, hockey, tennis, and fishing equipment
deep mesh baskets for general sports equipment storage (or for gardening, cleaning, and automotive supplies)
4. Anything inside an old garage fridge or freezer
You know that 30-year-old garage fridge that serves as your beer cooler or a place for storing extra household food items? It's probably time to send it off to the appliance graveyard.
Older appliances are notoriously poor performers when it comes to energy efficiency, especially fridges and chest freezers. How inefficient are they?
It's estimated that a fridge manufactured before 1990 could potentially be costing you between $250-300 a year to run in a garage. To get a better idea of what your specific fridge might be costing you to operate, use this Energy Star calculator.
We recommend giving that garage fridge relic the boot. However, if you absolutely, positively must run a fridge or freezer in the garage, consider upgrading to a new energy efficient model.
Even better, get a durable refrigeration appliance that's specifically meant to be used in environments like the garage that experience widely fluctuating temperature shifts.
5. Hoses
Garden hoses are another item that belong anywhere but on the ground when they're not in use. They should be stored on a wall-mounted rack or reel or a portable reel cart.
That keeps them safely and tidily stored, as well as untangled. If your home's outdoor water connection is in the garage or just outside the garage, storing your hoses indoors on an easy-to-use reel can be more convenient, too.
It also makes them less prone to kinking and cracking from being stored outside in the sun, which extends the hose's life.
Ask your local Garage Living professional about our high quality garden hoses and hose reels.
6. Junk you'll never use again
Among the millions of garages in American and Canadian homes sits a ton of junk taking up valuable space. Much of that junk and clutter will probably never find any sort of meaningful use again.
We're talking about odds-and-ends like:
an old kitchen appliance that got replaced many years ago
a long-forgotten treadmill or weight bench that's covered in a thick layer of dust
boxes of items you meant to donate and never got around to getting rid of
old, dried-out paint cans and partially used cleaning product containers you forgot you had
half-used containers of automotive fluids for vehicles you no longer even own
Essentially, many cluttered garages' main function is being a home's junk storage space. That's a pretty big garage storage mistake to be making.
A few years ago, the Self Storage Association released a stat that found approximately 9% of Americans rent storage space, even though 65% of them have a garage.
Your garage shouldn't be a mere holding space for things you'll never use. It should be treated as an important extension of your living space.
7. Bulky items left on the floor
Storing out-of-season and rarely used bulky items like large storage bins on the floor is a very common occurrence in garages.
Unfortunately, they eat up a lot of prime floor real estate. The best solution is to get them (once again) up in the air, where there's plenty of unused storage space available.
You'll need a sturdy overhead racking system that's well-anchored to your ceiling and walls. Once it's in place, you'll love how much floor space will open up with all of those bulky things out of the way.
Be sure to label any storage bins in order to make specific items easier to locate.
8. Items that aren't suited to a garage environment
Certain things aren't ideal for long-term storage in a garage. For example, your precious family photos should be stored in a dark place that's cool and dry to keep them well-preserved.
The same goes for any paper-based items like books, financial and medical records, and other important documents. None of these things do well when stored in environments that lack climate control and tend to be damp.
Here are five other things that should be stored in an area other than your garage:
electronics
clothes and any other textile products
wine
canned and dry food
various types of media (such as vinyl records, CDs, DVDs, and VHS tapes)
9. Extra vehicles parked in the driveway
If your family has several drivers and there's a lack of garage parking space for everyone's vehicles, there's no other option but to have the extra vehicles parked outside. Or is there?
In fact, there's a way to optimize your garage's storage so everyone's vehicles can be parked indoors – add a car lift (or multiple lifts).
Not maximizing a garage's full storage capabilities certainly counts as a storage mistake and most garages underutilize their overhead space.
The elevated storage a car lift provides can effectively double the amount of parking spots your garage has available. A 1-car garage can accommodate a second vehicle, a 2-car garage can hold 4 cars, and so on.
If you have a classic car that's rarely driven but you're unwilling to part with it, a car lift is ideal for getting it off the garage floor and freeing up some space, whether it's for parking or other uses.
We'll help you avoid some of these garage storage mistakes
A garage with smart storage systems greatly reduces the likelihood of falling into bad organization habits with some of the garage storage mistakes listed here.
Instead, they'll save you time by allowing you to find things with much more ease. You'll also spend less time needing to clean the garage up.
Any room in your home that's a chronic mess just isn't a room you enjoy using or spending time in. If that describes your garage, we can change that and enable you to reclaim it for parking and functional storage.
Schedule your complimentary design consultation with us. One of our creative design consultants will show you how to maximize the storage and design potential of your garage.
Please share this post if you found it useful.
See also: