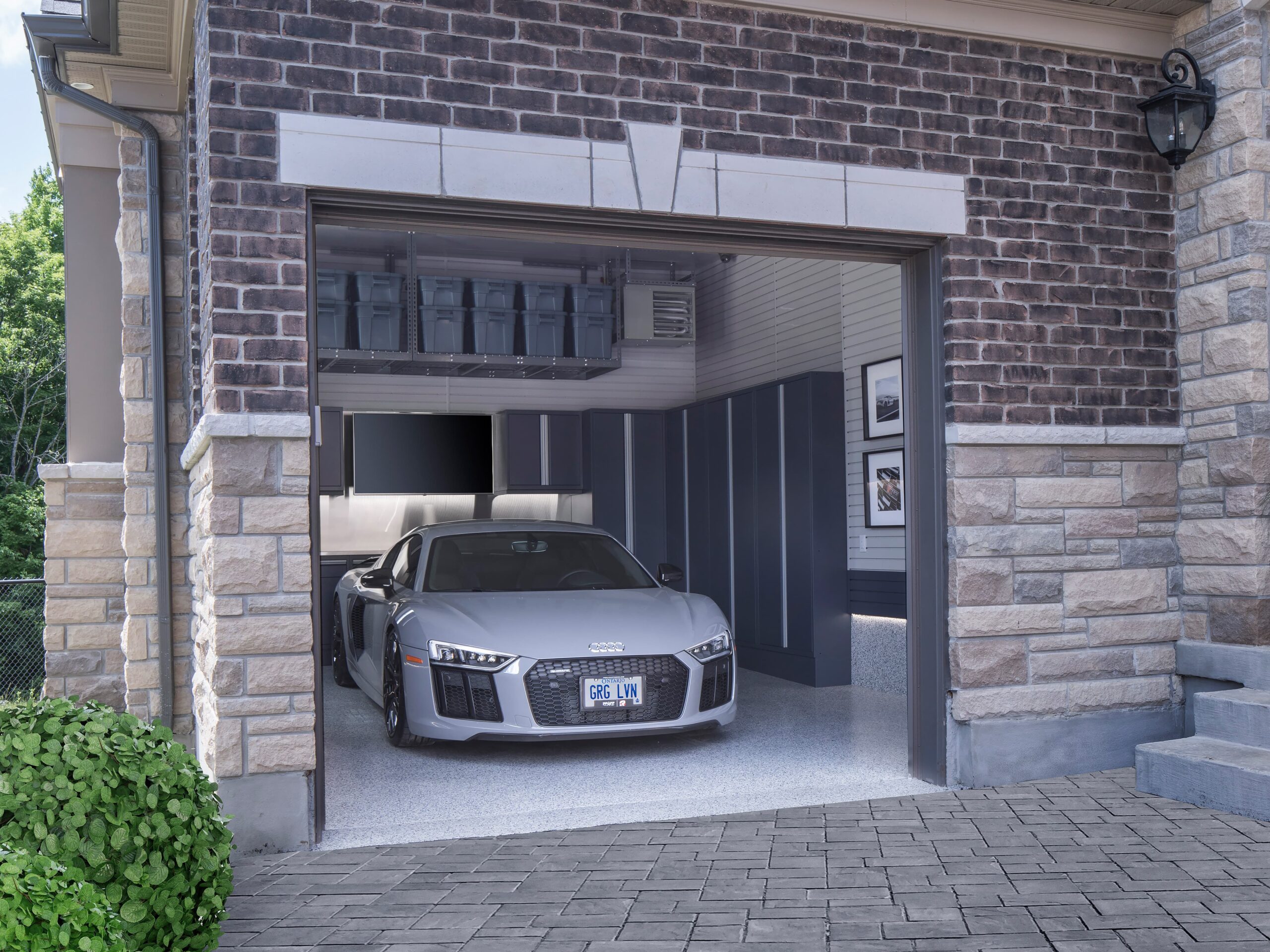 Home comfort is everything.
That's one thing we've all been reminded of this year as "the new normal" has led to us all having an abundance of at-home time.
Anything that improves our comfort level at home during this stressful and challenging time is especially important and valuable.
Spending most of the day inside your living space the past few months has likely made you appreciate the things about it that help make it truly feel like "home sweet home".
All of this extra time at home has probably also highlighted some of the ways that your house can be improved to serve your family's needs better.
If you're undecided on which area(s) of your home to upgrade, why not focus on the garage? It's often an area of the home that gets overlooked when makeover projects are being considered when it actually should be a remodeling priority.
Now is the best time to invest in your home comfort
There is never a bad time to invest in your home's functionality.
If you really think about it, however, there has never been a better time to invest in a home improvement project than right now for two reasons.
First, low-interest rates make financing a home improvement project more cost-effective at the moment.
And second, home comfort should be a priority right now because, for the foreseeable future, many of us may not be able to return to our workplaces and schools. Unfortunately, social activities like traveling, going to sports events, attending parties, and eating out at restaurants are also restricted or completely off-limits as well.
That means the majority of our day will continue to be spent at home, so why not look for ways to make your living space the ultra-comfortable sanctuary it should be?
The home improvement market is booming
More homeowners have recognized the financial and philosophical practicality of upgrading their homes this year to improve their quality of life.
A new Bank of America survey found that despite the economic downturn, more than 70% of the 1,054 homeowners who responded had started a renovation project this year and planned to do more home upgrades next year.
The story is the same in Canada, which has seen high demand for building materials and contractors with no shortage of work as homeowners make upgrades to their living spaces.
Before the pandemic, just under half of homeowners (48%) had a renovation planned in the next two years, according to TD Bank's recent Home Equity Trend Watch survey. A third of those homeowners were planning to spend more than $50,000 on their upgrades.
Here's how a garage remodel can help you get closer to finding your comfort zone at home.
Does your garage help or hinder your home comfort level?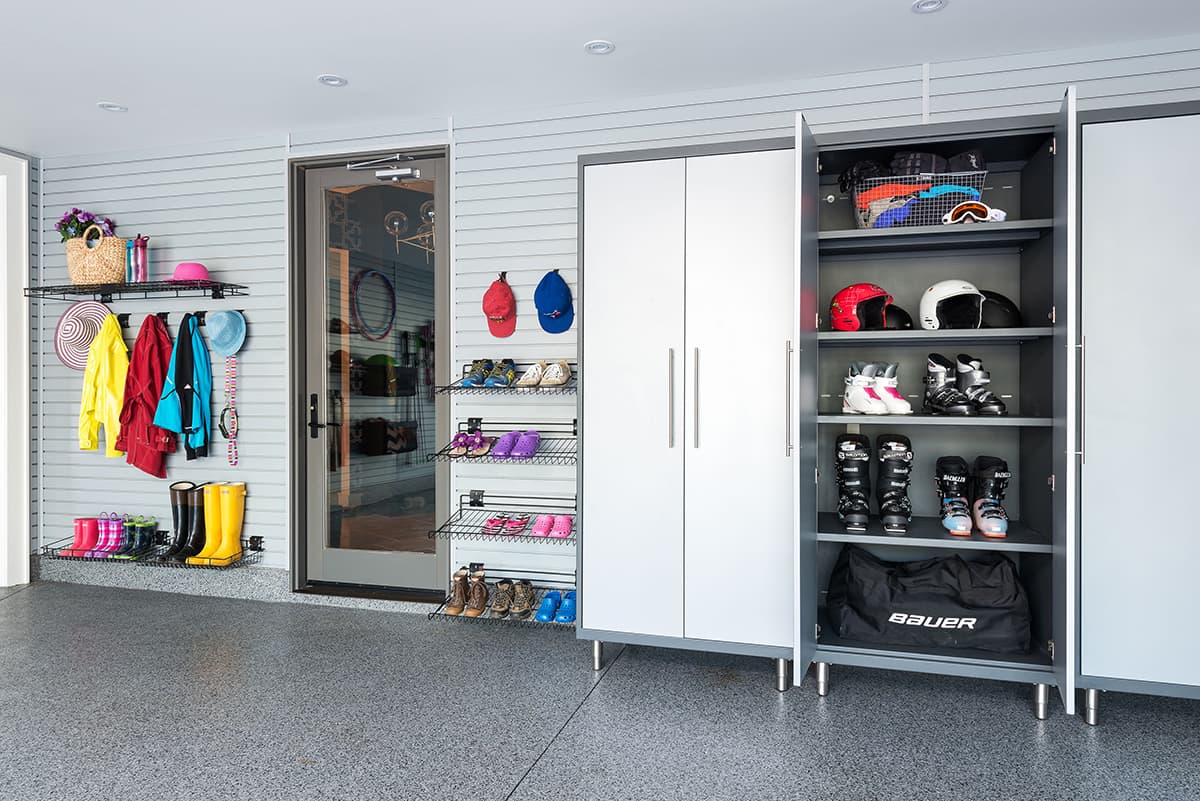 Ask yourself: how does my garage make me and my family feel?
Is the garage contributing to your level of home comfort or is it detracting from your overall enjoyment of where you live?
Can you function in your garage or is it overrun with clutter? Is the décor in your garage visually appealing or is it woefully outdated? Perhaps the garage has never had its interior finished and things like exposed insulation, framing studs, rickety DIY storage systems, and dull grey flooring make you cringe every time you enter the room.
If you're like most homeowners, there's room for improvement in this space. Consider these statistics:
Only 11% of homeowners are satisfied with their garage and don't want to improve it. (Wall Street Journal survey)
24% of homeowners are embarrassed to leave their garage doors open. (Impulse Research survey)
A 2-car garage in an average-sized house accounts for approximately 13-15% of the home's overall square footage.
Instead of having a sizable part of your house not being fully utilized, an eyesore, and upgrades to the room something that never gets checked off your home improvement to-do list, make right now the time when your garage finally gets transformed.
Turn your garage into an extension of your living space. Make it a meaningful room in your home that is tailored to fit your lifestyle and reflect your aesthetic taste, while providing an optimal level of functionality.
"Garage living" is all about improving home comfort
Some of our clients wonder why we're called Garage Living. Our name actually has everything to do with home comfort.
"Garage living" is a philosophy. Garage living is about bringing your dream garage concept to life and creating a luxurious, welcoming space that is customized to enhance your home's comfort.
The modern garage has evolved well beyond the role of the dark and drab utilitarian space that it has inhabited for the last century.
Any garage can – and should – multi-task in order to maximize the room's functionality. And it can look stylish while doing so!
Better organization in your home spaces means more comfort
It's impossible to enjoy your garage when the room's functionality has been restricted due to clutter. An overstuffed garage is harder to clean, too, so you're even less inclined to spend some of your free time in such a dusty, dirty space.
Messy garages are an all-too-common problem, as these statistics show:
25% of homeowners with 2-car garages don't park in them at all, largely due to clutter. (U.S. Dept. of Energy study)
The garage was named the most cluttered

space in the houses of those who participated in a home organization study conducted by faucet maker Moen.

50% of homeowners named the garage as the most disorganized area of their house. (National Association of Professional Organizers survey)
"Removing junk" ranked as the top answer from homeowners who were asked how they could get more enjoyment out of their garage. (Wall Street Journal survey)
Clearly, enjoying your garage more starts by getting rid of the clutter that not only makes any room less functional but is also a well-known source of stress in our lives.
To get your garage where it needs to be in terms of better organization, set two goals for yourself that are simple, yet highly effective ways to keep a space tidier. First, make sure anything being stored in the garage has some degree of practical functionality. Second, give anything that meets that standard a proper home.
If your garage feels like it's too small to handle your storage needs, using better storage systems and working with a garage design professional will certainly help.
The best garage organization solutions
The best way to maximize your garage's storage space is to make more efficient use of the garage's wall and vertical space, which are two areas that commonly don't get utilized to their full storage potential. Here's how to do it:
Slatwall storage involves hanging PVC panels on the walls to create space to hang tools, bikes, ladders, power cords, and more to keep your floor clutter-free and make items easy to locate and keep organized.
Overhead racks add useful out-of-the-way storage space for bulky, infrequently used items that can eat up a lot your flooring square footage (which can make parking more difficult).
Speaking of garage parking, you can create more home parking space by installing one or more car lifts to accommodate all of your family's vehicles.
Another popular storage solution for the garage are cabinet systems that give you even more storage versatility.
Decor upgrades make garages feel more comfortable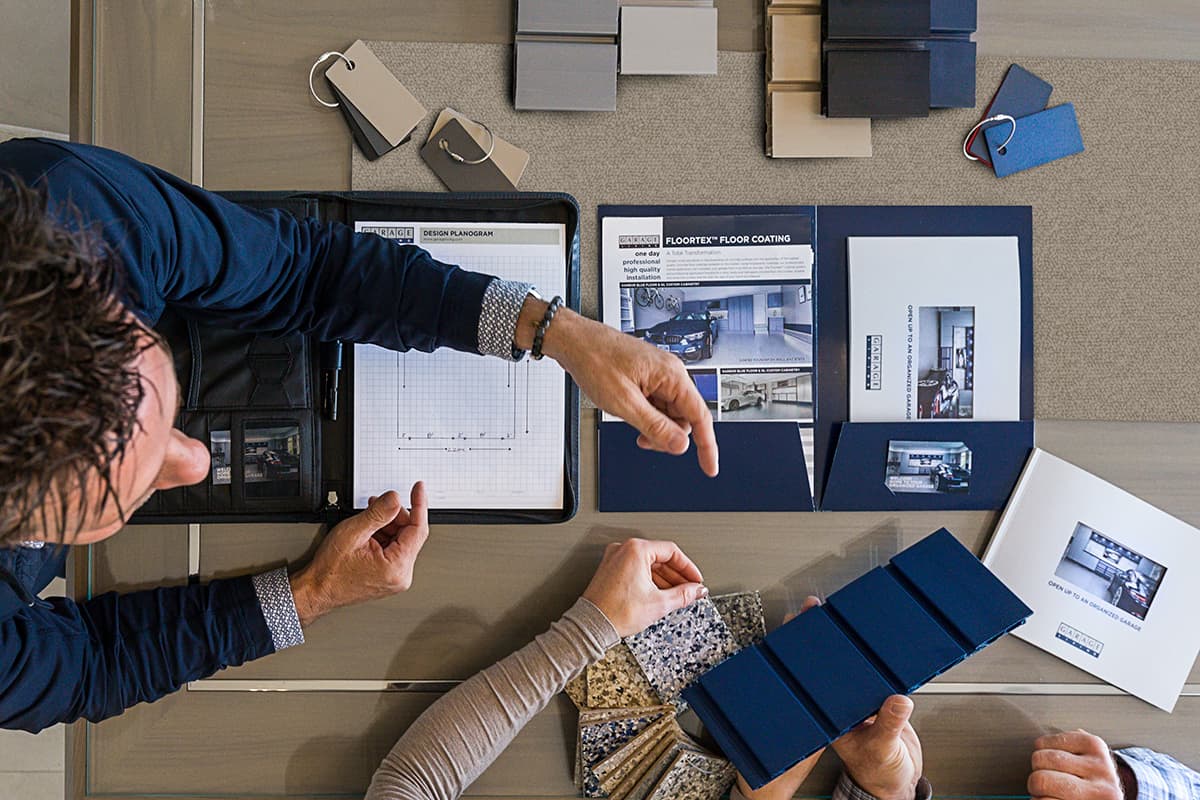 Getting your garage to the point where it's organized is great, but having a less cluttered space really draws your focus to the room's decor.
In most garages, that's not a good thing.
Considering the garage is the home's main entry and exit point for about half of the people who own a house, it's odd that more thought isn't given to the room's interior décor.
By making some changes to surround yourself in the garage with appealing colors and other stylish design elements, you'll appreciate the enhanced level of comfort you feel as a result.
How to make your garage look amazing with a garage remodel
Garages often have a mishmash of storage systems that don't create an aesthetically cohesive appearance. Garage Living's storage systems are designed to not just help you stay organized, but to create a professional, high-end look in the garage that stands out.
Wall storage
Our slatwall panels, for example, add a more finished look to the garage's interior and come in seven colors, which gives you some flexibility to compliment the garage's other features aesthetically.
We also offer over 40 types of hanging accessories to handle a wide range of storage needs. This eliminates the need to use additional wall hanging systems and products from various manufacturers that can detract from the clean, unified look of the room.
Garage cabinetry
Garage cabinetry also provides this dual benefit of functionality and a garage décor upgrade. For example, high-quality cabinets like our GL Custom Steel system add a touch of class and style to any garage.
Garage flooring
An important component of your garage's visual upgrades has to include the floor. A stained, scuffed, cracked, and dull-looking grey floor surface simply won't cut it in any garage where feeling comfort is your goal. Have a durable polyaspartic Floortex™ floor coating applied that adds visual interest to the floor surface and complements the rest of your garage's décor.
Interior design
New drywall, fresh paint, and lighting upgrades are additional garage makeover ideas to consider. You could also transform the look and feel of the garage by making changes to allow more sunlight in, which is an effective way to boost your mood organically. This could be done by having garage doors with glass panels added, installing a skylight, adding a side window or two, or enlarging the garage's existing side windows.
Designer Series garage themes
To simplify the process of putting together the décor for your garage, we recommend taking a look at our Designer Series. It includes seven themes of pre-chosen color palettes and materials that create an attractive, unique look for garages.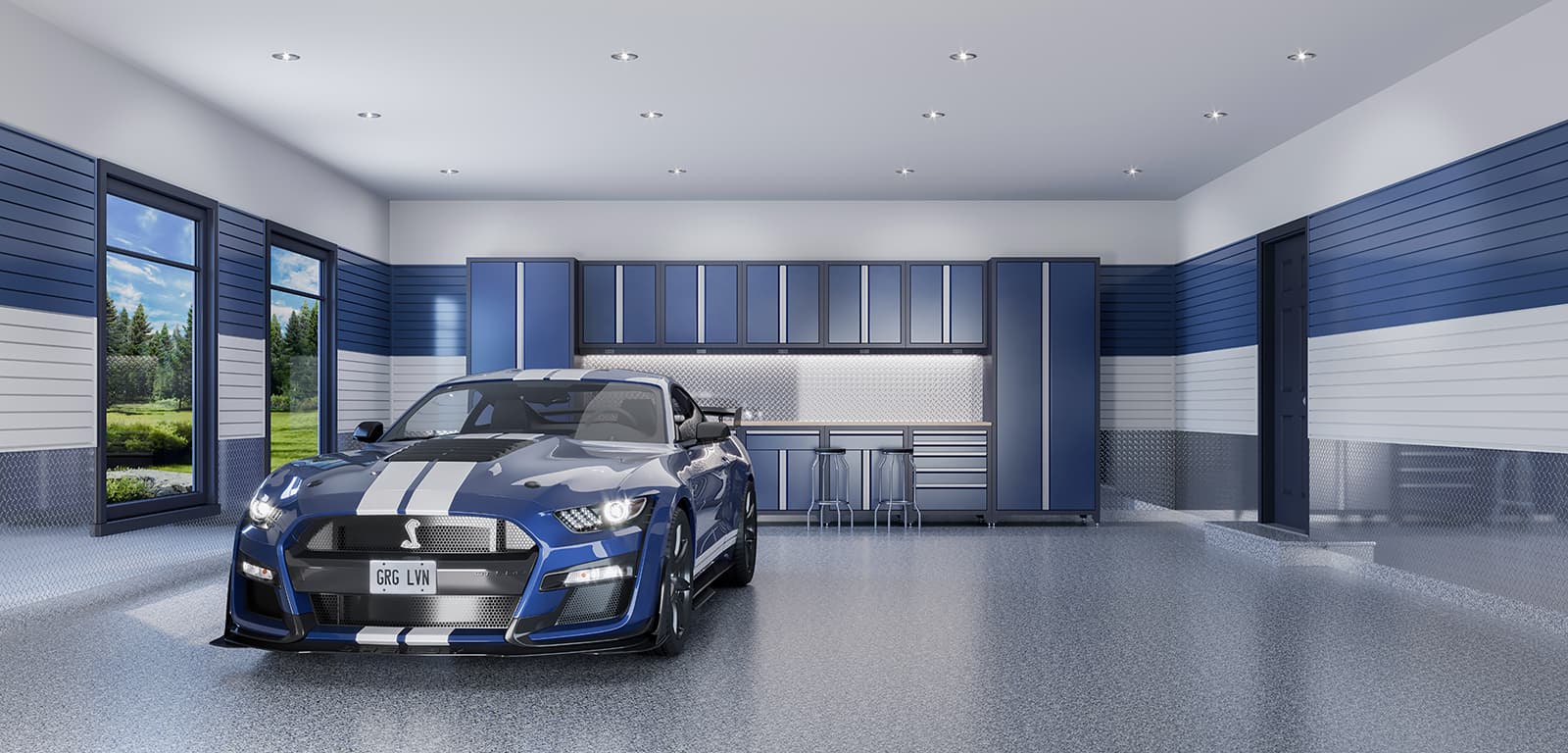 The blue/grey/white combo of the Harbor or Patriot themes features a soothing color scheme that might be perfect for a garage you anticipate spending a lot of quiet time in. Maybe the bolder Performance theme aligns more with your aesthetic taste or perhaps you'd prefer the more understated, minimalist black and grey blend the Carbon theme offers.
Why not make the garage your go-to home comfort spot?
Once you've got your garage's organization and decor issues resolved, the room becomes a much more viable area in your home to turn to as a space to relax and enjoy.
There's no reason the garage can't become one of the go-to comfort spots in the home for anybody in your family.
Have your garage designed to create space for lounging with a good book or podcast, exercising, or working away on a hobby project. Our cabinet systems are tailor-made for garage workshops!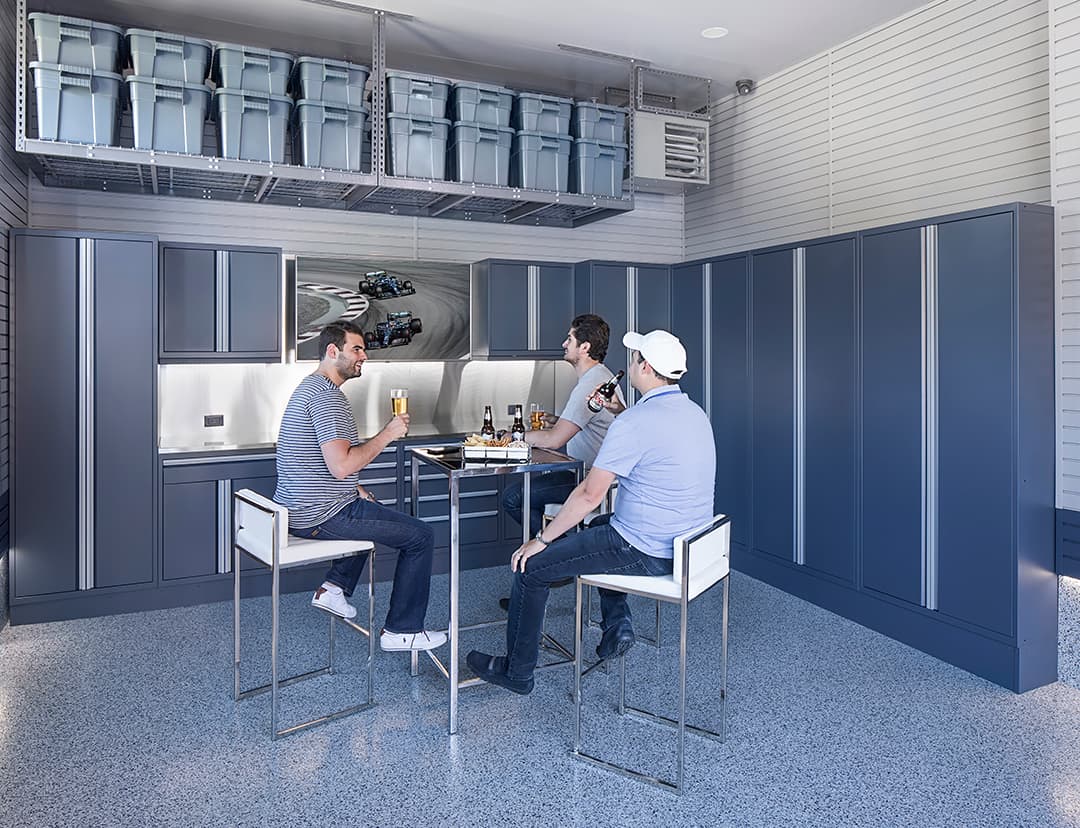 With the right makeover touches, a garage can even be used as a social space when visitors come over. Incorporate a TV into the cabinet system to enjoy sporting events with your friends on the weekend, add a ping pong table, or use the garage as a hosting space for a poker night.
There are a wide range of possibilities for using your garage as an extension of your living space, which boosts your well-being and happiness.
And don't just stop with the recommendations we've listed so far. Here are a few more ideas to make your garage more comfortable:
Install climate control systems to extend the amount of time you're able to use the garage when the weather cools down or heats up.
Add insulation or upgrade the garage's existing insulation to improve both your home's energy efficiency and the efficiency of the garage's climate control systems.
Boost your home's WiFi reception so any smart devices being used in the garage have a reliable network connection.
Your comfort zone is at home
Make your living space the best it can be by redefining your garage and making it part of your home remodel plans. A flooring project can be installed in just 1-2 days and a full garage transformation can be completed in as little as 3-5 days.
You'll reap the benefits of having a garage that ups your home comfort level by looking nicer and accommodating your family's needs better.
Bring us your dream garage ideas and Garage Living will work with you to create a one-of-a-kind, beautiful space.
Schedule a free design consultation with us today.
Please share this post if you found it useful.
See also: