The garage makeover process varies widely for each one of our clients.
Some start their journey with a clear, concise idea of what they want their garage to look and function like.
Others may have a general idea of the aesthetic they're looking for with their garage. Many of Garage Living's clients come to us with very little knowledge of what modern garage décor and storage options are available.
Regardless of how fully formed the vision for their remodeled garage is, the goal of anyone enlisting the services of a trusted garage professional is the same – they all want to transform their garage's appearance into something truly special.
To simplify the process of designing your garage, we're pleased to introduce the Garage Living Designer Series. It's a collection of exclusive garage designs inspired by and created for you.
The inspiration behind the Garage Living Designer Series
Since 2005, Garage Living has completed thousands of garage makeovers across the U.S. and Canada.
All of that experience has shown us what works most effectively when it comes to designing garages (and what doesn't work). It's also given us a lot of insight and expertise into what homeowners are looking for when putting their garage redesign together.
For this reason – and because we know not everybody has the time or inclination to fully research their garage décor options – Garage Living has produced seven custom Designer Series themes.
A different dynamic color theme is featured in each Designer Series that infuses a distinct, cohesive aesthetic to any garage.
Each Designer Series garage has its own design board that shapes the product and color palette selection. A design board is also known as a mood board or concept board and provides an arrangement of inspiring images that tell a unique narrative.
Why the Designer Series helps anyone planning a garage makeover
There can be a lot of decisions to make when planning a top-to-bottom makeover of your garage.
The Designer Series saves our clients time by simplifying the design process, providing a focussed starting point with contemporary garage themes.
These carefully curated, pre-packaged complementary color and product combinations conveniently bring the vision of your "future garage" into sharp focus.
While each Designer Series helps guide you through the design process, you're not strictly limited to the colors and products recommended in each Series.
Customization and design flexibility is a hallmark of Garage Living. We will work with you to make adjustments to your garage's design and address any secondary needs you may have.
Which Designer Series is right for your garage?
Let's briefly summarize the highlights and features of each Garage Living Designer Series so you can get a better idea of which one may work best for your needs.
Harbor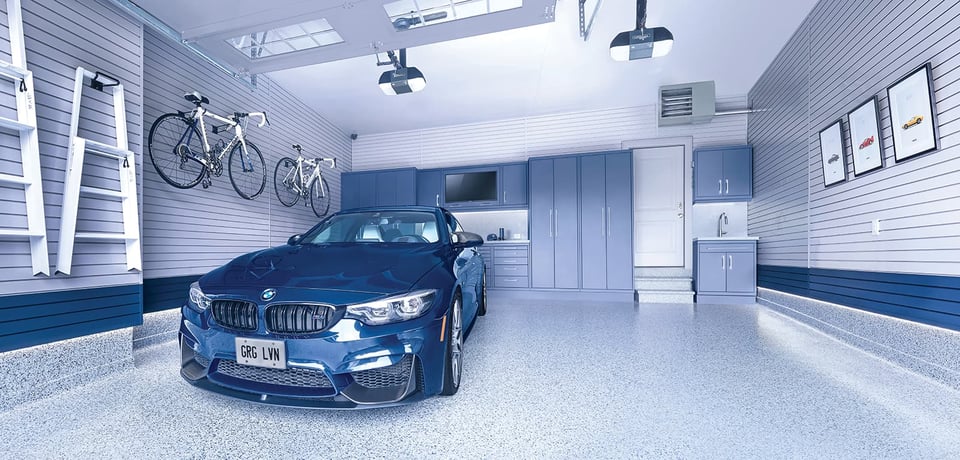 The Harbor Designer Series takes its inspiration from the world's most popular color – blue.
Good things come in blue. The sighting of blue jays, freshly picked blueberries, and the allure of blue eyes. Blue is the essence of inspiration and beauty. It can evoke images that calm and relax us, or stir our spirit, creating renewed energy.
Harbor features nautical colors that conjure feelings of peace, tranquility, and organization. It was the perfect visual concept for one of our clients who chose it as the theme for the garage at their weekend getaway in a lakeside resort community.
Midnight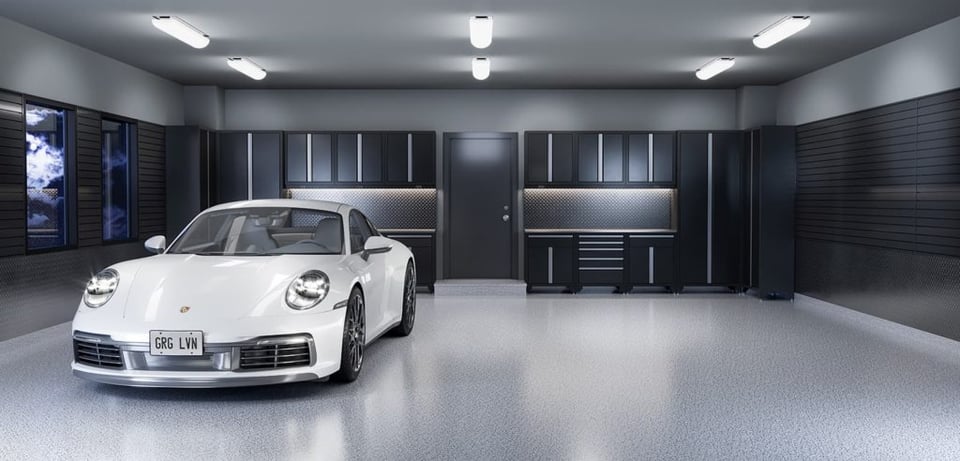 You don't collect cars, you curate luxury. Every vehicle you choose is a refined choice. Like vintage wine, where you keep it should look as finely crafted as what you select.
If these things resonate with you, the Midnight Designer Series may be just what you've been looking for when it comes to your garage's look.
Midnight is an engaging combination of black, grey, and white shades, emphasizing a sense of elegance and simplicity that projects a modern, sophisticated aesthetic.
Midnight provides an alluring place to start and end your next great journey, creating a one-of-a-kind showplace that is an extension of your style.
Carbon

Greys are increasing in popularity in the realm of interior design and feature prominently in the Carbon Designer Series.
Carbon is a transitional and timeless blend of grey and black, creating a balanced, finely honed garage look that's strong and sophisticated.
Carbon provides a brilliant, rock-solid palette that can take center stage in showing off your garage interior. It's equally capable of receding into the perfect, tasteful backdrop for your star vehicles.
Barn Board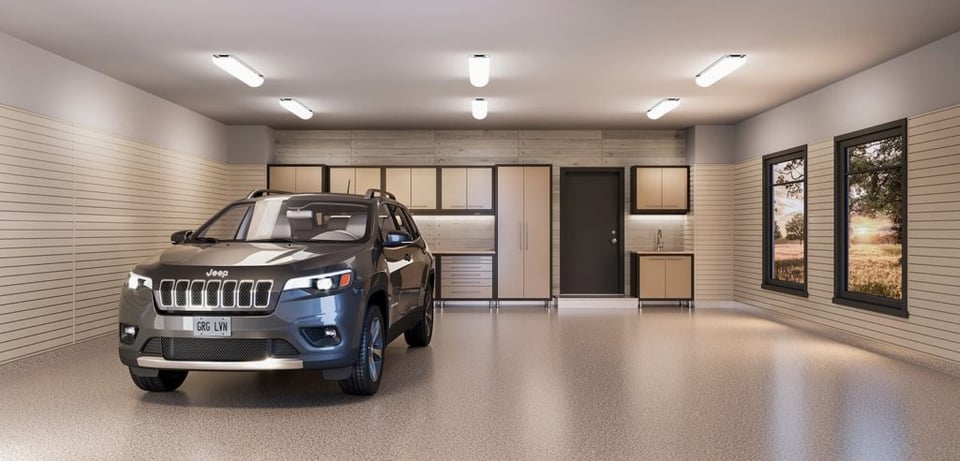 The Barn Board Designer Series from Garage Living is earthy, warm and natural. Just like you. Just like your home. It's easy on the eyes, comfortable, and perfectly expresses your style.
Barn Board brings a modern approach to farmhouse-inspired design with warm expressions, distressed wood, and inviting neutrals to form a comforting, grounded experience.
Patriot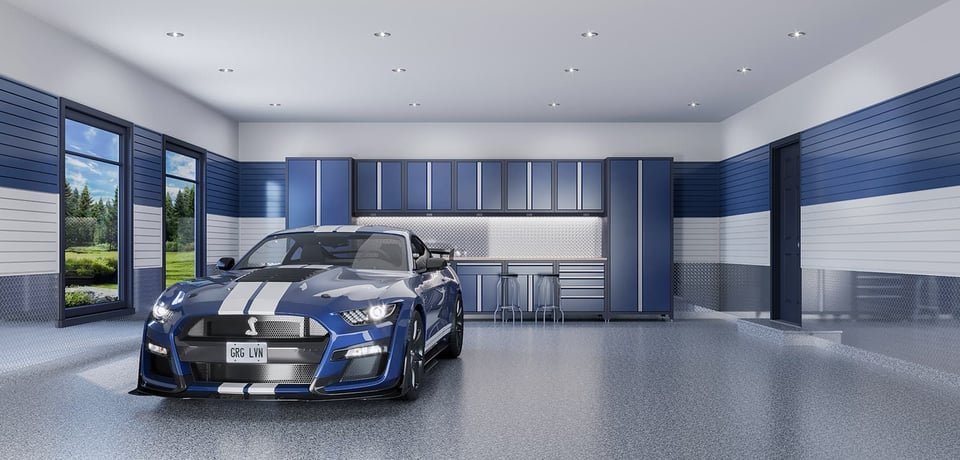 You're not afraid to show your true colors. You wear your pride like a favorite pair of jeans that are dependable and reliable, just like the cars you choose to drive.
The Patriot Designer Series features a traditional blue, white, and grey color palette that creates a visually stunning yet comforting home space that is a reflection of your values.
Performance
The Performance Designer Series says you're not afraid to make a statement, especially when that statement honors your love of speed and the finer details when it comes to your cars and where you park them.
The dynamic Performance series is ideal for the consumer whose automotive choices are top-level and engineered with precision and distinction.
Performance captures an adventurous spirit that's anything but standard, delivering a lasting impression with its bold color palette.
Tudor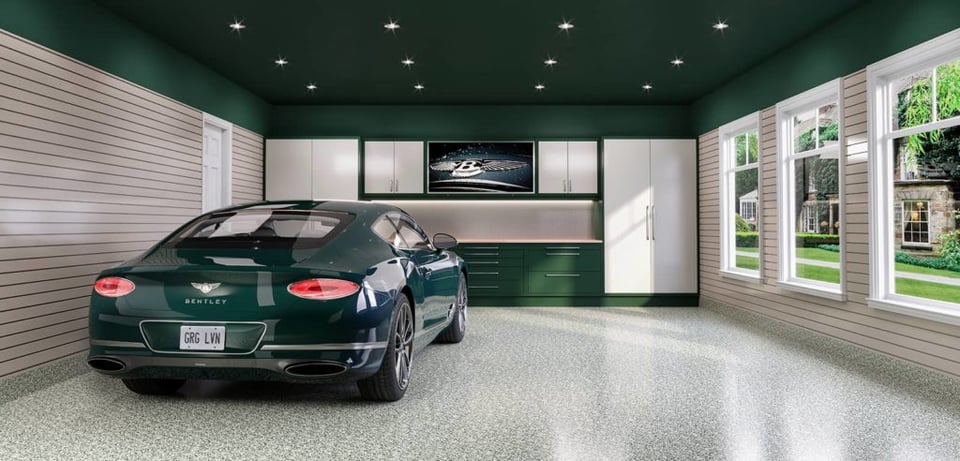 The inspiration behind the Tudor Designer Series comes from the iconic green color that originates with the birth of the UK motor racing scene.
The finest racing cars from Bentley to Bugatti and Lotus have sported the distinct British Racing Green shade racing in the Le Mans, Grand Prix, and Formula One. So why not bring a hint of racing green home?
Tudor is a fusion of passion and tradition, where green, white, grey, and neutrals come together to produce a contemporary look.
Tudor Green is also the newest exclusive Floortex™ floor coating color available from Garage Living.
Learn more about the Garage Living Designer Series
To assist in your decision-making process and to learn more about the Garage Living Designer Series, you can download a PDF brochure from the link on each series page.
We encourage you to visit your local Garage Living showroom to view samples of the Designer Series. Please don't hesitate to ask our professionals any questions you may have about a particular series or anything else related to garage makeovers.
You can also schedule a free design consultation with Garage Living at your convenience.
Please share this post if you found it useful.
See also: