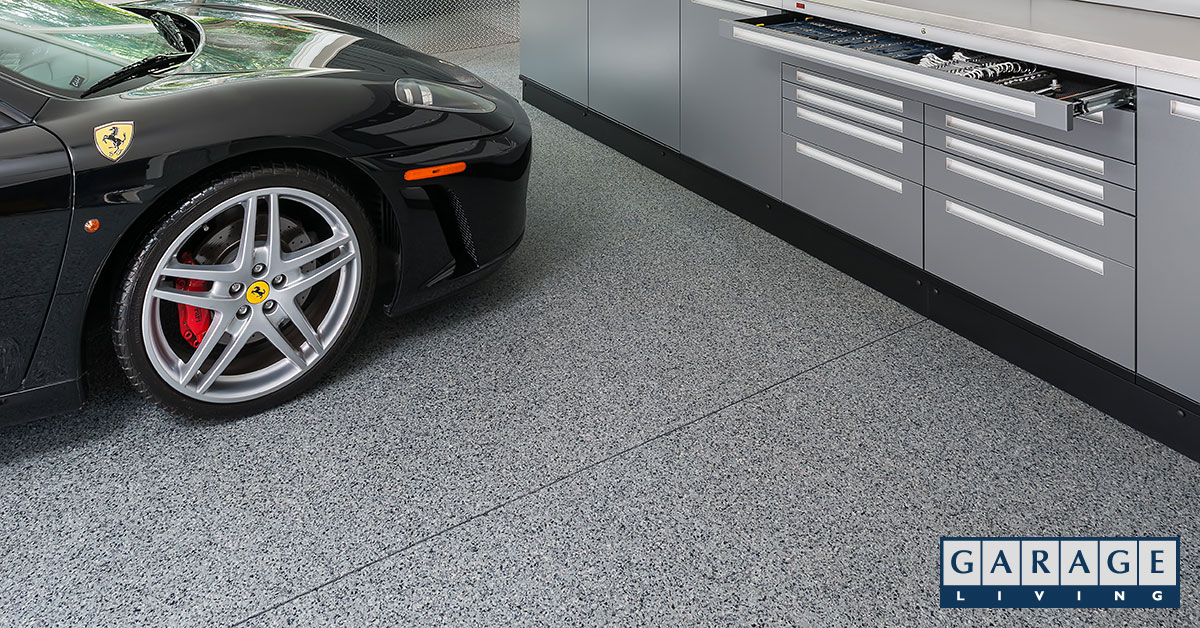 Knowing when to choose a garage floor replacement over a garage floor repair can be a difficult call for a homeowner.
There are many factors to consider, which can vary widely from one garage to another.
Let's explore some of the issues that cause floor damage and examine why it may be smarter to choose a garage floor replacement instead of repairing your damaged flooring.
A garage environment demands a lot from your garage floor
Consider how much your garage floor has to endure:
the average weight of a vehicle parked on your garage floor is approximately 4,000 lbs
regular vehicle traffic
everyday foot traffic (especially considering a majority of homeowners use the garage door as their house's main entryway)
garage floors are exposed to materials and liquids that contribute to concrete deterioration
temperature fluctuations put stress on your concrete garage floor, especially in northern climates
Age or a poor installation can lead to a garage floor replacement or repair
A garage floor replacement may be needed simply due to its age. A concrete garage floor slab should provide decades of use. It's not unheard of for slabs to last for a half century or more in some garages, however.
A poorly installed garage floor surface could be another reason your garage floor has seen better days. Some home builders cut corners and may not have done the following steps properly:
dug the garage floor sub base to the correct depth
used the proper concrete mix or used a high-quality cement
ensured the right compacting ratio was used so the ground/soil settles properly
placed the expansion joints in the proper locations
graded the garage floor correctly
Recognizing the early warning signs of garage floor damage
Cracks in your garage floor are a telltale early warning sign that a garage floor replacement or repair will eventually be needed.
The severity of those cracks will dictate what your course of action should be. The two main types of garage floor cracks are shrinkage cracks and settlement cracks.
Understanding shrinkage cracks on your garage floor
Shrinkage cracks (also known as hairline cracks) occur when poured concrete begins to shrink as it dries and cures. This can cause it to crack and show minor breaks in the floor surface. This type of smaller crack is cosmetically unappealing, but relatively minor and not necessarily an indicator of more serious structural damage.
While shrinkage cracks can be repaired, those repairs can be rather unsightly and are a short-term solution. You'll have to readdress the problem eventually, especially since the cracks will only grow larger as moisture seeps into them.
The ongoing freezing and thawing cycle causes the concrete floor to expand and contract (expansion joints help relieve some of this stress). Moisture that enters the floor through cracks can cause additional degradation of the flooring, however. Add in deicing road salt that's recrystallizing inside the cracks and the problem is further compounded.
Why settlement cracks occur on a garage floor
Settlement cracks are larger and more serious than shrinkage cracks and have the potential to cause more substantial damage. Settlement cracks occur when the soil beneath the flooring shifts. A poorly installed floor base will increase the likelihood of settlement crack issues. As with shrinkage cracks, water and salt infiltration in settlement cracks will cause more problems over time.
To check whether a crack is a structural problem or not, first determine whether the concrete sections on either side of the crack are at different heights. Then measure the crack's width. An opening of ⅛" or more could be a problem that you should have inspected sooner rather than later, as your concrete slab may be sinking.
Improper drainage can also cause garage floor damage
Your garage floor may be cracked, crumbling, chipped, uneven, and unattractive for other reasons. Ineffective water drainage can cause cracks and lead to major structural damage underneath your garage and the rest of your house.
Avoid having pooled water sitting on your garage floor (which is also a safety issue). Try to determine why the water is accumulating and from where. Blocked eavestroughs or poorly placed drainage pipes near the garage can sometimes be the culprit. Improper garage floor grading can also cause drainage problems.
Additional factors that can necessitate a garage floor replacement or repair
General wear from tires and foot traffic will also take a toll on a garage floor over an extended period of time. Exposure to leaking vehicle fluids and other household chemicals can also have a cumulative harmful effect on floors.
Pitting (where small holes form on a floor surface) and other surface imperfections may also occur/appear on floors. This can be due to dried salt deposits and fine dirt and sand granules that aren't swept up often enough acting as an abrasive on the floor. All of the above factors will occur more rapidly if your garage floor surface never had a sealant applied.
Should you go with a garage floor replacement or garage floor repair?
So with all of this information, should you choose a garage floor replacement or go with a floor repair? The latter may be a simpler fix, but it will also prove to be more of a short-term fix, depending on the severity of the problem.
How important are the aesthetics of your garage floor to you? Patching cracks or larger sections of your floor with unsightly repair materials that don't match your floor's color (if it has any color besides the traditional grey, that is) may not be a desirable look for your garage space.
Why Floortex™ is your best garage floor replacement solution
If your garage floors are older or past the minor repair stage, a Floortex™ floor coating is your best garage floor replacement solution. Rhino Linings, manufacturers of Floortex™ coatings, are an industry leader in commercial and residential floor coating products.
Floortex™ polyaspartic floor coatings are superior to epoxy floor coatings in numerous ways:
they can be applied year-round (epoxy coatings have a comparatively limited temperature range they can be applied at)
polyaspartic floor coatings are water-soluble and penetrate concrete surfaces better than epoxy coatings, ensuring a stronger adhesive bond is formed
Floortex™ floor coatings provide a higher degree of surface protection to ensure a long life (including abrasion and impact resistance, plus high resistance to most household and automotive chemicals)
the textured surface of a Floortex™ floor coating provides more traction than epoxy coatings and helps to obscure dirt
Our 5-step garage floor replacement process
Here's how we use the Garage Living 5-step application process when carrying out a garage floor replacement with a Floortex™ floor coating:
First we prepare the surface by using a state-of-the-art Werkmaster™ diamond grinder that opens the pores of the concrete and smooths out the surface.
Floor cracks are opened with a diamond cutting wheel, filled with a polyurea joint filler, and then the excess filler is ground down.
A pigmented base coat (which can be chosen from a variety of colors) is applied with rollers.
The decorative Floortex™ flakes that correspond to the chosen base coat color are extensively spread on the floor. After a short curing period, the floor is then scraped with a tool to leave a smooth surface.
A top coat is thoroughly applied with a squeegee and then back rolled to produce a thick, even, and consistent finish.
Let us help with your garage floor replacement
A Floortex™ floor coating will provide your garage with a sleek and attractive surface for years to come. A durable Floortex™ floor coating is also backed by our written guarantee against flaking, peeling, blistering, or losing its shine.
Get started on your garage floor replacement and upgrade solution by scheduling your free design consultation with us today.
See also: