Since the 1980s, home builders have been looking for various ways to offer large homes at affordable prices.
Rising land costs and smaller lots have made this challenging. One solution has been to place the garage footprint at the front of the house.
Snout houses
Single and double-car garages form the front of these homes which are sometimes described as a snout house. Wikipedia defines a snout house as "a house with a protruding garage that takes up most of the street frontage."
Instead of first laying eyes on a welcoming front door, a porch or windows, the curb view resembles a bulky snout or nose. How do you achieve great curb appeal when garage doors are the dominating factor of your home? Don't fight it. Work with it and consider these five tips.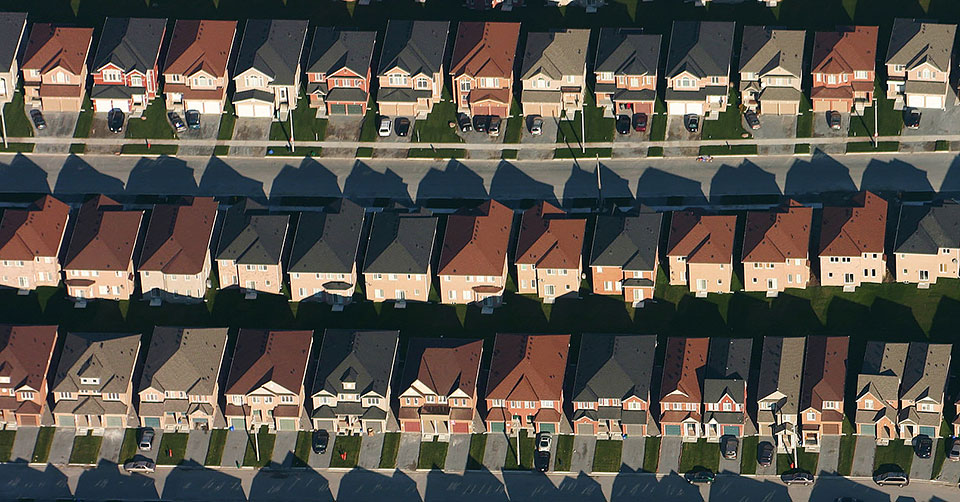 Upgrade your garage doors
Install garage doors with lots of visual appeal. Get the highest quality doors that you can afford for an instant upgrade. Many of these homes lack a defining style so let your garage door do the work.
Whether you choose traditional or modern garage doors, or one of many styles in between, it will set the tone for your home and become the jumping off point for further design.
To get away from the flat, boxy look of your garage door, create visual interest with the following:
window panes
horizontal relief patterns
vertical lines
barn door style cross beams
Choose from various materials such as steel, wood, fiberglass or aluminum glass doors. Vary the size, shape, window, and hardware options. What's your style? Do you prefer modern with lots of glass panels or a traditional wood-grain look? Make a statement that says, "welcome to my home".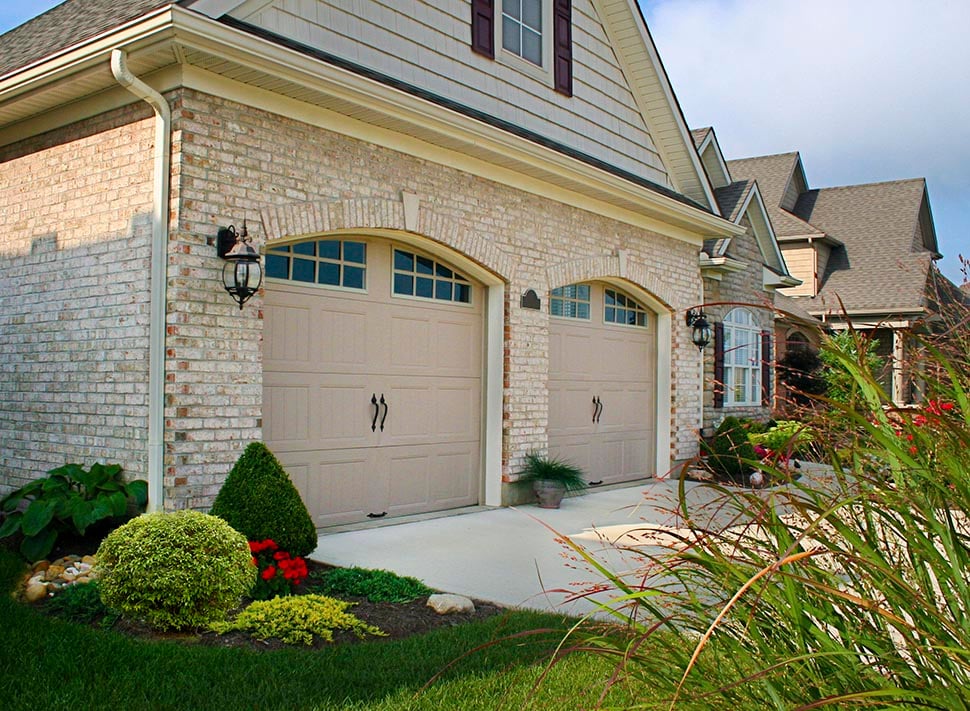 Use color
There are many schools of thought on the best garage door colors. If you can see the front door from the street view then make sure it's the focal point. Use color to make it stand out. You want to draw the eye to the entrance.
You don't have to match the garage door color to the front door. Most designers are insistent that you don't match them. You want to neutralize the garage doors. Whether the house is finished in brick, wood or any other kind of siding, choose the right tone of paint to make the garage doors disappear to highlight the front door.
If the front of your house is just one big garage, you can make it a design feature with color. Most garage doors are available in steel, fiberglass and natural wood that can be stained or painted. Many of the steel and fiberglass doors come in a variety of colours.
Any color added should complement the style of the garage door, the surrounding walls, and roof material. Look at the big picture beyond the doors to help you choose the color.
For instance, if your garage doors are surrounded in grey or beige stone, try to match the exterior house color to blend it with the doors. You can also add subtle contrast with a the lightest tone of that same color.
If you want the color to make your doors a focal point, go with a high contrasting paint color. Today we see more doors in dark greys, browns, and blacks – a sophisticated, contemporary touch.
Bright, primary colors can be too distracting on a large surface. Try to avoid bold colors that will make your neighbors cringe. Be an individual, but also be considerate.
Accessorize
A carriage house garage door has built-in features that make it stand out. The distinct period details like iron arrow or fleur-de-lis patterned hinges and multi-pane windows really make a statement.
Add decorative accessories like potted plants to the sides of the garage entrance. Greenery brings everything to a more humane level. Topiary and tall plants, trees, or shrubs draw the eye up and break up the large expanse of wall. Change out the plants seasonally and keep it fresh looking.
Porticos and trellises and are not just for backyards. Use decorative trim, pillars and built-out rooflines to add more detail to the flat surface. Adding ivy and climbing plants can also bring shade and softens the lines of the structure.
Decorative stonework on the walls around the doors add visual interest. Don't forget about your driveway, pavers, stamped concrete, and stone driveway surface, which can also make your garage doors pop.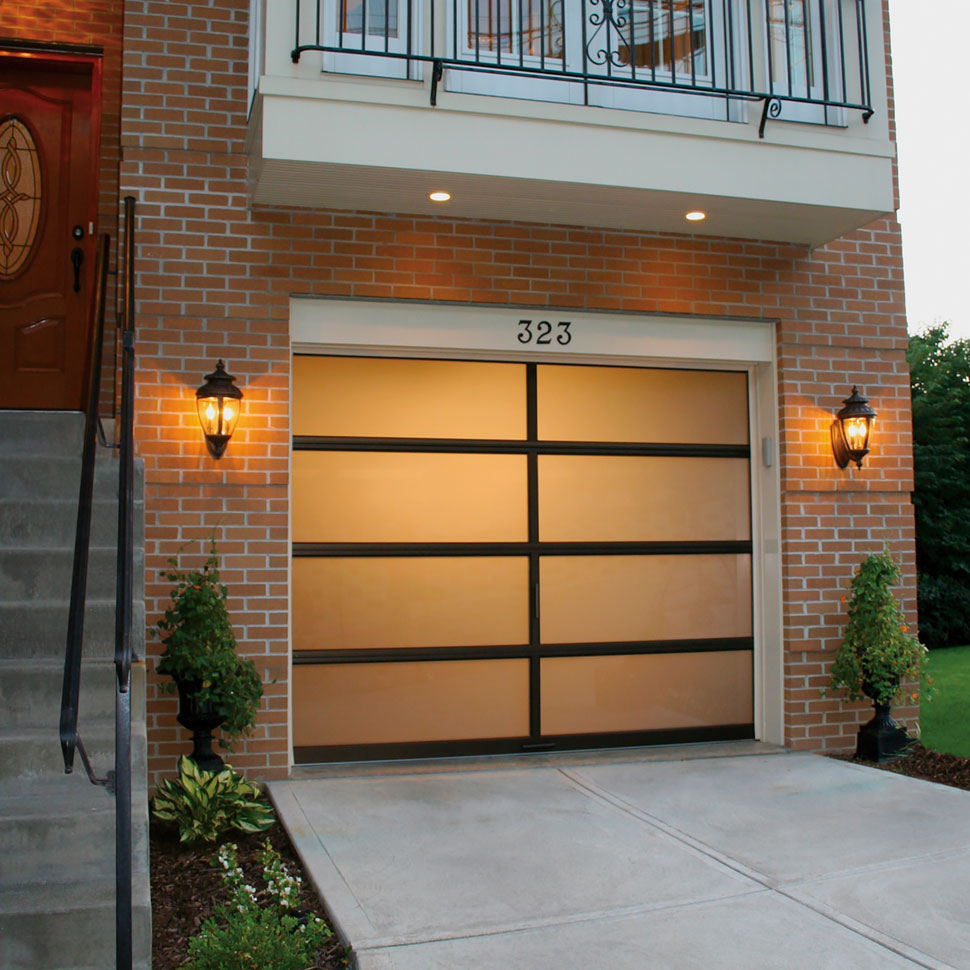 Light it up
Exterior lighting is a great way to add more curb appeal to your garage wall. Overhead and side lights are not only functional, they are a safety feature. Look for lighting that complements the color tone and style of your home to bring the entire look together.
Some people will invest in ground lights in the driveway pointing straight up. Lighting the sky isn't really functional but can look very striking, especially for contemporary treatments. Uplighting is most effective when pointed into trees, leafy shrubs and plants creating interesting shadow and light patterns, adding an artistic touch to hard surfaces.
One light can be enough but a pattern of multiple wall sconces leading to the front door can be very dramatic and effective.
Bring it to the front door
Once you incorporate some of these curb appeal tips into your garage door, carry them through to your home's entry. Duplicate your style, color, and lighting choices at the front door of your home. A consistent look makes your home's exterior more balanced and welcoming.
If the front of your home is a garage, it doesn't have to look pedestrian. You have plenty of choices to make it look beautiful and functional.
Where do I start?
Have a look at the different types of garage doors that are available from Garage Living and get inspired. Determine which style suits you and start planning.
Schedule a free design consultation with us to boost the curb appeal of your garage's exterior and interior.