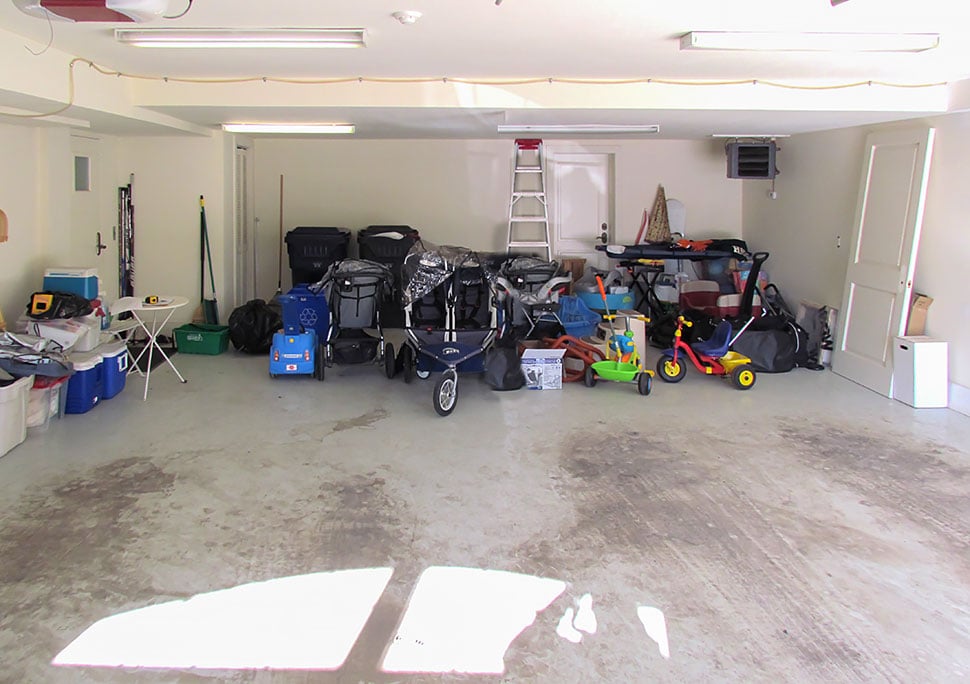 A garage disaster doesn't just happen overnight. It is the result of months and sometimes years of neglect when it comes to garage organization and maintenance.
Your garage gets used several times each day. It's a useful and valuable part of your home. So why is it routinely overlooked when it comes to home improvement?
An Impulse Research survey found that 24% of homeowners are embarrassed to leave their garage doors open because the space had too much clutter and a shabby overall appearance.
Is your garage a disaster?
We recently came across a messy garage that was a complete disaster. If your garage is disorganized and cluttered, the examples below will look familiar.
The garage pictured below is shown almost entirely as is. Nothing was staged, although we did have to move a couple of items in order to get decent pictures.
1. Finding items in your garage is a headache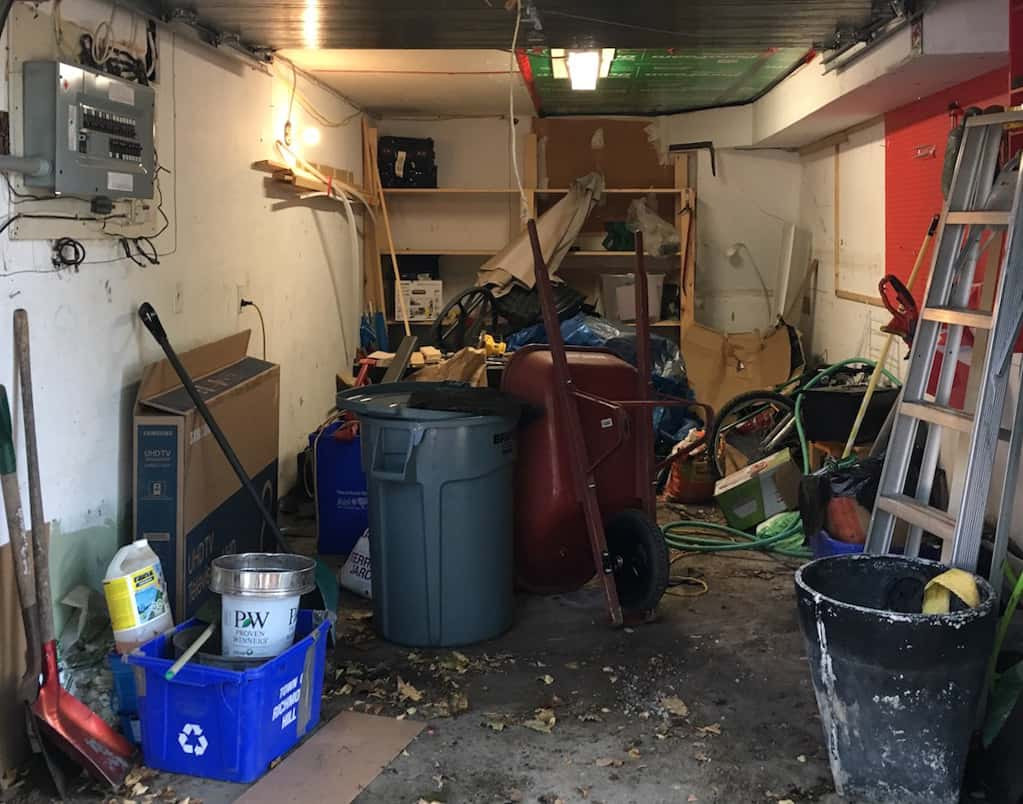 As you can see, navigating through this garage presents a big challenge.
Some of the bigger items, like the ladder, trash can, and wheelbarrow aren't difficult to find quickly. Finding smaller items like hand tools, empty leaf and trash bags, or hose attachments? That's gonna take a minute or two.
Finding things when the garage gets this disorganized doesn't just mean navigating around the clutter. You'll often have to move things just to get to the items you've located, which wastes more time.
From the garage's entrance, you'll see the classic example of a cleared path through the floor clutter. Just behind the wheelbarrow and hose on the ground, the makeshift path leads to the home's exterior water connection on the garage's back wall.
2. Things are stored in the garage that shouldn't be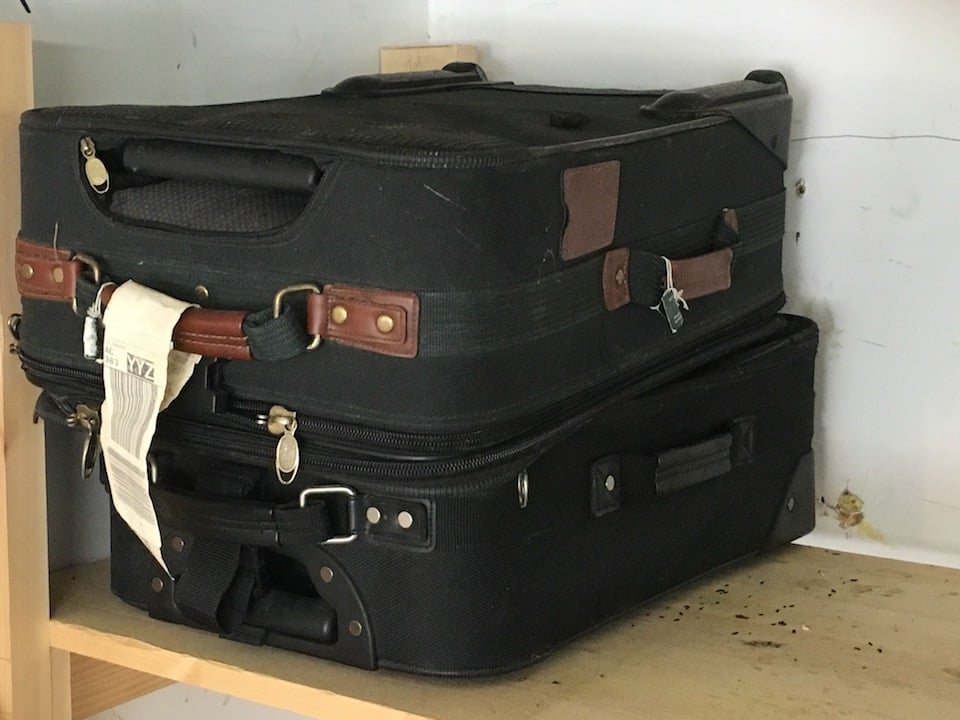 Storing the wrong things in the garage is one of many ways you run out of storage space quickly and items get damaged.
These two suitcases stored on open shelving on the garage's back wall are good examples. Textile-based products aren't suited for long-term storage in a garage environment that experiences major shifts in temperature and is moisture-prone.
Another reason you don't keep textile or paper-based products in the garage for a long time is because mice find them a great place to make a home.
See those small dark spots to the right of the suitcases? Those are mouse droppings. We definitely wouldn't want to see what's going on inside of those suitcases.
Other examples of items you shouldn't be storing in the garage include:
food
wine
wood furniture
electronics
paint
3. Your garage lighting needs an update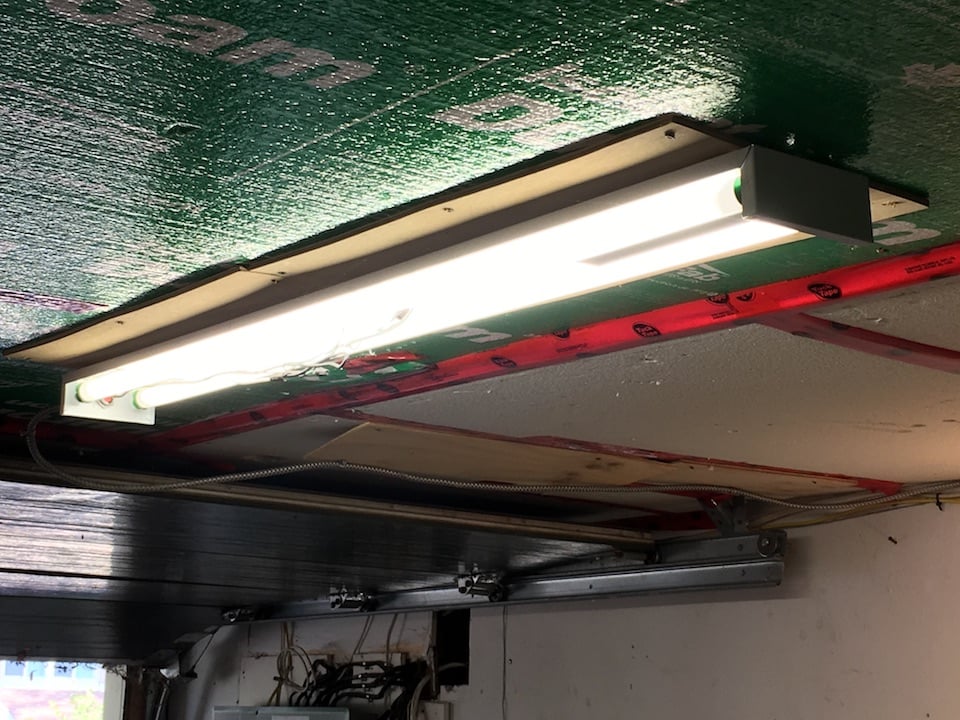 The garage has two light sources that provide a decent amount of light for the room. While they're functionally fine, their "presentation" leaves a lot to be desired.
The light fixture above is missing its plastic casing and is attached to two thin pieces of wood that are screwed into the upper styrofoam panels. It doesn't exactly look well-anchored.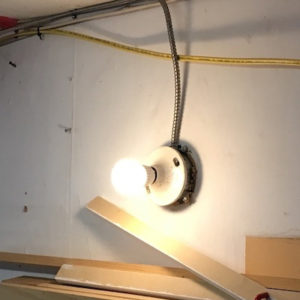 The light's power cable is exposed and similarly attached to a couple more pieces of thin wood attached to the ceiling. If you look closely, you'll see that they're not mounted flush against the styrofoam boards.
The garage's original light is the single incandescent bulb to the right, which oddly has its electrical cable exposed instead of hidden behind the drywall.
Along with the fluorescent bulbs being used in the ceiling light, the garage isn't being very energy efficient…and we haven't even mentioned the insulation issues yet!
4. Garage clutter prevents vehicle parking
Parking in the garage is clearly not an option here. All of that clutter has relegated the owner's vehicle to 24/7 driveway parking.
It's never done intentionally, but allowing clutter to take priority over indoor parking is very common. 20% of the 1,500 respondents to a recent Garage Living poll said they were unable to park in their garage.
A U.S. Department of Energy study found that 25% of people with 2-car garages don't park in them at all because of clutter. A third can only park one car.
Parking in the driveway under a tree (as this homeowner must do) can lead to damage from:
tree sap, leaves, and berries that fall on the vehicle over time
bird waste can eat through your vehicle's clear coat and paint if it's left on the vehicle too long
dead branches falling in windy weather
5. The garage floor needs a complete overhaul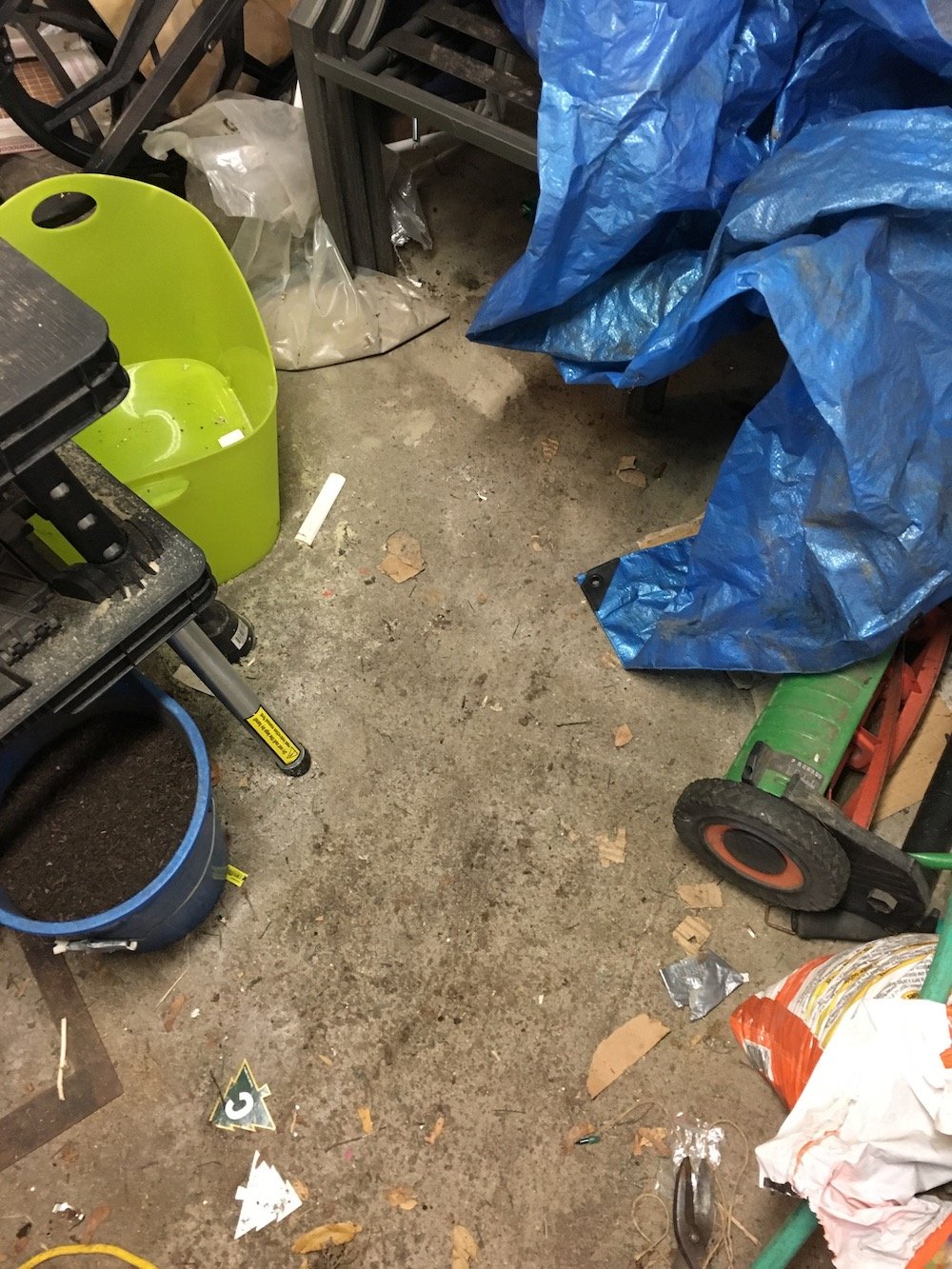 Another garage disaster sign is a damaged garage floor. Pictured above is your standard cement floor that's marred by scuffs, stains, pitting, cracks, and spalling (when a concrete surface crumbles or flakes away).
Because it's so hard to clean the garage, you can tell that it hasn't been swept in some time.
In addition to a good decluttering and some new storage systems, a fresh Floortex™ polyaspartic floor coating would do wonders to improve this garage's appearance and floor durability.
6. Lack of proper storage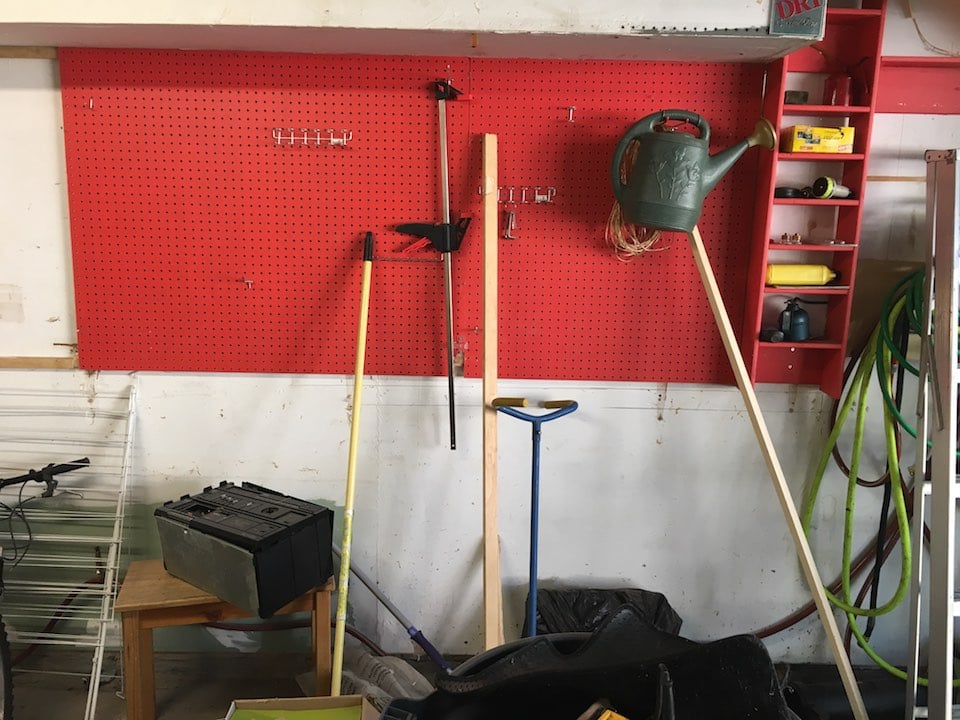 Analyze any garage disaster and you're sure to find that poor storage and organization systems are being used.
Pegboard panels like the one shown above are found in a lot of garages and can be useful in keeping tools off the garage floor.
This pegboard looked to be the standard 1/8″ thickness, which doesn't allow heavier items to be hung up, however.
Compare that to Garage Living's 5/8″ thick slatwall panels that have a rigid cellular foam PVC construction and are capable of holding items weighing up to 50 lbs.
Slatwall hanging accessories also make it easier to reorganize your hung items and provide more hanging stability, since they're anchored over a larger surface of the panel than a pegboard panel's metal hooks.
To the right of the pegboard is a wall-mounted storage tower that's not terribly practical. The items stored there were covered in dust and the open shelving isn't tall enough to even stand up the yellow oil container that's lying on its side (and leaking oil on the manual that's underneath it).
For smaller items like hose attachments, power tools, oil cans, cleaning supplies, automotive supplies, and other easy to lose items, cabinet storage would make more sense if the garage has the room.
7. Existing storage isn't used effectively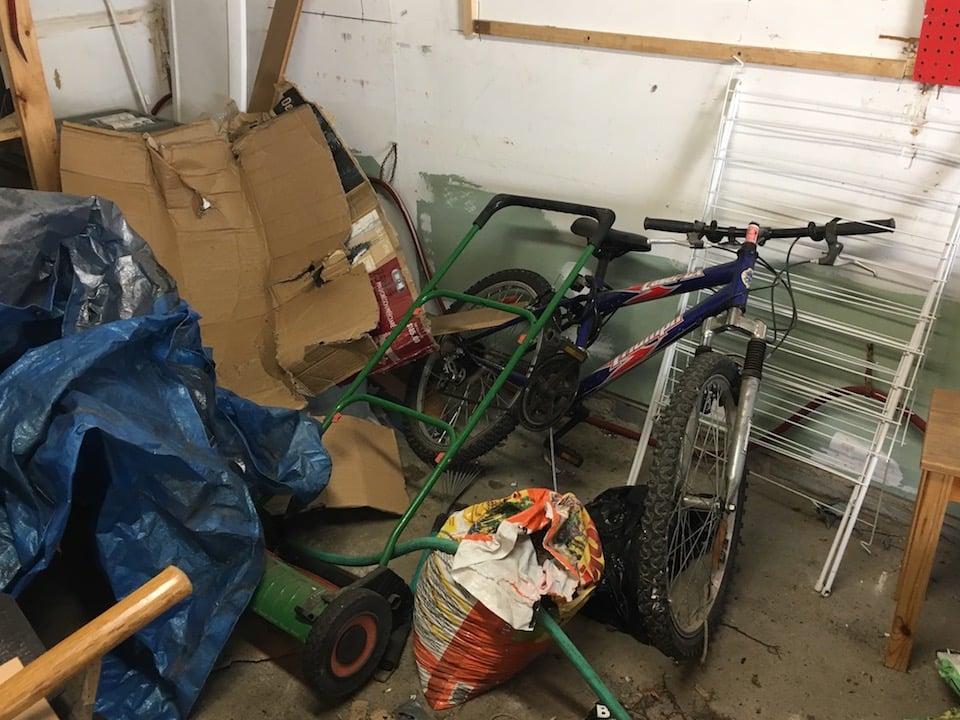 The homeowner has the right idea by making use of a part of the garage that's traditionally underutilized for storage – the walls.
Unfortunately, that pegboard is mostly empty, probably because it's difficult to access with all the clutter in front of it.
A stepladder and about a dozen shovels, rakes, and other yard tools that are currently leaning against a wall or sitting on the floor could be hanging up and reducing the amount of floor clutter.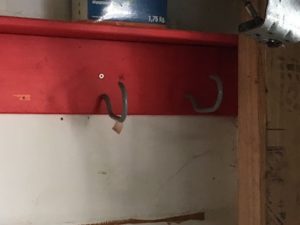 With a sturdy slatwall system, even heavier things like the bike and push mower pictured above could easily be hung to free up some floor space.
There's DIY shelving along the back wall that's only being used to approximately 30-40% of its full storage capacity.
And those two empty hooks pictured to the right look awfully lonely.
8. Wall storage space is being wasted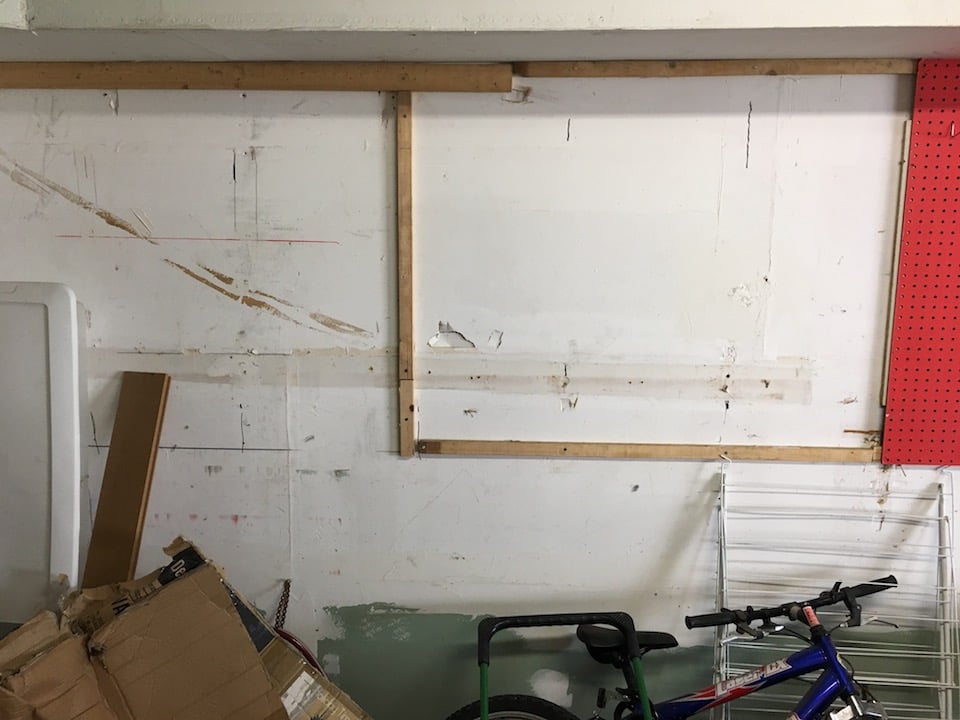 A significant portion of both side walls aren't being used at all for storage in the garage.
That's a huge wasted opportunity in any garage space and especially in small garages where space is at a premium.
Wall-to-wall slatwall on both garage walls would give the homeowner a wealth of storage space and get quite a bit of the floor clutter off the ground.
The narrow width of the garage makes for a tight fit for the owner's car, but parking indoors is definitely doable.
While garage cabinets wouldn't work on the side walls of this garage, a cabinet system with a smaller footprint like GL Signature Shallow cabinets might be ideal for the back wall.
9. Interior garage aesthetics aren't a consideration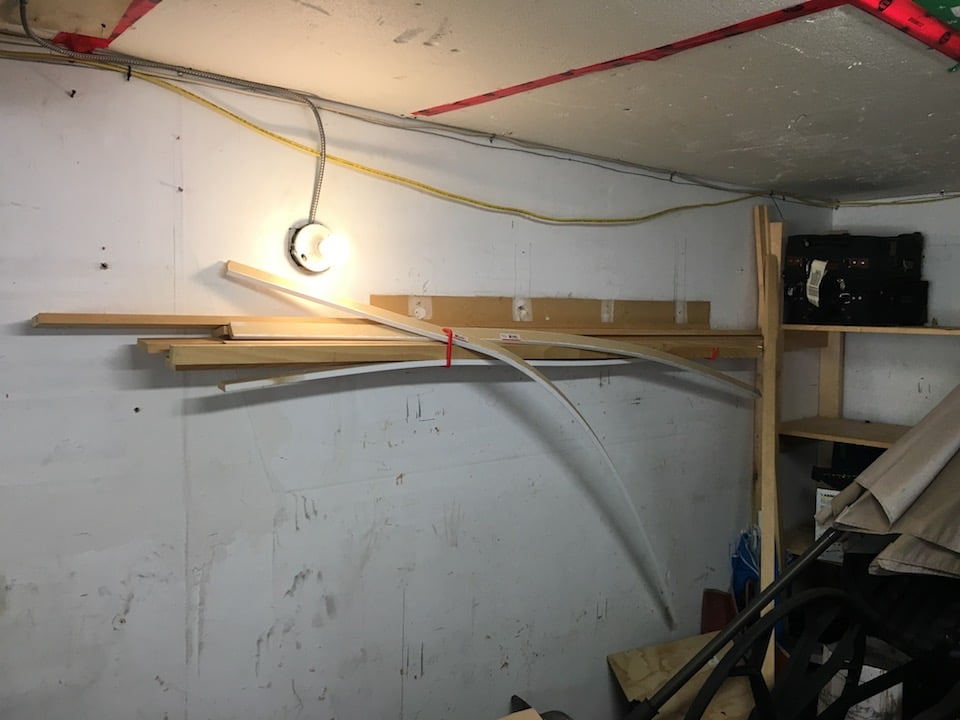 It's not just a garage's functionality that suffers when it's neglected, its appearance does, too. A cluttered garage is an eyesore that probably makes you wince every time you open the garage door.
Things like an old, beat-up floor, haphazardly stored wood, and drywall that's dirty and scuffed detract significantly from a garage's interior appearance. Storage systems that don't stylistically complement each other also stand out in the wrong way.
At least this garage has drywall, though. A lot of garages look even more unfinished with their wall 2x4s exposed.
Also exposed in the garage is quite a lot of wiring. Those two large holes in the wall on both sides of the electrical panel pictured in the next example aren't exactly helping in the looks department, either.
And you can bet that if you're wincing whenever you view your garage disaster, your neighbors are as well when the garage door is open.
Don't forget, curb appeal is all about the attractiveness of your property. A messy open garage has as much negative impact on how others view your home as a poorly kept yard or a roof in need of repair.
10. Safety hazards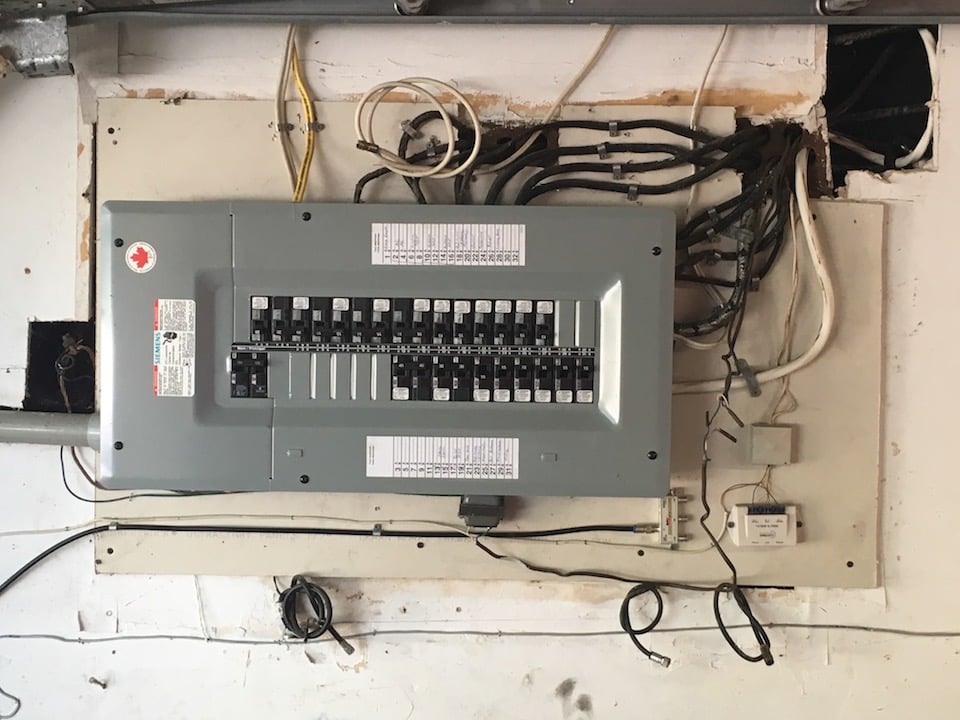 The dangling wood pieces shown in our previous example are a clear safety hazard. There are a few more safety issues in the garage that should also be addressed.
A couple of years after moving in four years ago, the homeowner decided to have the home's outdated fuse box replaced with a circuit breaker panel.
For some reason, the electrician left the panel uncovered. Things could get really dicey if a roof leak occurred above the panel.
The styrofoam boards on the ceiling look to mostly be held in place with little more than strips of sheathing tape that's keeping everything held together. Did we mention there's a light fixture attached to one of those boards?
Then, of course, there's the fact there are tripping hazards all over the place.
11. Lack of insulation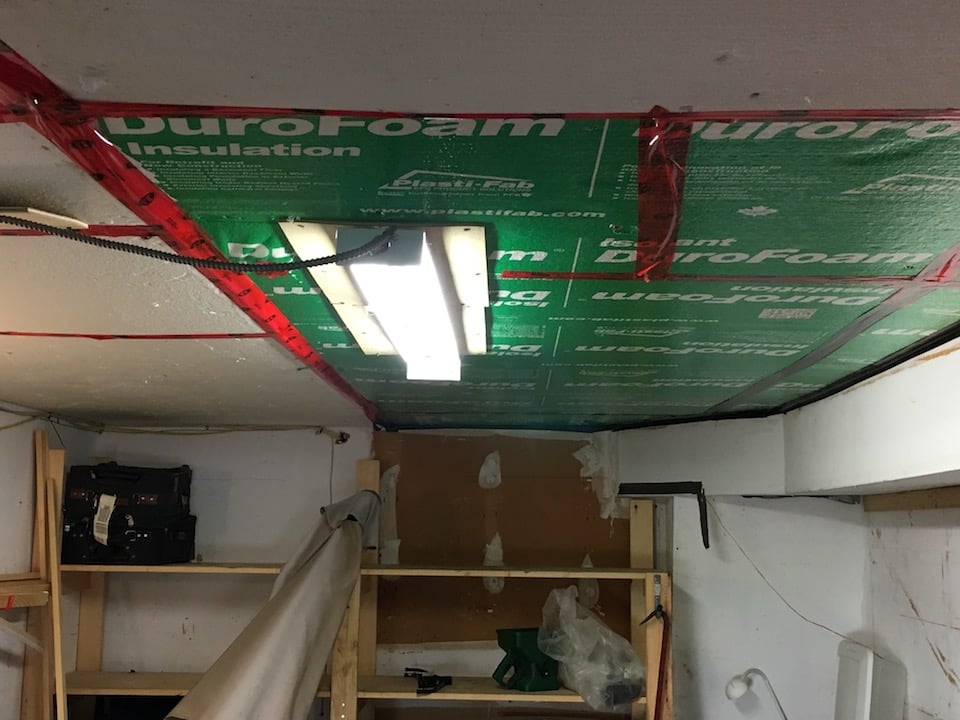 Proper insulation for an attached garage can make a big difference to a home's energy efficiency, both during the summer and winter.
This garage could definitely benefit from a lot more than just the ceiling-mounted styrofoam insulation boards that have numerous gaps where they meet the walls. No wall insulation is being used and the homeowner was unsure whether or not the old garage door was insulated.
The room above the garage is most directly impacted by the lack of insulation. The homeowner says the floor there is noticeably colder during the fall and winter.
Sound from the garage door opener is more noticeable to anyone inside without the sound dampening benefits of more insulation.
An HVAC duct runs through the garage in the top right of the photo. Depending on the thickness and insulation effectiveness of the ducts, a hotter and colder garage might impact the efficiency of the home's heating and cooling system.
12. Not enough task space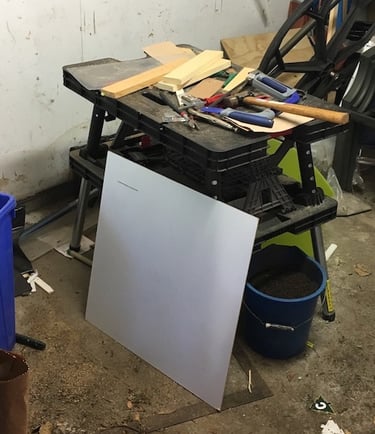 We've already established that a garage disaster severely impairs the room's functionality. That includes simple tasks like merely finding things quickly or being able to store things with ease.
It also means finding room to do any tasks is a pain.
In this garage's case, a small foldup workbench is set up to cut some wood.
There's very little space around the bench to work and nowhere to even put the leftover pieces of wood and tools other than on the workbench itself.
With an organized garage, a dedicated workbench could be installed with ample storage room that keeps all your tools within close reach.
A tidy garage can also be used as a multi-purpose room that allows you to do things like work on craft projects and use the space for your workouts.
13. Bulky seasonal items are stored on the floor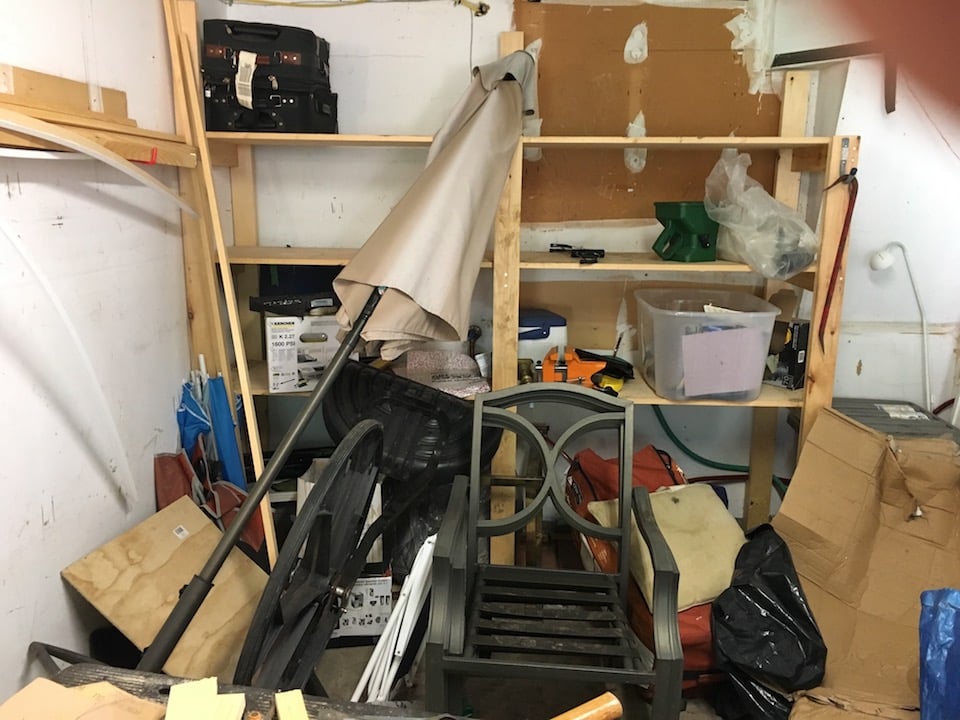 The homeowner has a small yard that doesn't provide much room for a shed, which would be helpful for supplementary storage for his bulky patio furniture.
The three patio chairs are stacked, which saves space and the patio umbrella could have the heavy base detached to make the umbrella less awkward to store.
The large patio table is still in the backyard since there's no room for it in the garage. One storage option would be to leave everything but the umbrella stored outside during the winter with covers in place to protect them.
Smaller overhead storage racks could work at the rear of the garage to create storage space for some of the bulky items, although the garage's low ceiling might prove to be problematic.
That orange bag on the floor to the right of the patio chairs is a camping set that, like the suitcases, should probably be stored indoors. We're not sure if the mice have set up shop there yet.
14. The garage door is outdated and needs maintenance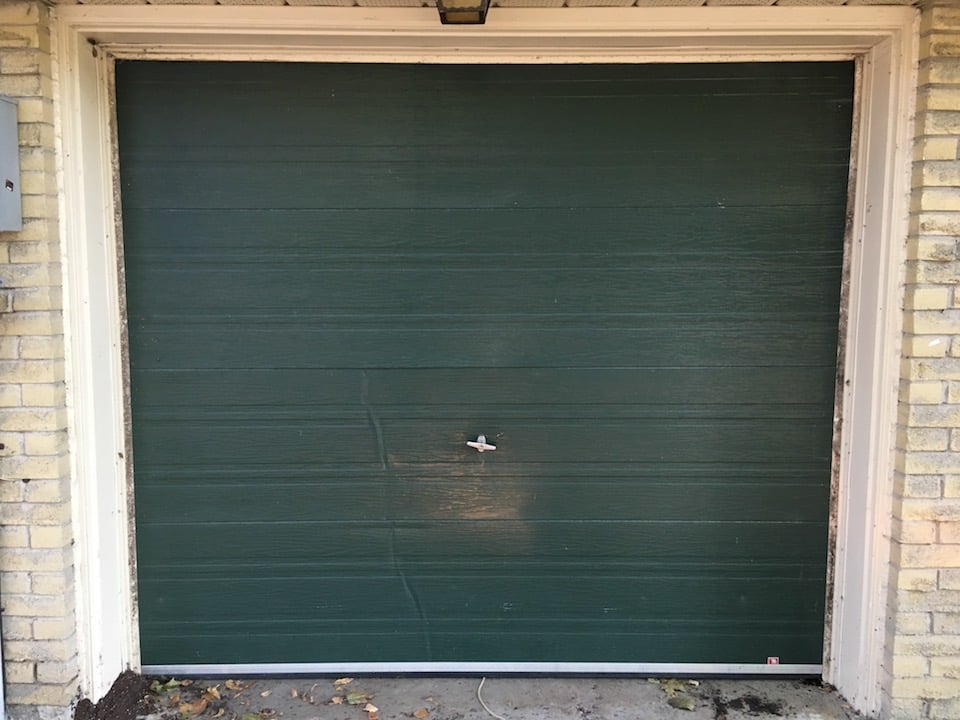 This garage door has a few surface flaws, including a noticeable scrape on the left-hand side.
It's a bit stiff when being opened and closed and left a very slight gap between the ground and the door when it was pushed all the way down.
An adjustment or replacement of the door sweep might close the gap and getting the door serviced is something that's probably long overdue.
A full garage door replacement is also worth considering. Garage doors also have a big impact on curb appeal and a more stylish, modern-looking garage door would provide a visual upgrade to the rather plain door currently installed.
Did you know that garage door replacements consistently have one of the best returns on investment of any home improvement project?
15. Junk occupies valuable floor space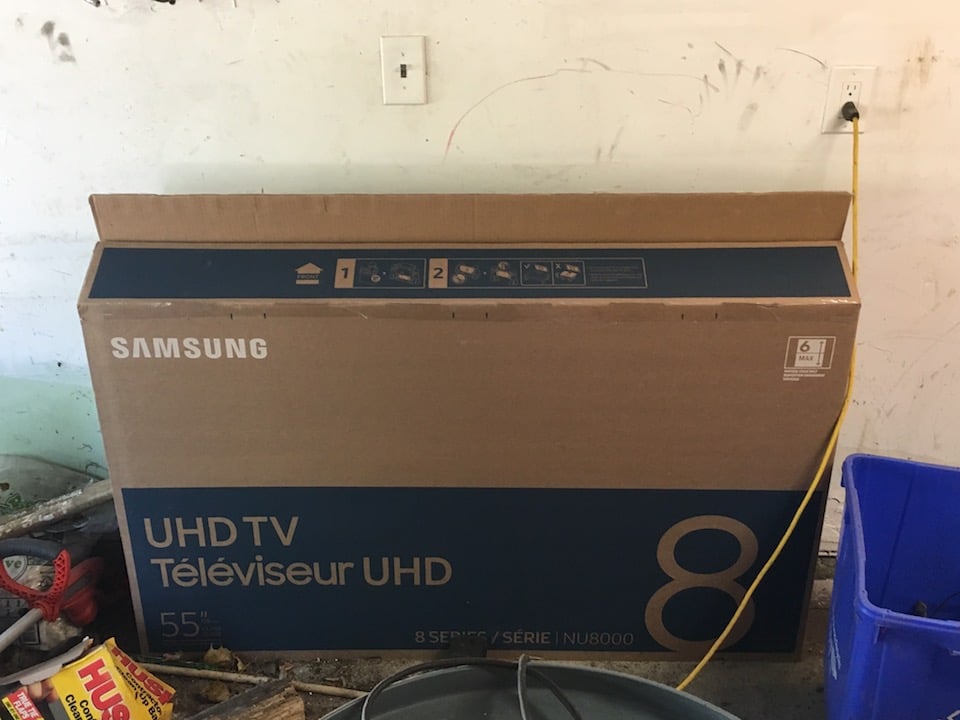 With any garage disaster, there's bound to be a lot of unnecessary junk and clutter occupying a sizable amount of space.
This garage is no exception. As pictured above, the box from a recently purchased TV sits on the garage floor.
Although it's smart to hold onto the original packaging of electronic products for a year or so in case something goes wrong with them, this box should be stored somewhere indoors, where pests and moisture can't damage it.
Below, this old stereo hasn't been connected to electricity in ages. Its speakers are M.I.A. and the AC cord is heavens who knows where. The homeowner has meant to get rid of it for a while and just hasn't gotten around to it yet.
To the right is a long-forgotten box of tiles. We're pretty sure all messy garages have at least one box of dusty tiles sitting around somewhere inside of them.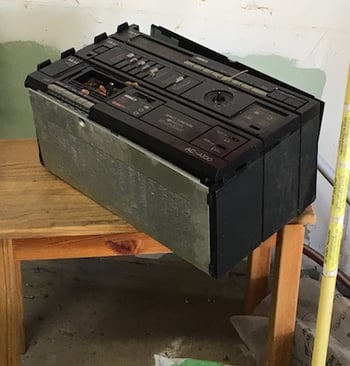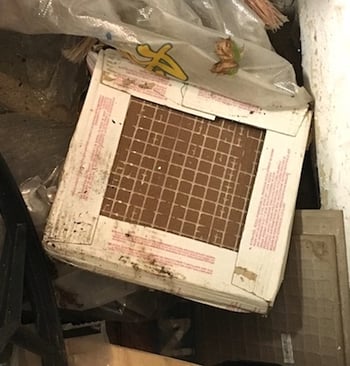 Rely on a pro to fix your garage disaster
When your garage ends up looking like the garage featured here, it's overwhelming. Where do you start?
The easiest solution is to consult with a garage makeover professional like Garage Living. We'll work with you and provide a solution to your garage disaster woes.
With thousands of garage makeovers under our belt, you can bet that we've seen our fair share of garages in need of serious help. Time after time, Garage Living has succeeded in turning disorganized, visually unappealing garage spaces into genuine home showpieces.
Garage Living is a totally professional, reasonably priced, customer-dedicated garage and work/storage space company. My garage upgrade by Garage Living included flooring, a workbench, storage cabinets, and overhead hanging storage.

Every detail was meticulously addressed by the professional, respectful, and totally competent team. I now have the showplace garage of the neighborhood, and I have recommended Garage Living to many friends, neighbors and associates. If you are thinking of upgrading your garage, call Garage Living for a comprehensive estimate.

— Robert O'Donnell
Stop living with the limitations that come with having a disorganized garage and schedule your free design consultation with us today.
Please share this post if you found it useful.
See also: