Garages can be quite difficult to keep cool during the hottest summer days.
That can be a drag if you enjoy using your garage for hobbies, working out, doing your own vehicle maintenance, or tinkering in a workshop.
Nowadays, a majority of homeowners with attached garages use the space as the main access point in and out of their house.
Even that brief transitional time spent in a stuffy, sweltering hot garage can be unpleasant (not to mention a hot garage = a hot vehicle you have to get into).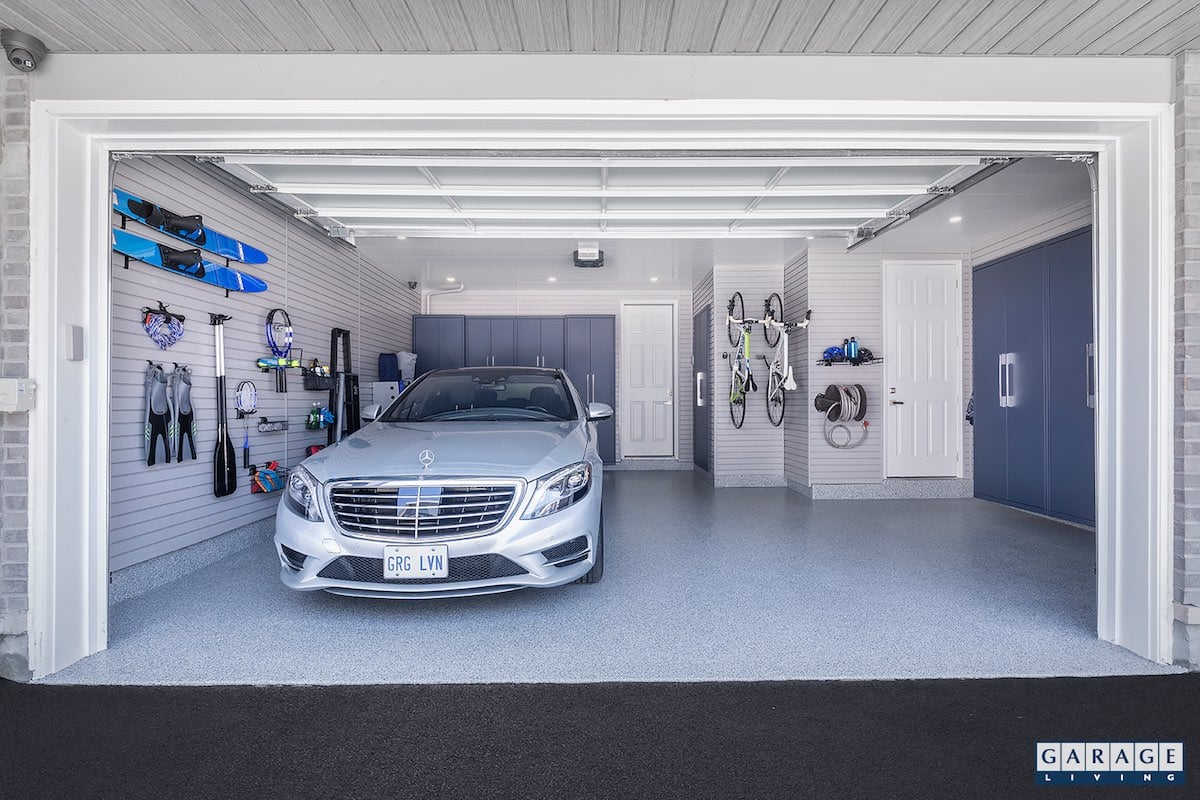 Garage cooling hacks every homeowner should know
If your garage isn't set up to handle the extreme heat, a number of climate control measures can be implemented in order to cool things down.
Let's call them "garage cooling hacks".
Here are several garage cooling tips to help you get some relief from the heat in your garage this summer.
Upgrade your garage insulation
Nothing has a bigger impact on your garage's energy efficiency than how well it's insulated. That includes the garage's walls, ceiling, and doors.
When people think of insulation for the home, they tend to think of it mostly as something that makes their house more energy efficient when it's cold outside.
But just as insulation restricts cold air from coming into a house and retains the heat inside a living space, the opposite theory applies when it gets hot outside.
Insulation prevents the hot air outside from entering your home and keeps the cool air generated by your central air conditioning system from escaping.
Making your garage a lot more energy efficient with insulation upgrades can also be viewed as an opportunity to make an unfinished garage look nicer. Once the insulation is installed, cover it with drywall and slatwall panels for better storage and to give the space a clean, modern look.
Bonus benefit: adding insulation also makes your garage more soundproof.
Keep your garage well-sealed
As an extension of adding insulation, ensure your garage is properly sealed to eliminate drafts.
That means paying attention to how effective a seal the weatherstripping (or another type of sealant) around your window and door frames is providing.
Your garage doors and garage access doors will additionally benefit from having thresholds and door sweeps installed.
Electrical and utility outlets (such as a central vac outlet) often get overlooked when garage energy efficiency upgrades are being done. Apply a sealant around the perimeter of their wall plates.
Bonus benefit: a well-sealed garage reduces the risk of harmful gasses (like carbon monoxide) from entering your main living space.
Get the air moving with fans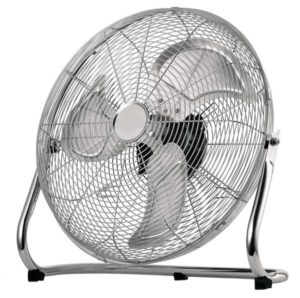 A low-cost method of making your garage a little more comfortable is to get some fans running in order to circulate the room's hot, stale air.
Merely moving the hot air around in an enclosed space won't do much to make the garage more tolerable to be in. You'll need to open the garage doors and windows and place one or more of your fans close to them to blow the hot air outside.
Any type of portable household fan can be used. A more powerful shop fan will produce better results and you can also look into having ceiling fans installed.
Install garage venting
Since heat rises, naturally your garage's ceiling or attic space will trap hot air if there isn't adequate venting.
For a more dedicated air movement system in the garage, here are some options to look at:
an air exchange system (known as "active ventilation", which means it's electrically powered)
adding vents to your garage's roof or walls
installing a wind-powered roof turbine (which is "passive ventilation")
Add air conditioning
If fans just aren't cutting it for your garage cooling needs, adding air conditioning is another option, albeit a more costly one.
Depending on whether you want round-the-clock garage A/C for maximum comfort or something to use on more of an "as needed" basis, here are some options:
a window-mounted A/C unit
a portable air conditioner
an evaporative air cooler (which is portable and reduces the temperature in a space by converting its water supply into a cool vapor)
a heavier-duty garage air conditioning system that runs full-time (by far the most expensive cooling option)
To determine what type of A/C unit is suited to your garage space, use this BTU calculator. Note that if your garage has no insulation, it's almost pointless to use air conditioning in the room.
Bonus benefit: many portable A/C models have a dehumidifier mode, which helps with a garage's climate control.
Cover the garage windows
The next of our garage cooling hacks is a basic (and logical) one – simply keep your garage's windows covered as much as possible when the sun is beating down.
Having some natural light to brighten your garage is nice, but it also raises its temperature.
Garages that face west get exposed to the intense sun in the late afternoon, which makes them even more susceptible to higher interior temperatures.
Bonus benefit: covering your garage windows is also a good idea to keep potential burglars from scoping out the contents of your garage.
Wait before parking inside the garage
Another garage cooling tip is to avoid parking a vehicle you've just driven inside the garage. If you plan to spend some time in the garage doing an activity after arriving home, this tip is especially useful.
After being driven, vehicles can retain heat for hours (from engine heat and their metal bodies being in the sun). After parking in your garage following a trip, that heat is slowly transferred to your garage's interior.
Sure, it might be a little inconvenient to move your vehicle from the driveway to the garage later in the day, but every little bit helps.
Clean up the clutter
An excess of floor clutter in the garage can prevent you from parking vehicles inside. A disorganized garage additionally makes it difficult to locate a stored item when you need it.
Those two things aren't the only negative effects of garage clutter, however.
All of that junk needlessly taking up valuable space also inhibits air flow and contributes to poor air quality in the room.
Cleaning up the garage will go a long way towards making any temperature-lowering measures you take more effective.
Slatwall storage, a cabinet system, and overhead racking are great garage storage systems to help you get organized.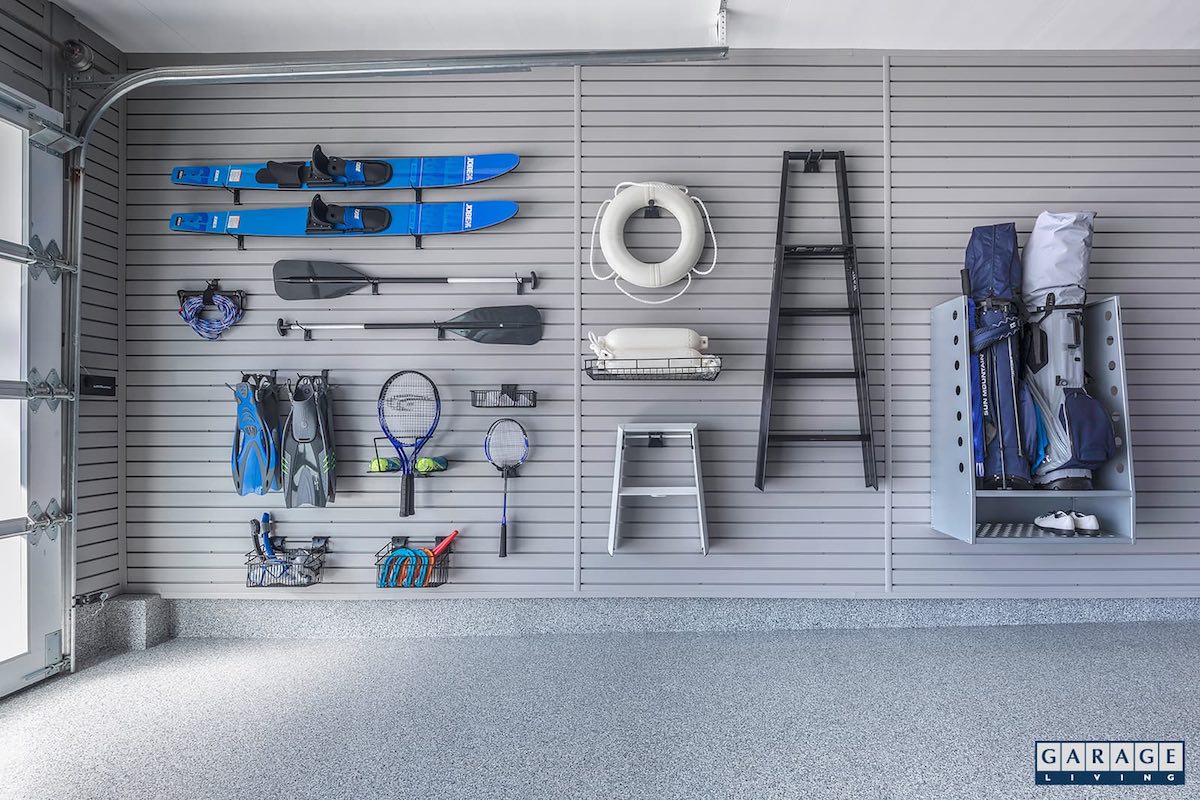 Lower the garage's humidity
Sometimes it's not so much the heat inside the garage that makes it so uncomfortable to spend time in – it's the high humidity level.
The last of our garage cooling hacks is reducing the amount of humidity in your garage by using a dehumidifier to remove moisture from the air.
Doing so should make the garage more bearable to spend time in during a heat wave. Look for a model that can handle being used in extreme temperatures.
Bonus benefit: running a dehumidifier in the garage also helps minimize issues related to moisture, such as mildew, condensation, and metal items having a shorter life due to rusting.
Get relief from the aggravation of a messy garage
If you've been looking for solutions to beat the heat in your garage, hopefully these garage cooling hacks will be useful to you.
For expert guidance to get some relief from the daily aggravation of having a garage space that lacks functionality and a stylish décor, Garage Living is here for you.
Schedule a free design consultation with us to begin planning your garage's transformation.
Please share this post if you found it useful.
See also: