If floor clutter is limiting your garage's functionality, one of the most effective solutions to get organized is to add garage cabinets.
There are so many brands and types of garage cabinets available, however. Where do you start looking?
To begin, you'll need to know that they come in these two types:
Custom-fit – cabinets that can be built to custom depths, widths, and heights with additional specialty options
Modular – a cabinet system built from pre-made standalone units that are mixed and matched
How do you make the right choice to fit your needs? There are a few important factors to consider when deciding what type of garage cabinets you should buy.
Before taking the next step and speaking with a trusted garage professional about your storage cabinet choices, get familiar with some additional basic facts about garage cabinets and what you should look for.
Consider these five important factors to help you make the best buying choice for your cabinet system.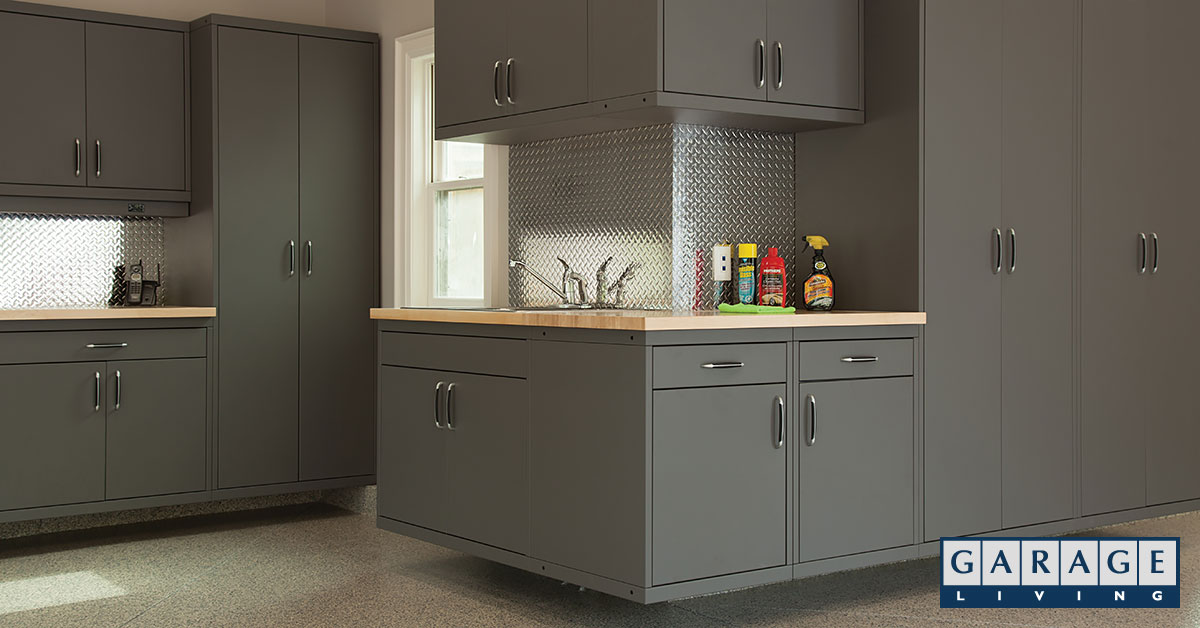 1. What's your budget for buying garage cabinets?
Obviously, you'll need to work within your available budget to determine what type and quality of garage cabinets you'll buy. Just remember that age-old saying – "you get what you pay for".
Buying an inexpensive garage cabinet system from a big-box store may be quite tempting if your budget is limited.
Just be aware that many of these cabinet systems compromise significantly on the quality of the cabinets' construction materials. Typically, they'll be made from plastic or inferior quality steel to achieve that cheap price.
Cheaper garage cabinets can leave a lot to be desired when it comes to functionality and durability. Do you really want to be replacing your garage cabinet system in just a few years when it starts rusting or falling apart? At that point, you'll know that it pays to spend a little more to get a higher quality product that lasts longer.
Expanding your budget for new garage cabinetry will open up a wider range of higher quality options. The construction materials and craftsmanship will be at a higher grade and they'll likely look better (don't underestimate the value of garage cabinet aesthetics).
Cheaper garage cabinet systems also don't offer the chance for customization. You'll have limited choices for colors, styles, and extra custom features, like adding a countertop to the top of your base cabinets to create a workbench.
2. Garage cabinet usage
Knowing how your cabinets will be used within your garage will be a major factor in what type of cabinet system you end up buying.
For example, take a homeowner who's looking for a general purpose cabinet system that's primarily needed for extra storage space. Higher-end garage cabinets, such as our GL Custom Steel cabinets, probably aren't the right fit for their needs.
Perhaps either the modular GL Signature or GL Premium cabinet systems will work better for them. They still deliver exceptional quality, but do come with fewer custom options.
The amount of space you have to work with will also be a factor when choosing a cabinet system. If your garage layout has unconventional angles or wall obstructions, a custom-fit system will be easier to fit within the space.
And if your garage space is limited, something like the shallow depth option available with the GL Signature line might be ideal. This can allow you to comfortably get in and out of your vehicles with enough space.
Are you looking to create a garage space that lets you park vehicles and use it as a heavy-duty workshop? In that case, something like the more rugged GL Rally or GL NEOS Elite cabinet systems are a more practical choice.
3. What's being stored in your garage cabinets?
What you'll be storing in your garage cabinets will also play a role in your buying decision. Certain items are more suited to being stored in a specific type of cabinet, so you'll need to choose accordingly.
For example, choosing a cabinet system that gives you an option for locks on the doors and drawers might be wise if:
you want to keep expensive hand and power tools secure
your garage has a lot of sharp tools you want to keep your kids safe from
there are a lot of chemicals and hazardous materials kept in your garage
The weight of items you're storing also needs to be taken into consideration. If you're storing heavy power tools or car parts, a flimsy cabinet system made from plastic just won't cut it. You'll need something sturdier, like a garage cabinet system made from 18-gauge or even stronger 16-gauge steel.
Maybe you plan to use your garage cabinets for storing longer items, such as a coveralls, or you want to keep your large collection of cleaning supplies all in one cabinet. If so, your cabinet system design will probably include one or more tall locker cabinets.
For those who have a lot of tools to store, an ample number of tool drawers to keep everything organized will be a priority for their cabinet system. Bins for storing all those easy-to-lose screws, nuts, and bolts would also be a smart addition.
4. How important are construction materials, durability, and looks to you?
The types of materials used in your cabinet system's construction will be the biggest factor that determines how long it lasts. Construction materials and craftsmanship will also affect how your cabinet system functions. For instance, how smoothly do the cabinet doors and drawers open and close?
Don't skimp on the quality of materials that were used to build your cabinets. Steel is your best option, but be wary of where that steel is from. Foreign-made steel is commonly heavily recycled, rusts quicker, and isn't as resilient as the higher quality North American-manufactured steel Garage Living uses in all of our garage cabinets.
The harsh demands of a garage environment should also be taken into consideration with your garage cabinets. This includes changes in temperature, moisture, and everyday wear and tear.
To prolong the life of your cabinetry, look for models with a powder coated finish. Powder coating involves the application of multiple coatings of a dry powder to the surface of the cabinets. This helps protect against scuffs, scratches, and rust.
The showroom-quality looks of a GL Custom Steel or GL NEOS Elite cabinet system fit this specific need. They elevate the aesthetics of your garage and transform it into stylish, comfortable extension of your home.
5. Garage cabinet customizatiom
If creating a personalized garage space ranks high on your list of priorities when it comes to a garage makeover, custom cabinets are a must. The ability to customize your garage cabinets gives you significant flexibility to truly create a dream cabinet system.
Custom-fit cabinetry also makes the most of your available space. Underutilized corners can become more useful with the addition of custom cabinetry. If you have a free wall in your garage that's unfinished, have a seamless wall-to-wall cabinet system designed. That can take care of your storage needs and provide a more finished look for your garage interior.
Custom cabinetry can also be designed to best accommodate the manner in which you'll be using your garage cabinets. If you're a hobbyist, the upper and lower cabinets around your heavily used countertop area can be designed to store your most frequently used tools and items. That way, they're always conveniently close at hand.
Here are just a few of the specialty options that can be included with custom garage cabinets:
numerous color choices
sink units
power bars with USB charging ports
backsplash
pot lighting and valance lighting
TV cabinet enclosure
utility drawers with organizing bins
a dedicated space for hiding garbage and recycling bins
Learn more about how garage cabinets will improve your space
When used with our other effective garage storage and organizations solutions like slatwall panels and specialty storage racks, you'll be thrilled with how much easier it is to keep your garage organized with a high-quality cabinet system.
Schedule a free consultation with us so one of our design experts can evaluate your garage space and guide you through the process of choosing the right garage cabinets.
See also: