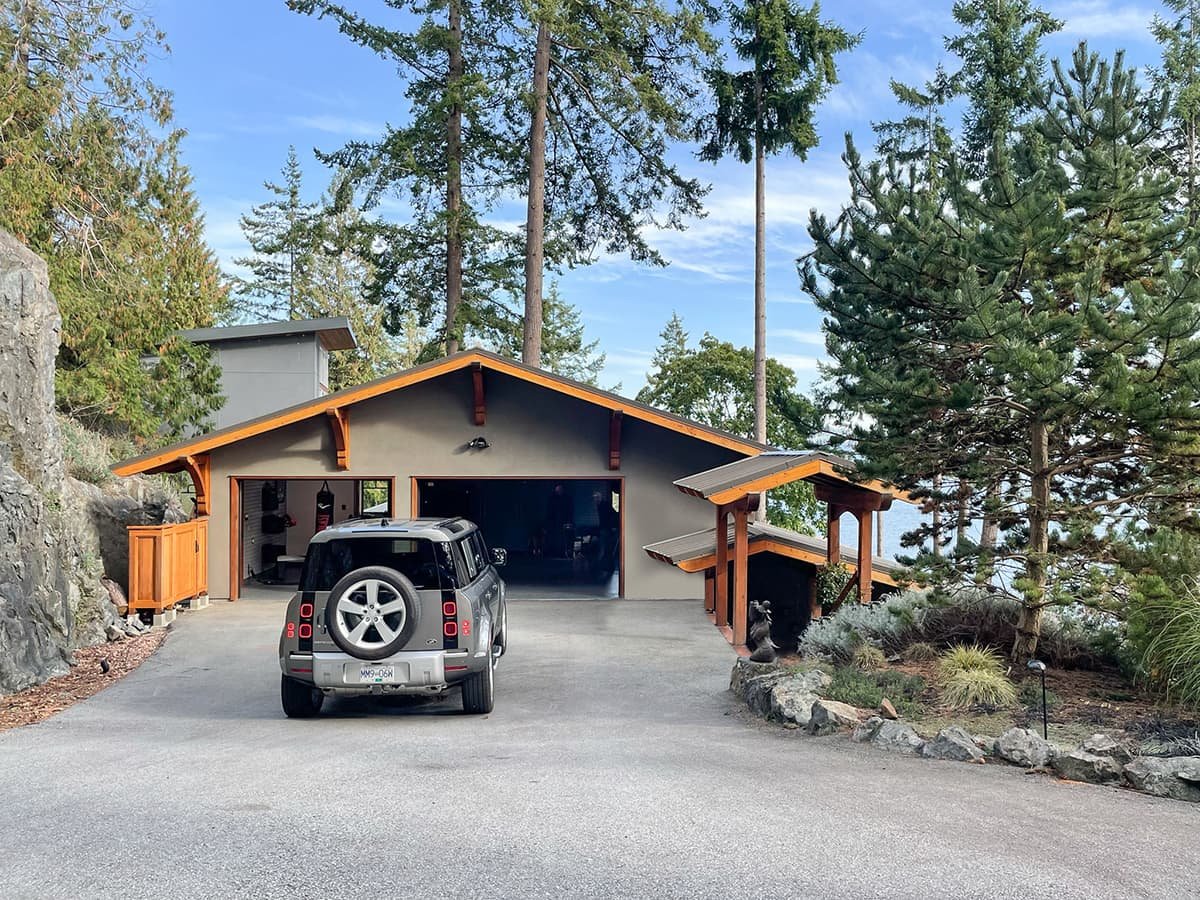 Moving into a forever home is as pure an example of putting down roots as it gets.
"Forever" is a powerful word, so buying or building the place you plan to live in for the rest of your life is one of the biggest decisions anyone will ever make.
HGTV's Property Brothers certainly recognize the appeal and popularity of dream/forever home aspirations. That's why Jonathan and Drew Scott titled their 2016 book Dream Home: The Property Brothers' Ultimate Guide to Finding & Fixing Your Perfect House and their recent TV show Property Brothers: Forever Home.
What is a forever home?
Traditionally, the term for a home where someone settles down for the rest of their life was "dream home". A forever home essentially means the same thing and has become more frequently used in recent years.
Jonathan Scott was interviewed by Parade.com and was asked what the difference was between a regular home and a forever home. He replied, "You can see some people are in a house just because it functions okay for them. It checks the boxes for certain things that they need, but you can tell that they're not emotionally connected to the house."
There's a reason we call them forever homes, not forever houses. A forever home is a place that has everything anyone could want and need, while emotionally connecting us to some of our most special memories.
So no pressure getting it right when buying or building your forever home then.
Everyone's situation varies, so there is no set age for when it's time to settle into a forever home. Some people may be able to attain their forever home goal in their 30s. Others may be into their senior years before they finally get their dream home.
3 unique considerations when buying a forever home
As with any home purchase or build, top of mind will be factors like your financial situation, career stability, square footage, and location.
There's a good reason "location, location, location" is a real estate mantra. It pertains to several factors that will have a huge impact on your quality of life, including proximity to work, schools, and shopping, weather, property taxes, and crime rates.
Other things like architecture, landscaping requirements, storage space, space for kids to play and pets to roam, and general functionality are fairly universal home buying considerations.
There are some unique and important forward-thinking considerations one needs to make with a forever home that wouldn't cross your mind if you were in the market for a starter home, however.
1. Futureproofing
One of the biggest considerations is anticipating your needs years down the road and trying to envision your future self. The unpredictability of life makes this perhaps your biggest challenge when buying or building a house to grow old in.
This is even more of a challenge if you're buying at a younger age and expect to raise a family and eventually settle into retirement.
A forever home should be spacious enough that it suits your current lifestyle, but not so big you and your significant other find yourself with an abundance of empty rooms when you become empty nesters. Allow your home's design to have as much flexibility and adaptability as you can.
2. Accessibility
Accessibility is another key consideration. Design with an eye toward the future so you can transition comfortably and as seamlessly as possible in your home as your golden years arrive.
Perhaps this means you locate the master bedroom on the main floor of the house. After all, that flight or two of stairs you can get up and down with ease in your middle age will assuredly be more of a concern as the years pass.
3. Building materials
Some of the most content forever home owners are the ones who thought of everything to eliminate the need for major renovation projects years in the future. This includes everything right down to the durability and quality of the building materials and products used in their home.
For example, some shingles have a lifespan of about 25 years, while more expensive shingle products can last up to 50 years. Other home exterior products like siding, flooring, and appliances are additional examples of buying decisions that can be influenced by long-term homeownership.
Spending a little more on high-quality building materials and products for a forever home will minimize the need for maintenance, upgrades, and replacement purchases later on.
The 3 best things about forever home ownership
There are plenty of benefits of spending the rest of your years in one home. Here are three of the best things about owning a forever home:
1. Customize to your heart's content
A forever home can be fully customized with the features and amenities you need without worrying about things like return on investment.
If you're building a forever home, you have even more freedom to create the perfect bespoke living space. Resale value? Pshaw! That's out the window as a concern when you own a forever home!
2. Peace of mind
You can't put a value on the peace of mind of knowing that the home you're living in is the place you'll call home for the rest of your years.
A forever home goes a long way towards helping provide the security, stability, comfort, and happiness we all strive for. It allows us to put down firm roots and create a stable living environment where our family can grow.
3. No more moving!
One of the best things about staying put in one place is you'll never have to move again! According to a OnePoll/Article.com study of 2,000 people, moving is one of the most stressful life events we experience, even more than having a child and planning a wedding.
Whether you hire movers or not, moving requires a significant investment of time and money. Then there's the added stress of having relationships with friends, family, and neighbors upended, as well as the stress of fitting in and liking your new surroundings.
Ideas to make your forever home perfect
Maximizing your comfort in a forever home involves including features and amenities that are practical and a little extravagant (because what's a dream home without a few niceties to pamper yourself with?).
If you're planning to build or buy your forever home soon, currently living in your home for life and feeling it's lacking in certain areas, or just dreaming about what your sometime-in-the-future forever home might look like, keep reading for some inspirational ideas.
We've put together a list of some ideas for forever homes that includes common-sense design guidelines, suggestions to make better use of spare rooms, and some nice add-on features that are a little more on the indulgent side.
1. Trend-proof décor
When making design and décor decisions for a forever home, timeless style will usually serve you better in the long run rather than choosing trendy designs that don't age well.
Classic finishes and materials will stand the test of time. For paint colors, whites and warm neutrals like beige are safe choices that will complement a wide range of décor styles.
Then again, if you love the earthy look of a more unconventional color like forest green on your home's walls or the bold statement a fire engine red makes, you do you! Once again, a forever home is all about comfort and having what makes you happy.
As far as floor plans, is a traditional architectural layout of separate zones for the kitchen, living room, and dining area more your style or is an open-concept space preferred? The pandemic has been a good reminder that sometimes it's nice to occasionally have a little privacy and space from the rest of the family. We'd guess that's why open-concept layouts were named the number one home design trend you'll regret most in Houzz's recent Home Design Predictions survey.
It's rare to get absolutely everything right with the original design of a dream home. However, by making safer design choices without compromising comfort and aesthetic appeal, you also won't need to remodel just a few years after moving into your home, either.
2. A deluxe kitchen
The heart of the home, the kitchen, is one room where the temptation of the latest design trends can also become a future regret. Open shelving and farmhouse sinks may be in today but are they destined to fall out of favor like tile countertops, bold appliance colors, and hanging pot racks eventually did?
You can still enjoy the comforts of a deluxe kitchen without relying on the latest trends and ornate design elements that prioritize style over substance. Practicality and maximum functionality never go out of style, so here are a few ideas to create the perfect kitchen space:
an island with seating that's big enough for dining with the entire family
a walk-in pantry
built-in high-end appliances with convenient smart features that save space
ample counter space
custom cabinetry
a beverage station
pullout warming drawers


3. Smart home tech
Some smart home tech products aren't for everyone. Privacy and security concerns make some people leery about handing control of their home's security or HVAC systems, for example, over to interfaces that are connected to the internet.
It is the way of the future, however, whether we like it or not. Forbes reports that in a recent Coldwell Banker survey of real estate agents, the most-wanted feature for luxury home buyers was home automation. "Smart technology transcends voice-enabled devices to denote such features as smart security systems, electric car docking stations, and energy-producing roofs", writes the business magazine.
If you are all-in on riding the smart tech wave, there are a wealth of products available to make your life easier, from smart lawnmowers to smart light bulbs to smart door locks.
And who knows what types of smart products are in the research and development phase right now that will blow our minds in a few years?
4. A garage with the "wow factor"
If you own your dream home and dream cars, it's only fitting that you have the dream garage to help complete your living space. Here are a few examples of how a functional, modern-looking garage benefits your family:
vehicles can be parked indoors with ease
more home storage space becomes available
the garage becomes a more usable room for some of your hobbies
the garage becomes a clean, stylish space that complements the rest of your home's appearance
To create beautiful garages with the "wow factor", Garage Living accomplishes this by making the following improvements:
High-quality storage systems
One of the secrets of anyone who has a tidy garage is that they make smart use of the walls and ceiling space to maximize the room's storage space. That explains why you rarely see items scattered on their garage floor – everything has a proper home!
Your best garage wall storage solution is a slatwall panel system that creates an ample amount of versatile hanging storage space.
For the ceiling area, overhead racks create space for bulky items tying up your floor area. To make further use of your underutilized vertical space, add a car lift to create more parking space.
Storage cabinets also provide you with additional hidden storage space and can be custom-designed to include a countertop that creates a useful garage workshop.
Showroom-quality aesthetics
If you own a forever home, you want to be proud of how it looks and be able to show it off. We can't think of a better way to impress anyone visiting your house more than showing them a garage that looks like a luxury car showroom!
A Floortex™ floor coating not only provides high-performance floor protection, but its stylish look also adds character and visual appeal to the foundation of the room.
Add attractive garage doors so the largest street-facing feature of your forever home enhances the exterior of the house.
Even your storage systems should accentuate the garage's appearance. Slatwall panels do this by giving the garage a finished look and using colors that complement the rest of the space's décor. Sleek, stylish cabinetry also plays a role in aligning with the high design standards you have for your dream home.
5. A walk-in closet and dressing room
A great quality of life upgrade for a dream home is to add a walk-in closet and dressing room that eliminates the headaches of never having enough clothes storage space. A spare room beside the master bedroom is a tailor-made spot for this practical home space.
More and more homeowners in recent years have discovered the benefits of having walk-in closets. More space means all of your clothes and accessories can be assigned a proper, easy-to-find home. You'll spend less time searching for misplaced items and jockeying for storage space for your clothes.
Incorporating a dressing area into the closet's design adds the comfort of having a cozy space to get ready for your day or unwind and slip into your comfort clothes after a long day at work.
6. A room (or two) for your hobbies and interests
Leave a spare room free that you can have customized to accommodate some of the hobbies and interests you and your family enjoy. You can create a second and even third hobby room when your kids eventually move out.
If you and some other family members like to keep active, set up a home gym or yoga space. If creative pursuits suit your fancy, a crafting room, music room, or art room create the perfect space to let your creativity flourish.
Maybe having a cozy home space where you can sit down with a good book is what gets you to your happy place. Set up a library and reading room with a comfortable chair, good lighting, an electric fireplace for ambiance, and all the shelf space you need for your book collection.
If you're a wine connoisseur, have one of your rooms turned into a wine storage room with a wet bar and space for entertaining.
7. A jetted bathtub and sauna
We certainly can't ignore the bathroom when thinking about how to improve a forever home.
Adding a jetted bathtub and sauna to your home might seem like frivolous luxuries. While they are on the extravagant side, they each provide health benefits that make them worth a serious look.
You obviously need a bathtub, so why not go with a deluxe tub that is extra deep and outfitted with jets, which gives you the same functionality as a hot tub?
Soaking in a hot jetted bathtub provides hydrotherapy that helps destress you, relaxes your muscles and joints, and can help ease the stiffness and inflammation of arthritis.
The most common types of home saunas are dry, infrared, and steam saunas, which come in all shapes and sizes. The wellness benefits of saunas are well-documented. They detoxify you, stimulate your immune system, and also help with muscle relaxation and pain relief.
8. A deluxe laundry room
Having a posh laundry room designed for your house may not feel like the sexiest way to get more enjoyment from your forever home.
However, even traditionally drab utilitarian rooms like the laundry room and garage should have some style, especially considering how often we're in them.
Make the room more inviting and functional with state-of-the-art appliances, better lighting, new countertops, custom cabinets, and an island as extra storage and workspace for sorting and folding laundry. Add modern touches of style like a tile backsplash, area rug, and some artwork for more comfort and visual appeal.
Like the master bedroom, it's smart to locate your laundry room on the main floor. A central home location is more convenient if you have young kids and want to keep an eye on them while doing the laundry. It also allows you to multitask easier when other responsibilities like cooking dinner are calling for your attention.
When you're older, having the laundry room on the same floor as the bedroom reduces travel times as you're carrying heavy baskets or bags of clothes to and from the laundry room.
9. An outdoor living space
Most homeowners have an outdoor cooking space, but their backyards aren't designed to be a true outdoor living area that extends the living space of the home.
Think beyond having a small grill and a patio table with a few chairs if you want to really leverage the valuable space a backyard offers.
The pandemic sparked a big increase in demand for outdoor kitchens and living spaces as people looked for ways to improve their home comfort level and get more functionality from their houses.
Modern outdoor kitchen designs can be relatively simple with a built-in grill, a few cabinets, and a small counter. Or you can give your backyard the deluxe treatment by creating an artisan cooking space with all the amenities a professional chef could want.
To maximize your use of the backyard, dedicate space to an outdoor living room with a dining area, lounging space with comfortable outdoor furniture and a TV, and a heat source like a fire pit to enjoy the outdoors when it cools off.
Give your forever home the forever garage it deserves
If you're on the pathway to owning a forever home soon or the garage in your forever home just isn't quite where it needs to be, we can help.
Even a home renovation expert like HGTV's Bryan Baeumler knew he could entrust his forever home's garage design and build to Garage Living.
Let's get a conversation started about making your garage a key component of your forever home.
To learn more about the latest garage storage, organization, and design solutions that can enhance your forever home, schedule a free design consultation with Garage Living.
Please share this post if you found it useful.
See also: