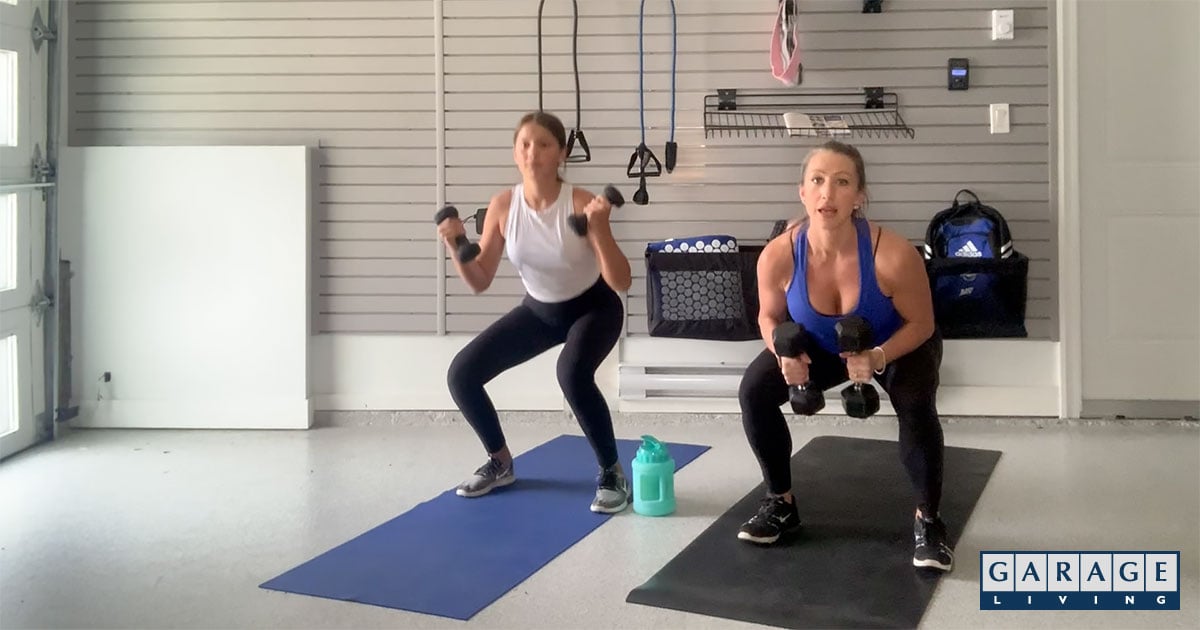 If you place a high priority on living a healthy lifestyle, you likely work out every day or several times a week.
For any fitness enthusiast, what could be more convenient than having a fully functional exercise space right inside your home?
The garage is an ideal area of the home to use for your regular workouts. Modern garage makeovers are capable of creating a multipurpose home space that looks stylish and is much more comfortable to spend time in.
Garage gym workouts and using the room as a workshop or for crafting projects are just a few ways garages can be utilized beyond their traditional usage as a storage and parking space.
We talked to Lisa Pineda, who owns and operates fitness studio Body Zone Fitness in Coquitlam, British Columbia. She recently had her garage remodeled into a space that could accommodate her fitness routine and family's storage needs.
Lisa shares her thoughts on how the garage makeover has benefited her family, as well as four detailed garage gym workouts you can use to get your heart pumping.
This personal trainer loves using her garage gym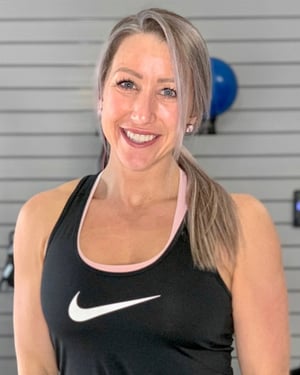 Garage Living in Vancouver helped Lisa, a personal trainer and Health Coach who specializes in women's and prenatal fitness, with her garage transformation.
"Having limited storage options in our home, three active children in competitive sports year-round, and myself wanting a space to work out in, I needed something created to solve all of those problems that were a pain point in our old home", says Lisa.
Garage Living applied a Floortex™ floor coating to the basic concrete flooring. Lisa loves the aesthetic upgrade and clean surface the floor coating provides, as well as the fact the textured surface makes the floor less slippery during her garage gym workouts.
Slatwall was also installed, adding plenty of hanging storage space for tools, ladders, her kids' backpacks and sports gear, and Lisa's exercise equipment.
"I love being able to see what I have access to when working out. It allows my creative side to come alive when training clients and making programs for them. I have utilized my slatwall to display as much of my equipment as possible, including using hooks for my resistance bands and loops. I place my programs, water, and music on the shelf and my weights, yoga mat, and foam roller in the hanging baskets. The easier it is to find these items, the faster my workout flows", says Lisa.
"Having my garage organized and designed to fit the needs of my family has reduced our stress and daily anxiety, simply knowing that our things have a proper storage place", she continues. "We created a proper storage system for our recycling and garbage. And, of course, a little space for me to get my sweat on without stepping on toys, crayons, or dolls."
Try these 4 garage gym workout routines
Lisa lent us her fitness expertise and created four garage gym workout videos that you can use when exercising at home.
These videos show that expensive exercise machines are not required to get a productive workout. Lisa (with some help from her daughter in the kickboxing video) is using nothing more than loop bands, light dumbbells, and a yoga mat.
Take things at a pace that is comfortable for you and let's start burning some calories!
Stretch workout
Overview: Lisa shares a variety of effective stretching exercises that can be used when warming up and cooling down for your garage gym workouts.
Kickboxing workout
Overview: this kickboxing exercise combines cardiovascular drills and the use of martial arts techniques for a vigorous full-body workout. Light dumbbells can be used for more effective results but are not essential.
Loop band workout
Overview: this fitness routine involves three groups of exercises that utilize loop bands (also known as resistance bands) and light dumbbells.
AMRAP workout
Overview: Lisa's AMRAP (as many reps/rounds as possible) routine involves a series of exercises that includes pike jumps, burpees, and lower ab lifts.
5 benefits of having a home garage gym
According to a Statistic Brain survey of 5,313 American gym members, 63% of gym memberships are never used. A third of gym members would not have gotten a membership if they had known how infrequently they would go to their gym. And 82% of gym members visit the gym less than once a week.
The time required to commute to the local gym is undoubtedly a big factor in why people rarely see a good return on investment with their gym membership.
Having an at-home fitness space eliminates the hassle of having to travel to a public gym for your workouts. Here are five other benefits of a garage gym:
You can work out anytime without being confined to a public gym's operating hours.
A garage gym can be set up just the way you like, including how you want to store and organize things and how you want the décor to look.
You can save the cost of a gym membership (which averages about $700 for a year).
There's no waiting around to use any exercise equipment!
Because only you and your family are using the workout space, there are no health or hygiene concerns (such as other people's sweat being left on equipment, having to use a public shower, and being exposed to any contagious and infectious viruses).
Create your own garage gym workout space
Like this client, Lisa, and many others, Garage Living can remodel your garage so you can use it as a workout space, for parking, organized home storage, and so much more.
Schedule a free consultation with us to start planning your own home garage gym design.
Please share this post if you found it useful.
See also: