Garages provide room for parking, storage, function as the main access point in and out of the home, and can be used as a hobby space.
Or at least they should be able to do all of these things.
Unfortunately, excess clutter sitting in many garages limits their functionality and makes this part of the home (which is already overlooked when it comes to making décor upgrades) look visually unappealing.
If one of your New Year's resolutions is to improve your home in some way, why not focus on transforming your garage's interior look from drab to fab?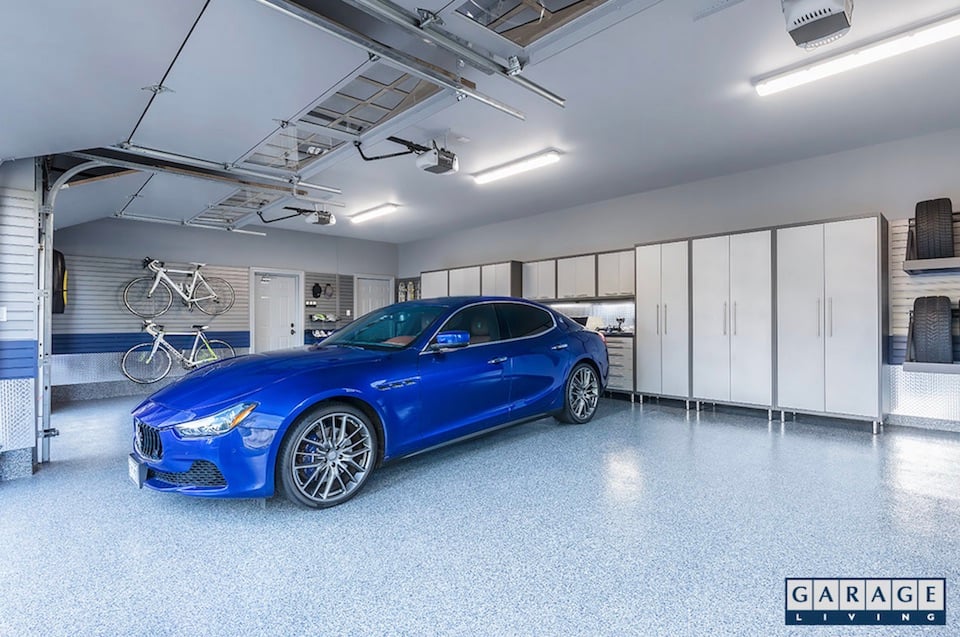 20 steps to a nicer garage interior
Owning a home with a nicer garage interior is something most homeowners want, but too few take action upon to make happen.
Only 11% of homeowners don't want to improve their garage in some way, according to a Wall Street Journal survey.
Junk-filled garage interiors with cracked and stained floors, unfinished walls and ceilings, and virtually no sense of décor are why a quarter of homeowners in an Impulse Research survey feel embarrassed leaving their garage doors open.
Get 2020 off to a productive start by turning your garage into a part of your home that's as functional, comfortable, and attractive as the rest of your living space.
Here are 20 pro tips that will create a nicer garage interior in any home.
1. Toss the junk
The best justification for getting your garage organized is this:
Why is junk that's covered in dust and barely (or never) used taking storage priority in your garage over your expensive vehicles that are being used daily?
It's a simple fact that having a nicer garage interior doesn't happen unless the junk that's been accumulating over many years in the space is eliminated. Follow the "one year rule" that can be applied to any space being tidied up, whether it's a closet, workspace, or junk drawer: if you haven't used an item for a year or more, do you really need it?
Tossing your junk to free up floor space and also make the garage easier to clean automatically makes the room more aesthetically appealing. But that's just the first step. Now it's time to really transform the garage into a home showpiece!
2. Put your makeover project in the hands of a pro
Do you want to know what the single biggest decision you can make is when planning how to achieve your goal of a nicer garage interior? It's who you choose to do your garage makeover project.
Successfully and efficiently executing a plan for a garage remodel requires years of expertise. Over the past decade-and-a-half, Garage Living has completed thousands of makeover projects across the U.S. and Canada.
The professional, high-end look of the garages pictured here and on our website are the result of all that experience and because of the high-quality products we use.
Bring us your design ideas and we'll work together within your budget to make your garage a destination you'll enjoy driving into every time you return home.
3. A showroom-quality floor creates a nicer garage interior
An attractive garage floor has a much bigger impact on how the space looks than you might think. Until the past 10-15 years, a garage floor was seen as a grey and featureless utilitarian surface.
Modern floor coatings that are professionally applied have been a game-changer for garage aesthetics, however.
High-quality products like Floortex™ polyaspartic floor coatings add a clean, consistent look to a garage's floor surface and can be customized with designer colors that produce a showroom quality appearance.
If you live in a colder climate, you don't have to worry about delaying your garage makeover project until the spring or summer in order to have the floor done. One of the many advantages that polyaspartic coatings have over epoxy floor coatings is that they can be applied year-round, in virtually any type of temperature.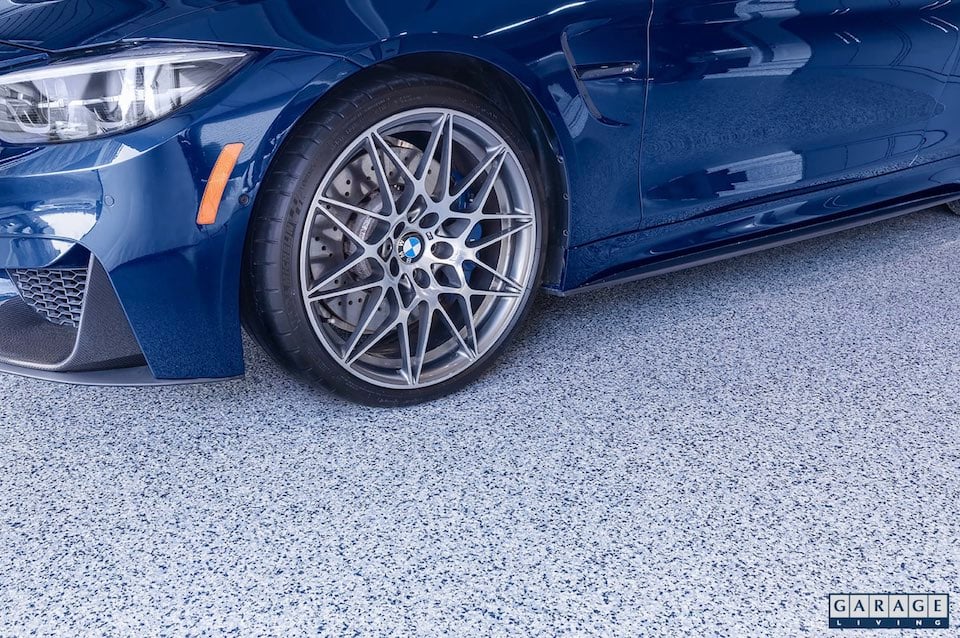 4. Eliminate floor clutter
Okay, so you've tossed all of that junk that was hindering your ability to do much in your garage. That's only half the battle when it comes to having a clutter-free garage, though.
For all of the yard tools, hand tools, automotive supplies, and other things you need to store, establish a set-in-stone rule that the garage floor is off-limits for any storage.
That may go against the conventional wisdom you've lived with your whole life, as well as how most people use their garages. But unless you have a very small single-car garage space, there's room to store everything in your garage and not have a single stored item aside from your vehicles touching the floor. Really. Just keep reading to find out how to make this happen.
And with an empty garage floor, you won't need to worry about causing damage to items left on the floor or your vehicle when driving in and out of the garage. You'll have ample space to comfortably park and get in and out of your car or truck.
Besides, if you've invested in getting a shiny new garage floor coating applied, why would you want to cover it up with clutter anyway?
5. Use the garage walls for more storage
A garage can have the latest and most stylish décor, but that won't mean anything if there aren't proper storage systems in place so the room stays tidy.
Using high-quality storage systems to keep tools, sports equipment, and other items off the floor goes hand in hand with establishing and maintaining a nicer garage interior.
Garage walls are commonly used for hanging storage, but not to their full ability. Slatwall panels that are precisely cut to fit your garage's dimensions (including cutouts for wall switches, outlets, central vac tubing, etc.) will add a wealth of storage space, making floor clutter a distant memory.
They're not just functional, either. Our PVC slatwall panels give an unfinished garage a clean and finished look, which is a lot more desirable than having exposed studs or unpainted drywall that's scuffed and dirty.
6. Use hanging storage that's more versatile
It's nice to have the wall hanging space you need to store your things. It's even nicer to be able to change your wall's storage layout with ease to accommodate your ever-changing storage needs when seasons change or new tools need a home.
The horizontal groove design of slatwall panels and slatwall hanging accessories makes it a breeze to rearrange how your things are hung up, especially when compared to cheaper pegboard panels and hanging accessories.
And with the more than 40 types of hanging accessories Garage Living carries, you won't have any issues finding the perfect specialized accessory to satisfy most of your wall hanging requirements.

7. See all that empty ceiling space? Use it!
Not only are most garage walls underutilized, so are their ceiling spaces. You only have to look upwards in most garages to discover unused space that can be converted into valuable storage.
Adding overhead ceiling racks further enables you to keep the garage floor clutter-free, particularly because they can store items that are bulky and heavy.
Here are just a few items that are tailor-made for ceiling rack storage:
out-of-season patio furniture
camping and sports equipment
plastic storage bins
off-season tire sets (wall-mounted tire racks are another option)
8. Cabinets keep things tidy and hidden
Not everything has to hang from the walls. Adding cabinets to your garage is a great way to store smaller items, trash and recycling bins, a shop vac or compressor, and valuables or dangerous chemicals you want locked up.
Custom cabinet systems are worth the extra cost. Compared to off-the-shelf cabinets from big box stores, they provide a more precise fit in your garage, look nicer, and use higher quality materials for smoother functionality and a longer life.
Another overlooked reason to use more cabinetry storage in the garage is your stored items are kept hidden. Eliminating visual clutter preserves the orderly appearance of a garage.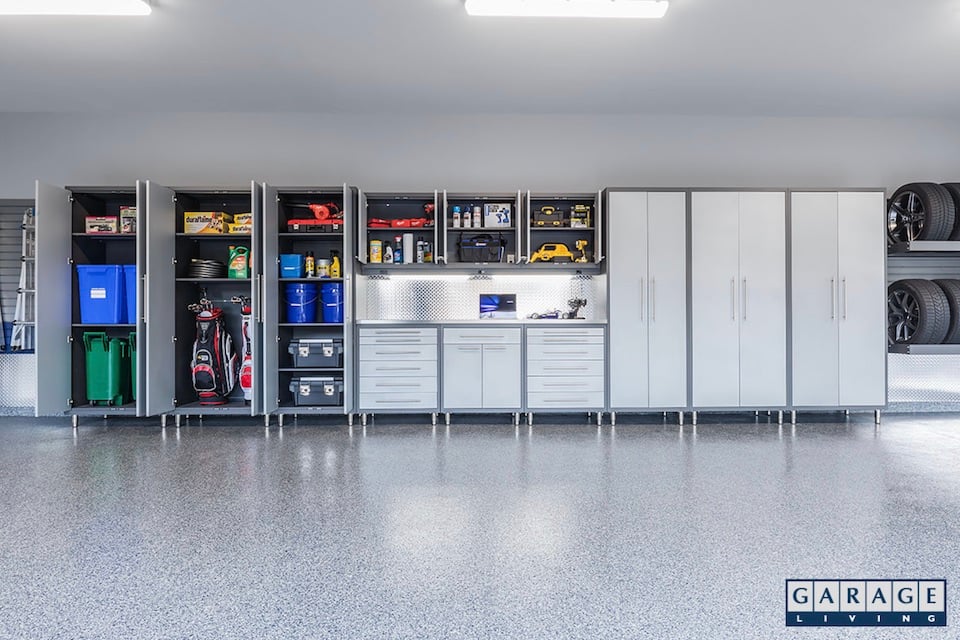 9. Create storage zones so things are easy to find
One of the most frustrating things about trying to function in a disorganized garage is the amount of time that gets wasted looking for things.
Setting up storage zones with your storage systems that groups like items together is a practical time-saver that removes the guesswork with locating a specific tool or accessory when they're needed.
Of course, the system only works if things are actually put back in the right place, but that becomes easier to do if everything has a dedicated home that is easily accessible.
For items that don't need to be moved due to a change in season, use labels to mark their permanent homes. That makes it even harder for anyone using the garage to not put something back where it belongs!
10. Protect the garage floor
A good floor coating doesn't merely contribute to a nicer garage interior look, it also provides much-needed protection for a garage's concrete floor.
All of that wear and tear on a garage floor from cars coming and going, foot traffic, dirt and dust buildup, water, road salt, and spills or leaks from damaging chemicals takes a toll.
Without adequate surface protection, the floor will slowly begin to crack, crumble, and wear away over time, producing dust-like fine particles that make the garage dirtier.
Pitting is one example of how the surface degrades, as many small indentations start to show on the floor. Spalling (where the surface crumbles or flakes away) is another example.
Floortex™ floor coatings are engineered to keep a garage floor looking pristine for many years. Their structural durability includes providing much better resistance to impacts and abrasions than epoxy coatings. The occurrence of permanent markings caused by hot tires is also minimized.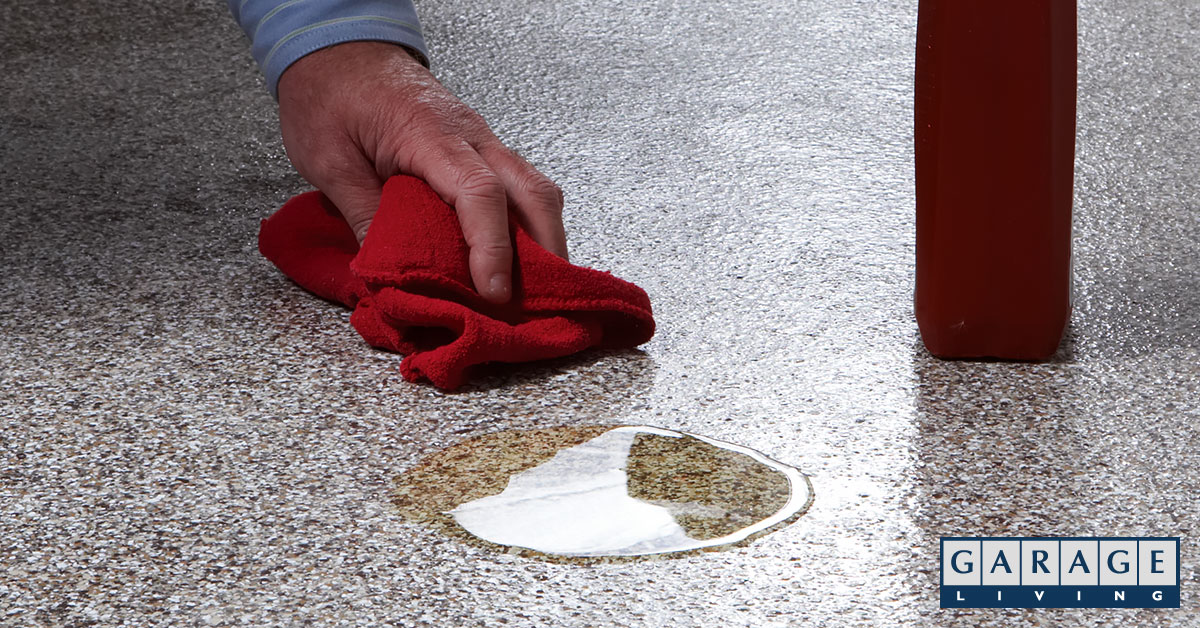 11. Repaint for a nicer garage interior
A garage's wall and ceiling colors have a big effect on the room's lighting conditions. That's no small consideration in an area where you'll be parking vehicles, searching for items, or using tools.
For parts of the garage that aren't covered by slatwall or a cabinet system, a fresh coat of lighter paint will reflect light better and can do wonders to make the room brighter and more welcoming. Keep in mind, however, that a lighter shade will also make dirt and grime more evident.
If a lighter shade is preferred, a semi-gloss paint is a wise choice. Semi-gloss paint makes dirt less evident and is better for cleaning without showing any wear.
Neutral colors like grey, beige, or tan will be easier to clean and maintain than a white shade. They also offer more design flexibility. Speaking of design flexibility…
12. Bring out the best in your garage's décor
One of the best reasons to work with a company like Garage Living is we know how to bring out the best in your garage's décor.
The design flexibility that comes with customized products allows you to complement various features in the garage interior for a cohesive, professional, and appealing look.
For example, the color chosen for the floor coating can help accentuate and complement the colors or your parked luxury vehicles or the styles of cabinets and slatwall added to the garage.
When it comes to having a nicer garage interior, the small details matter, too. That includes things like using color-matched screws for installed slatwall panels. We'll also work with some of our clients to create a unique look for their cabinet systems by wall-mounting them for a unique "floating" look, as opposed to having them freestanding on the floor.
13. Gain parking space with a car lift
If space is at a premium in your garage, it gets tricky trying to fit all of your cars inside of it and store everything else.
A costly garage expansion or paying for yearly off-site vehicle storage might seem like your only options to gain more room. Instead, consider investing in a 4 post car lift. A car lift allows you to park two vehicles in the same space, effectively doubling your parking space.
In addition to everyday use vehicles, car lifts are also useful for storing cars that are only driven during the year's warmer months. With an attachment, car lifts can also store boats, jet skis, snowmobiles, and other bulky seasonal items.
And if you're the hands-on type with your auto maintenance, car lifts are useful for doing work on the underside of vehicles.

14. Upgrade your insulation and add climate control
When we refer to a "nicer garage interior", we aren't just referring to creating a more upscale look in the garage. Your comfort level while using the garage is important, too.
Outfitting the garage with new insulation (or adding to your existing insulation) in the walls and ceiling makes this part of your home more functional when it warms up or cools down.
Don't forget about having insulation in your garage doors and sealing door and window frames, as well as outlets and ducts, to prevent drafts. These upgrades will reduce heat loss in the winter and also make your home more energy-efficient when the central air conditioning is running when it's warmer.
To boost your comfort level in your garage, you could add climate control systems like a heater or air conditioning. These systems will obviously reduce the savings from any energy-efficiency upgrades, but might be worth it for you if your garage gets more use than the average home.
15. Add some unique extras that stand out
Another way to set your garage apart from the rest of the homes on your street is to add some unique extra features that illustrate the high standards you have for your garage's interior appearance.
One of the ways Garage Living adds visual flair to a garage is to add perimeter LED lights below the lower accent strip of installed slatwall panels (seen in the first photo below). It creates a distinct, sophisticated look and adds ambiance to the room.
Floortex™ Coated Steps are another unique feature we offer (pictured in the second photo below). This process coats the steps leading into your main living space with a Floortex™ coating that matches the rest of the garage floor. We can also do the same treatment on the base of your garage walls.
These applications provide a more consistent and seamless look for the garage's décor and give the space a more effective seal against drafts and exterior moisture.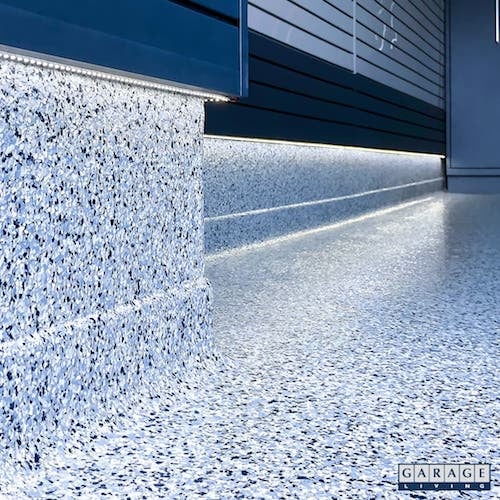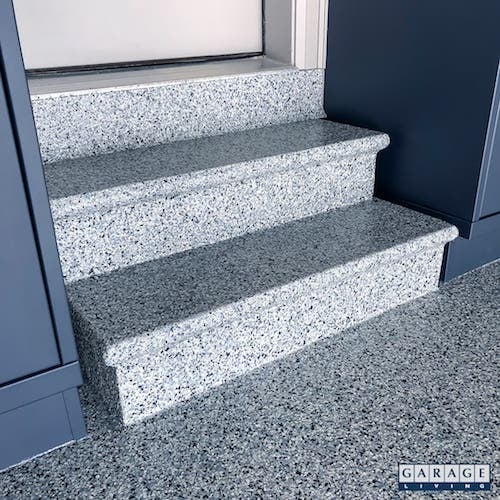 16. Upgrade the garage doors
Okay, admittedly your garage doors would be considered an exterior feature but they have a back, right? Pulling into a beautiful garage and staring at garage doors that look outdated, scuffed, and weathered (even from the back) just shouldn't sit right with you.
And say you've made your garage a more multi-functional room and have set up an area with a workbench or for working out. Those doors will be down much of the time to maintain privacy or because of colder weather. There will be no escaping their visual shortcomings then, either.
Upgrading the garage doors represents one of many ways to enjoy your garage's interior more and gives you one of the best returns on investment of any home improvement project.
17. Improve the air quality
We've listed many reasons to get rid of garage clutter and improving the room's air quality is yet another one.
Stacked cardboard boxes and plastic storage bins of junk and items like old furniture and appliances may not be getting used at all, but there are two things they do very well – collect dust and obstruct airflow.
That contributes to a musty-smelling garage that can't be thoroughly cleaned, which means the garage's air quality suffers.
Once all of that clutter is removed, consider going one step further and installing some type of air exchange system to consistently keep the garage's air fresh.
Passive wind-powered roof turbines are one option. For a more impactful result, have an "active" air exchange system installed that's electrically powered.
18. Install new lighting
A cost-effective solution to make a garage interior look nicer is to simply upgrade its lighting.
Relying on a couple of 60 or 100 watt incandescent bulbs to illuminate an entire garage is so yesterday. Not only is the lighting quality poor, it's also not energy-efficient.
Add lighting fixtures like our 4 foot LED light or pot lights for a more modern look and better illumination for the entire room.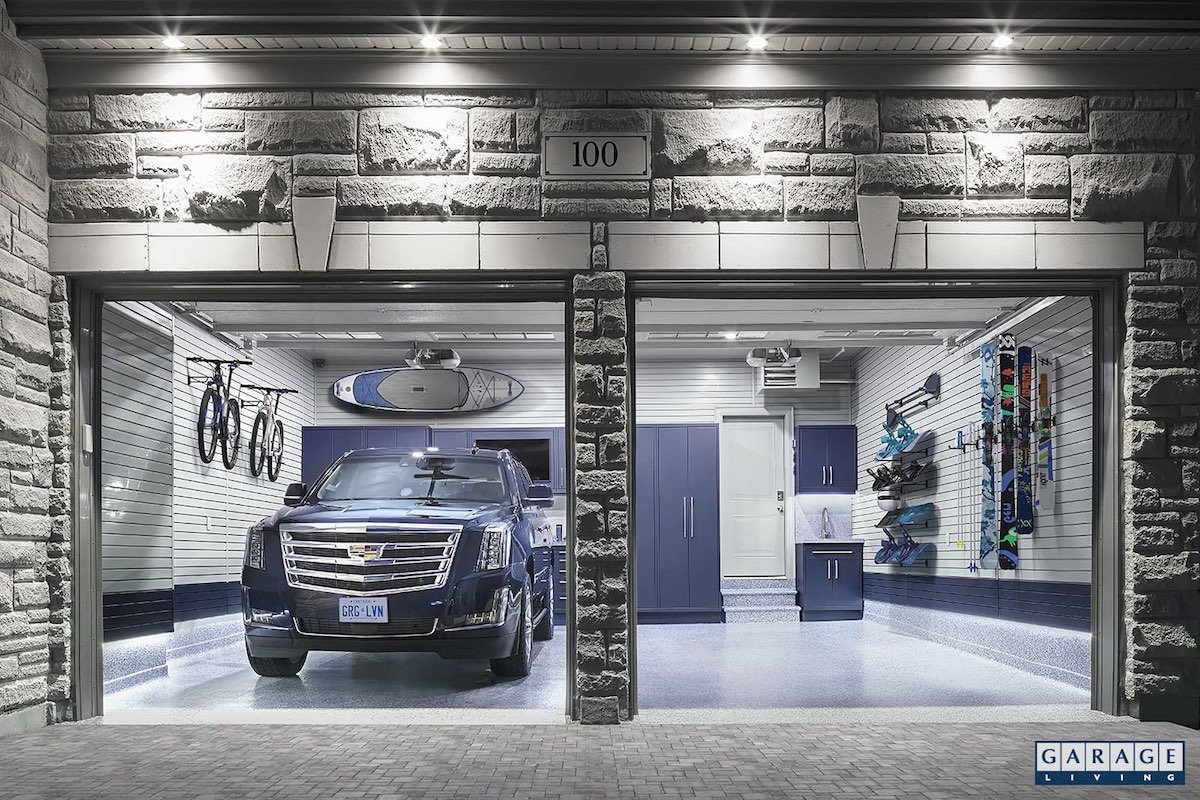 19. Upgrade your garage tech
One way to get more out of a garage is to upgrade the room's tech and include the same types of electronics found elsewhere in the home. After all, one of the main reasons to create a nicer garage interior is to make it a more useful extension of your living space.
A smart TV can be mounted in a cabinet system and a smart speaker is easy to move around anywhere. Charging devices and extra outlets could also be incorporated into a custom cabinet design for more convenience.
A keyless garage entry system, smart garage lighting, and a smart garage door opener that allows your garage doors to be remotely monitored and operated via a smartphone app are just a few of your many options.
Naturally, getting a strong WiFi signal in the garage will be essential to use most of your tech. Get some tips on boosting your home's WiFi signal.
20. Maintain your transformed garage space
Once your better-than-new garage is set up and looking pristine, the work doesn't stop, unfortunately.
To keep it looking that way, get in the habit of decluttering and cleaning regularly. Every two or three months should suffice for your garage cleaning needs. Give it a more thorough cleaning (including washing the floor) at least once a year.
Luckily, keeping it organized will require less effort on your part if you use the storage and organization systems suggested here.
Also, be conscious of limiting all but essential new purchases of items that will be stored in the garage. Exercise more restraint during sales and don't buy those things you might use one day, just because the price was too attractive.
This good practice will serve you well in preventing clutter from accumulating once again in the garage.
Create a nicer garage interior with these stylish upgrades
With everything we've covered about what's required to achieve a nicer garage interior, we'll leave you with one final thought: don't forget that an open garage impacts your curb appeal.
Neighbors and passersby notice a garage interior that's messy, left unfinished, and has décor that's outdated. This is a big reason 52% of homeowners want to own a garage their neighbors envy, according to a Thompson's Company study.
Schedule a free design consultation with us this new year to start planning a strategy to create a nicer garage interior you'll enjoy for many years to come.
Please share this post if you found it useful.
See also: