Too many vehicle owners believe them, even drivers who have been navigating the slippery winter roads for decades.
Actually, that fact likely plays a big role in why these misconceptions and mistaken beliefs about winter driving are so common.
Drivers get set in their ways and an outdated way of thinking, stubbornness, and simple misinformation combine to make these winter driving myths become reality in some drivers' minds.
7 common winter driving myths debunked
The truth is, being mislead by one or more of these myths about winter driving can end up costing you money and make you and the roads less safe.
If you've been under the impression that any of the following winter driving myths were true, we're here to tell you otherwise (in most cases…a couple of them fall into more of a "gray" area, as opposed to having a definitive "wrong/right" answer).
Keep reading to get the straight facts about these seven common winter driving myths and misconceptions.
1. Engines need a few minutes to warm up in the cold
This has to be the most prevalent winter driving myth. A shocking number of drivers still think their vehicle's engine requires a few minutes of warm-up time when it's cold outside.
In fact, most modern vehicles are fine to drive approximately 15-30 seconds after the engine has started. Diesel engines may require a little extra time.
Over the past couple of decades, automakers have moved to more efficient fuel injection systems in vehicles. That means a vehicle's oil and some other automotive fluids circulate much faster upon startup compared to the carburetor engines of the past.
If you're using a synthetic engine oil, there's even less need for a lengthy engine warm-up. In comparison to traditional motor oils, synthetic oils are less prone to thickening up in frigid temperatures.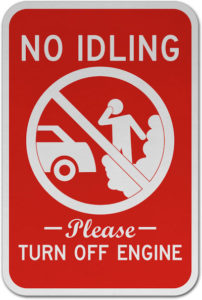 It is a fact that a vehicle's fuel efficiency is slightly lower in extreme cold temperatures, partially because engines take longer to reach their optimal operating temperature. Just about all auto and science experts, however, agree that letting vehicles idle is totally unnecessary and only wastes fuel. Many parts of the U.S. and Canada have anti-idling laws to curtail excessive emissions.
A more fuel-efficient and eco-conscious mindset by car consumers has, of course, made electric vehicles increasingly popular. And automakers have implemented newer start-stop engine technology (even in non-electric and non-hybrid cars) that shuts off engines when a vehicle has stopped.
Naturally, drivers do let their vehicles warm up for longer periods in the winter for comfort-related reasons or to defrost windows. Sitting inside a frigid car or truck is admittedly never enjoyable, but here are a few ways to help your vehicle warm up a little quicker:
park in your garage to keep your vehicle's engine and cabin a bit warmer (and definitely avoid excessive idling in the garage)
use an engine block heater instead of a remote starter
make use of seat and steering wheel warmers (note that using these features will slightly lower fuel efficiency)
2. Adding weight to a car trunk guarantees you better traction
Another of the longstanding winter driving myths is that adding excess weight to the trunk of a car will automatically improve your road traction.
In theory, it seems to make sense. Just weigh down the back of a car or truck to improve a vehicle's rear traction and limit any possible fishtailing or loss of control in deeper snow, on ice, or on wet roads.
Heavy sand bags (commonly around 40-75 pounds) seem to be the weight of choice for anyone doing this. I've also known people who weighed down their car trunks in the winter with cement bags and cinder blocks.
The fact is, this one is actually only a half-myth because there are benefits to adding weight to a vehicle's rear, but only in very specific cases.
For front-wheel drive vehicles, significant added trunk weight only makes a car lose traction because you're messing with its weight distribution. A lot of experts also don't believe most all-wheel drive vehicles should have rear weight added as a way to improve traction.
So when is adding rear weight mostly okay? Only if your vehicle is rear-wheel drive. Having that extra weight close to the drive wheels is the key to making this whole idea work, so that should improve your traction.
There are other variables involved with this, including knowing how much weight to add to a rear-wheel-drive vehicle to even get the most benefit from it.
Of course, another important factor to consider is that all of that extra weight your vehicle is carrying will obviously affect its fuel consumption (not to mention the cargo space it takes up).
We say leave the sand bags in your garage or shed and stick with winter tires if you're looking for better snow traction.
3. Winter tires are overrated and a waste of money
Since the 1930s when they first arrived, winter tires and their worthiness have been a divisive issue.
Lots of drivers think they're not worth the money and swear by their all-season tires as a year-round tire solution. In truth, much of the blame has to go to tire manufacturers for using the "all-season" name, which is somewhat misleading.
Yes, you can technically use all-season tires on a vehicle year-round, but they're certainly not your best tire option if you live anywhere that gets snow and sub-zero temperatures.
High-performance summer tires would also be better for your vehicle during the spring and summer, but again, those all-season tires do get the job done. A cynic might say that to a certain degree, all-season tires are a rather "jack of all trades, master of none" tire option.
The whole debate gets even more convoluted when all-weather tires are brought into the discussion. Not to be confused with all-season tires, higher quality all-weather tires deliver superior true year-round performance compared to all-season tires. Just be prepared to pay more for them and know that they have a shorter tread life.
Make no mistake about it, however – no other tire keeps your vehicle safer on slippery winter roads than a good set of winter tires. That holds true even if you have a vehicle with traction control or own an all-wheel/4-wheel drive vehicle.
The rubber compound and treads winter tires have is engineered to provide improved grip that helps you stop, steer, and accelerate better not just in snow, but in cold weather even when the roads are dry.
Testing has shown that compared to vehicles without winter tires, good winter tires can improve a vehicle's ability to stop faster in winter conditions by up to 30-40%.
Do note that the extra grip winter tires provide means you will see a slight decline in your vehicle's fuel economy. You also need to make sure you don't leave them on your vehicle too long when the weather warms up in the spring, which can cause the treads to wear down faster.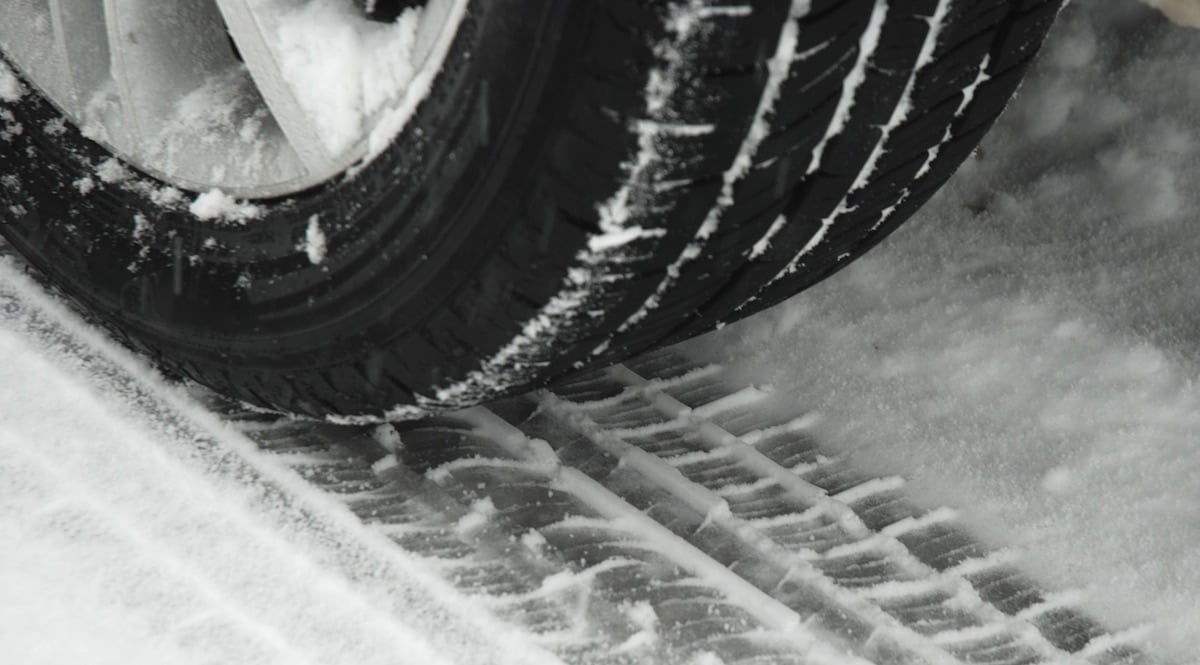 4. Snow and ice only needs to be cleared off a vehicle's windows
We've all seen those infuriating winter drivers who barely even bother to clear much of the piled-up snow from their car or truck before hitting the road.
It goes without saying that when a vehicle is covered in snow, only turning on your front windshield wipers in order to see where you're driving (while ignoring your side windows and mirrors and rear windshield) is the height of irresponsibility.
A frustrating number of drivers also neglect to not just clear snow and ice from their windows, but the roof, hood, sides, and trunks of their vehicles.
Every year where you live, there's assuredly at least one news story of a bad accident (or fatality) that was caused by flying ice or snow from another vehicle. You've no doubt experienced one or more scary moments with flying ice or snow while on the roads during the winter.
Take the time to brush and scrape off as much snow and ice from your vehicle's exterior as possible for your own safety and out of consideration for your fellow drivers.
Depending on the laws in your area, you can be fined for driving with excess snow on your vehicle or be held liable for a collision caused by falling snow or ice from your vehicle. A Winnipeg man was fined over $200 for driving with an unsecured load because he had so much snow on his van's roof.
If clearing the snow off your vehicles is getting tiresome, that's a great reason to make space for parking inside your garage!
5. Deflating tires in winter improves vehicle traction
File this one under the category of common winter driving myths where common sense is clearly in short supply.
The rationale behind deflating your tires to get better traction in the winter is that lowering the psi in the tires will allow them to cover more of the road.
It's fairly common knowledge that tire pressures need to be kept at a specific level, so we're unsure why anybody would think that messing around with that would be a good idea. And especially when icy roads are involved.
This is something a lot of drivers believe, apparently. If you go to type in "will deflating tires help in snow" in Google, all you have to type in is "will defl" before the query is autocompleted.
Here's why driving with underinflated tires is a bad idea:
your vehicle's handling will be compromised
the tires will wear faster
it increases the chance of a tire blowout
Cold weather actually makes your tires lose air quicker than in warmer weather. Keep close tabs on them throughout the winter to ensure they're inflated to the recommended psi.
6. Regularly washing a car during the winter isn't worth it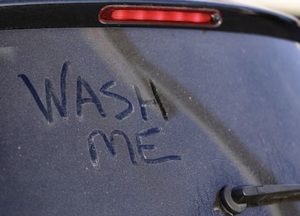 The supposed logic behind this forehead-slapping myth is that it's pointless to regularly wash a dirty vehicle during the winter because it'll only get filthy again right away. It's believed by a surprising number of drivers who apparently still aren't aware that salt and metal don't get along with each other.
Road salt is one of the worst things for a vehicle's body. The Washington Post reports that liquid salt brine, which is sprayed on winter roads in some areas, is even more damaging (they also advise you to "never drive behind a plow truck spreading salt and brine"). Caked-on sand that's been used on roads can also do damage over time, as does all of that extra winter moisture sitting on your vehicle.
It's generally recommended that vehicles get washed every couple of weeks when the weather is nice. If anything, you should definitely be increasing the frequency of your car washes during the winter.
A wash every week or week-and-a-half might be ideal when the roads are particularly messy. In addition to helping prevent rust, a regular winter wash just makes your vehicle look nicer. It also minimizes the likelihood of getting those ugly white salt stains on your clothing when you brush up against a dirty vehicle.
Along with regular washes, you can protect your vehicle's exterior by giving it a wax twice a year. An occasional rust prevention and undercoating treatment for your vehicles could also be worth the expense if you live somewhere that gets a lot of snow.
7. You can mix winter tires with all-season tires
What's with all the tire-related winter driving myths? Well, here's another one we can dispel.
Mixing winter tires and all-season tires isn't recommended (especially if a vehicle is all-wheel drive).
It's not advisable to even mix tires that are the same type (where all four are all-season tires or all four are winter tires), much less mix tires that are constructed quite differently from each other, as all-season and winter tires are.
Having four tires of the same size, tread depth and design, load rating, construction material, and inflation pressure is critical to ensure a vehicle maintains its highest level of stability and control.
When you start mixing a pair of all-season tires with a pair of winter tires, things can get unpredictable when it comes to how a vehicle might handle.
Read any online auto forum on this topic and you'll find some drivers who say that they've never had any issues from mixing tires on their vehicles. Thanks, but we'll defer to the majority of tire experts and professionals who advise against this practice.
Stay safe on the roads this winter
Doing basically the opposite of what most of these common winter driving myths tell you to do will help to make the roads safer for you and other drivers this winter. And you can potentially cut down on your vehicle emissions and fuel costs as well.
Here's one last myth related to winter and vehicles we can debunk: that getting a garage makeover during the winter isn't possible.
The truth is that Garage Living can do garage makeovers year-round. In fact, there are even some advantages to getting a late fall or winter garage makeover.
There's no better time to have an organized garage for parking vehicles in than when the weather is at its worst.
Schedule a free design consultation with us to begin making your garage a beautiful, highly functional space you'll appreciate coming home to after a stressful drive on the winter roads.
Please share this post if you found it useful.
See also: