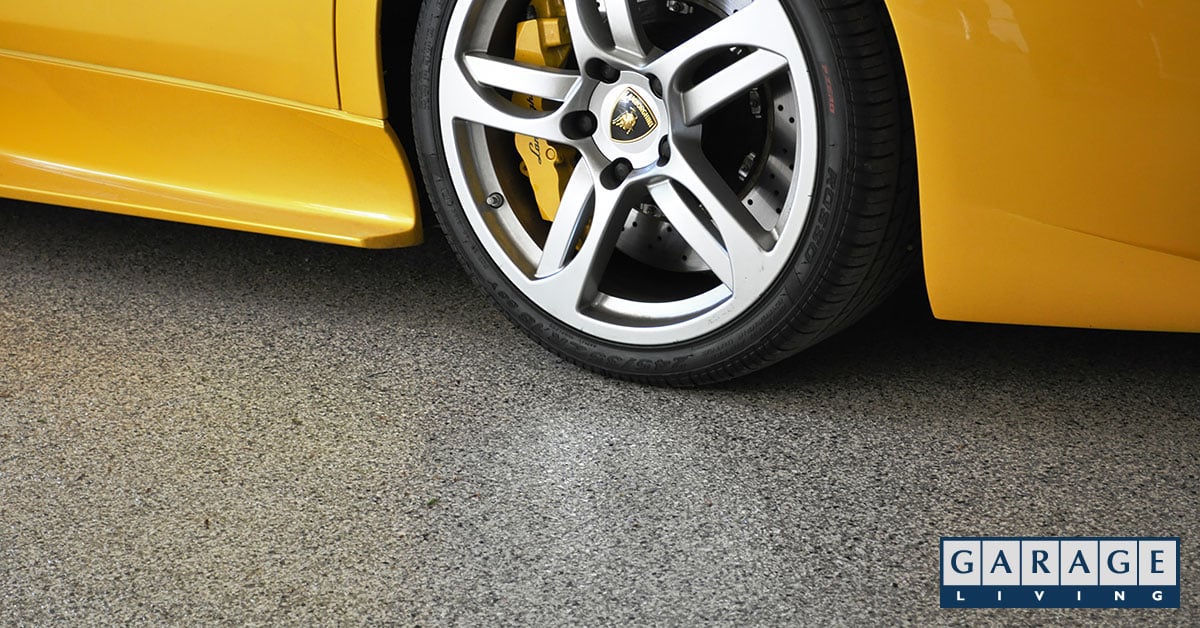 You have a few options when it comes to revitalizing your garage floor surface.
Some options, such as painting the garage floor or filling cracks and other imperfections with a concrete repair product, end up being short-term fixes.
Before you know it, you'll have to repeat the repair process all over again because the floor paint has chipped or the cracks have opened up again (or new ones have formed).
These options also don't leave your garage floor looking very nice or offer much in terms of protection for your floor.
How to find the best garage floor coating
The best solution for redoing the flooring in your garage is to have a proper garage floor coating application done. So what features are important when you're comparing different flooring products in order to find the best garage floor coating ?
There are several key factors you need to consider in order to make an informed decision. Here are 11 important questions to ask when looking for the best garage floor coating for your home.
1. Does the floor coating have superior looks?
How the garage floor coating looks will likely be at the top of your list of priorities when it comes to deciding on the best garage floor coating for the job.
Unquestionably, a beautiful garage floor surface makes a huge difference in how a garage looks and feels.
DIY epoxy floor coating kits promise great looks and can be enticing because of their low price. As with anything in life, however, you get what you pay for.
Compared to a professionally applied polyaspartic garage floor coating, there's a noticeable difference between the two. Polyaspartic floor coatings have a higher quality aesthetic and brighter shine than you'll get with a cheaper epoxy coating.
The standout looks and many other attributes of Floortex™ floor coatings are specifically why they're the only floor coating used by Garage Living.
2. How many floor coating colors are available?
One reason some garage floor coatings look better than others is because careful consideration was given to how the floor coating's colors will best complement the rest of a garage's décor.
The color you choose for a floor coating can have a big affect on your garage's overall looks.
Everything from the color of a vehicle to the colors of your slatwall panels, cabinetry, and garage doors should be factored into what floor coating color is chosen.
For this reason, look for a garage floor coating that gives you a wide variety of floor coating colors to select from. This ensures you won't have to compromise on how your garage looks once the flooring project is completed.
3. Is a professional application process used?
Garage floor coating applications require a specific skillset in order to achieve the very best results. That's why it's essential to look for a company that has professionals that are properly trained and use the highest quality equipment.
Aside from using a superior quality floor coating product, Garage Living's floor projects are the best in the industry for a few reasons:
all our workers doing floor applications are professionally trained
Garage Living has invested in state-of-the-art equipment for our flooring jobs
our thorough 5-step application process ensures exceptional results
A DIY flooring job won't have the same smooth and shiny look a professional floor application will. And you can almost guarantee it won't last as long, either.
4. How durable is the floor coating?
That brings us to durability. If you're looking for the best garage floor coating, the durability of the coating needs to be another major consideration.
You don't want to spend your hard-earned money on having a garage floor coating applied, only to find out a year or two down the road that its durability leaves a lot to be desired.
A polyaspartic floor coating is longer-lasting and more resilient than epoxy floor coatings. For example, a high quality polyaspartic coating like Floortex™ will:
maintain its glossy finish longer and won't yellow over time
waterproof your garage floor
provide better abrasion and impact resistance
resist "hot tire pickup" that leaves permanent markings from hot tires on a floor
Naturally, any garage floor surface still needs to be maintained and cleaned to ensure it enjoys the longest life possible.
5. Is it resistant to household chemicals?
As an extension of a floor coating's durability, also consider how well the coating you're choosing stands up to household chemicals.
It's an inevitability that your garage floor will have some sort of spill occur on it involving any number of household chemicals or automotive fluids.
Fluids like cleaning products, oil, gas, and engine coolant can all damage your floor's finish, so look for a coating with excellent chemical resistance.
Road salt will damage your garage floor's finish. That's one more reason your garage floor coating should deliver the highest degree of chemical resistance possible if you live in a northern climate where salt is used on the roads.
6. How long will the whole process take?
Considering many homeowners use the garage as the main entry and exit point for their house, no one wants to be without the use of their garage for a lengthy amount of time.
Therefore, finding out how long a garage floor coating application will take to complete is another factor worth considering. By "complete" we're including the total amount of time the whole process will take. That's from the start of the application process right through to when you can resume using the garage.
This is one more area where polyaspartic floor coatings come out ahead. Epoxy floor coating applications require a much longer time to complete because their curing times are significantly slower. In some cases, that can mean your garage will be unusable for a full week.
Polyaspartic garage floor coating applications can be completed much faster because their top coat cures quite quickly.
Depending on temperature conditions (which affects curing times), a garage floor with a fresh Floortex™ coating can handle foot traffic within 8 hours of the top coat being applied. In as little as 24 hours, the floor can accommodate vehicle traffic.
7. Are there limitations on when the floor coating can be applied?
You might be planning to get a garage floor coating at a certain time of the year without being aware that some floor coatings can only be applied in specific temperature conditions.
Epoxy floor coating applications require a minimum temperature of 50-55° F (10-13° C). Urethane garage floor coatings need a minimum temperature of 40° F (4° C) to be applied. For homeowners in northern climates, that window of opportunity for having a floor coating application becomes much smaller.
On the other hand, polyaspartic floor coatings can be applied virtually year-round, regardless of where you live. Polyaspartic floor coatings like Floortex™ give you a lot more versatility because they can be applied in temperatures as low as -40° F.
Note that temperature conditions will factor into the amount of time it takes a top coat to cure.
8. Is the garage floor coating easy to maintain?
When any spills occur, you want your floor coating to offer great protection and also make it as easy as possible to clean spills up.
A higher quality floor coating like Floortex™ makes that possible. The perfectly smooth flooring surface and protective top coat makes cleaning up spills very easy.
Cleaning the entire garage floor is simple as well. You just need to give it a sweep, hose the floor off, and then use a squeegee to remove the excess water. Once or twice a year, you can give the floor a more thorough scrubbing using a cleaning product.
The decorative flakes used in polyaspartic floor coatings also do an excellent job of hiding dirt. That helps to preserve the clean look of your garage floor for longer.
9. How well does the coating seal a garage floor?
The quality of floor coating product being used in an application undoubtedly plays a major factor in how well it protects and seals your garage floor.
The application process and level of preparation being out into a flooring project are just as important. Taking shortcuts with any of these factors will likely result in a finished project that leaves you unsatisfied and needs to be redone sooner than you'd like.
One reason Garage Living believes Floortex™ is the best garage floor coating available is that it provides a level of sealant protection that is second-to-none.
Our through preparation process ensures the coating penetrates deep within your concrete floor to ensure lasting durability. Your floor will have a waterproof seal that minimizes the likelihood of unsightly cracks forming.
Many of our projects even apply the Floortex™ floor coating to your garage's lower walls. This baseboard-style look creates a nice seamless aesthetic between the garage's floors and walls. It also adds further protection against water damage to your garage.
10. How environmentally friendly is the garage floor coating?
When deciding on what the best garage floor coating for your needs is, worrying about how your choice may affect the environment probably doesn't rank highly on your list of concerns. You may not even be aware it is something you should be concerned about.
The fact is, some garage floor coatings emit a higher level of VOCs (Volatile Organic Compounds) than others. VOCs are chemicals that are slowly released into the air and are found in many products around the home.
Look for a polyaspartic floor coating, like Floortex™, that emits the lowest level of VOCs possible. It's better for the environment and also for your family's health.
11. Is the floor coating backed by a warranty?
Any product claiming to be the best garage floor coating available should be able to back that up with a strong warranty.
After all, no homeowner wants to discover their new floor coating has started to flake and lose its shine after a short amount of time.
Knowing the company that did your floor coating application stands behind its product and work for many years provides comforting peace of mind.
For every flooring project, Garage Living confidently provides a minimum 10-year limited warranty. This assures our customers that their garage floors are guaranteed not to flake, peel, or blister. Consult your local Garage Living location for more details.
Get the best garage floor coating available
When weighing the pros and cons of different floor coating products, we think you'll find that Floortex™ coatings are the best garage floor coating you can choose.
Getting your garage floor transformation started is as simple as scheduling your free design consultation with us.
See also: