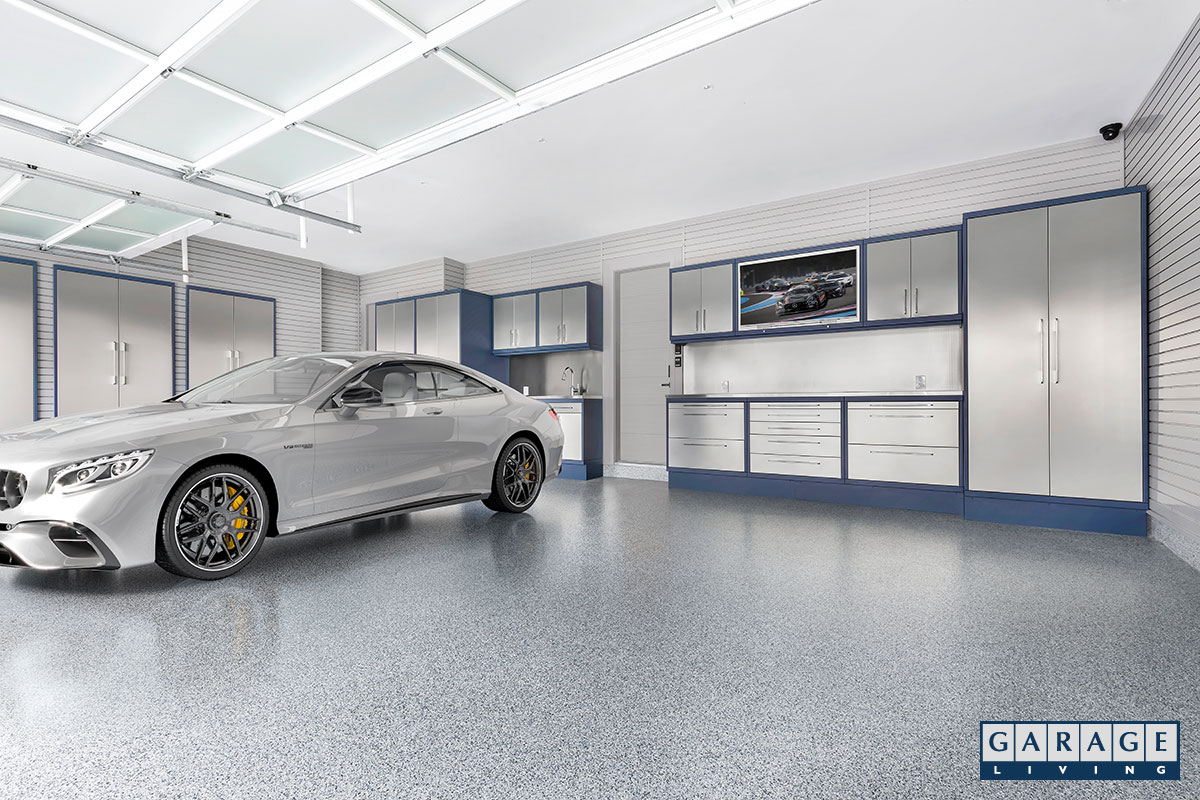 The days when garages were viewed as nothing more than a drab, utilitarian parking area for vehicles and a modest amount of home storage have long since past.
Modern garage spaces are now capable of being one-of-a-kind, showroom-quality expressions of your style that function at a high level.
Garage Living has successfully completeld thousands of garage makeovers in North America since we started in 2005.
We've done projects both large and small, from large garages in luxury homes to more modest makeovers in smaller homes.
13 awesome garage makeovers that turn heads
Regardless of the scale and budget of the projects Garage Living works on, our goal always remains the same – to transform our clients' garages into beautiful-looking spaces they can get more enjoyment and functionality out of.
We've compiled a list of 13 awesome garage makeovers that showcase what we can accomplish in just about any garage space. You've heard of "garage envy" before? Well, we think these incredible makeovers are perfect examples of why the expression was invented.
Hopefully what you see will give you some ideas and inspiration to transform your garage into a part of the home that is a true extension of your living space, just like these rooms have.
1. The underground garage makeover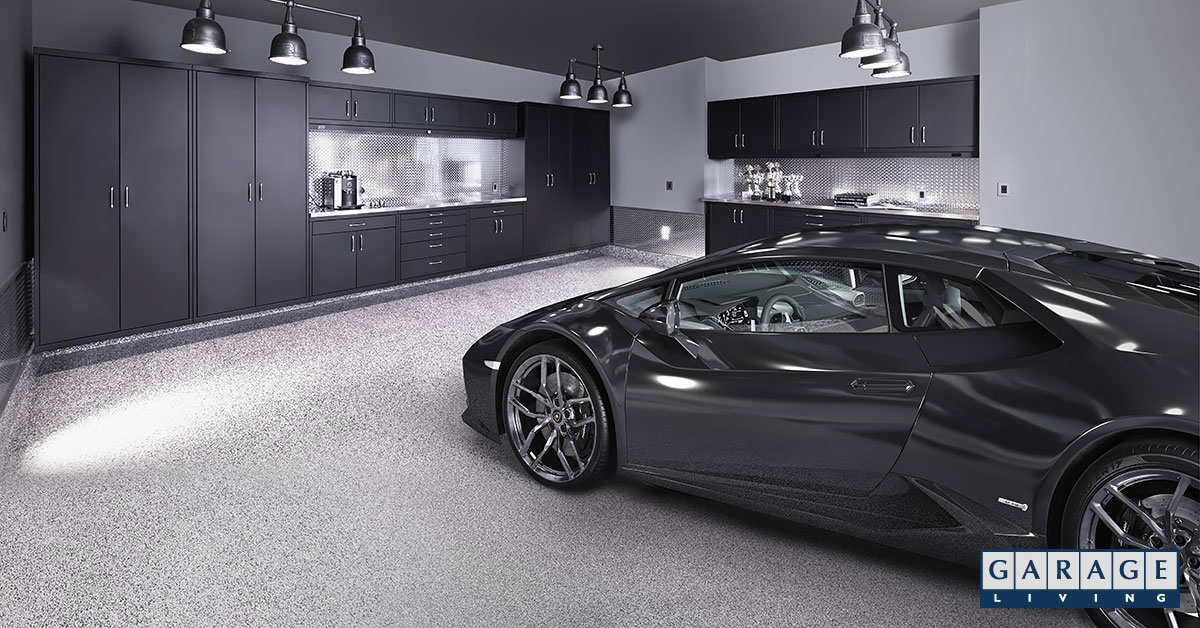 The photo above isn't from a Lamborghini showroom or a movie set – it's the outcome of one of our more unique makeover projects.
The remodel was done in an underground residential garage located below a traditional above-ground garage. Although it's hard to imagine it, pre-makeover this garage had a look that could best be described as "dull".
We think you'll agree that "dull" and the parked presence of the homeowner's Lamborghini Huracán Spyder simply don't go together.
The garage's appearance is elevated to that of its four-wheeled occupant with the pairing of a Charcoal Floortex™ floor coating and GL Custom Steel cabinetry with a black matte finish. They provide the perfect decorative complement to the supercar's sleek paint finish.
A blend of the floor coating's silver, black, and white decorative flakes results in a beautiful showroom-quality surface that helps hide dust and dirt.
Ample cabinet storage space holds all of the garage's belongings and keeps them organized while keeping them hidden to preserve the room's high-end appearance. Bright lighting helps offset the garage's darker color scheme.
Click to view more photos from this makeover.
2. The Harbor Blue garage makeover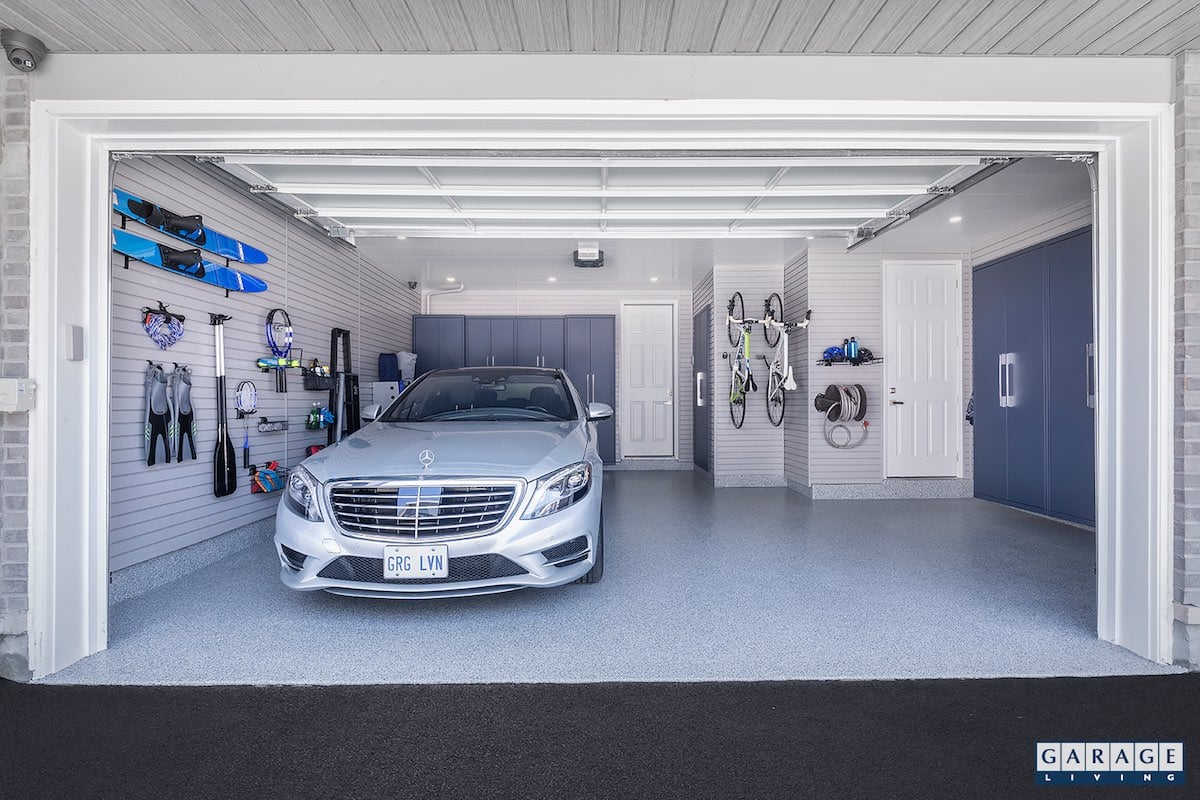 The inspiration for Harbor Blue, Garage Living's newest custom cabinet and flooring color, came from this client's desire to find a garage aesthetic that complemented the home's location within a lakeside resort community.
The lighter shade of blue, a color that's well-known for its calming effects, fits perfectly for a residence that's a weekend getaway for the client and surrounded by water. Harbor Blue was also designed to match the color of a prominent exterior design feature on the client's condo building.
In addition to the Harbor Blue Floortex™ floor coating, surrounding slatwall and GL Custom cabinetry provides ample storage space for bikes, golf equipment, and equipment for various water activities.
This project nicely showcases the design flexibility and willingness of Garage Living to go above and beyond for our clients when it comes to meeting the requirements of their projects!
Get a closer look at this makeover by viewing the gallery.
3. The luxury garage makeover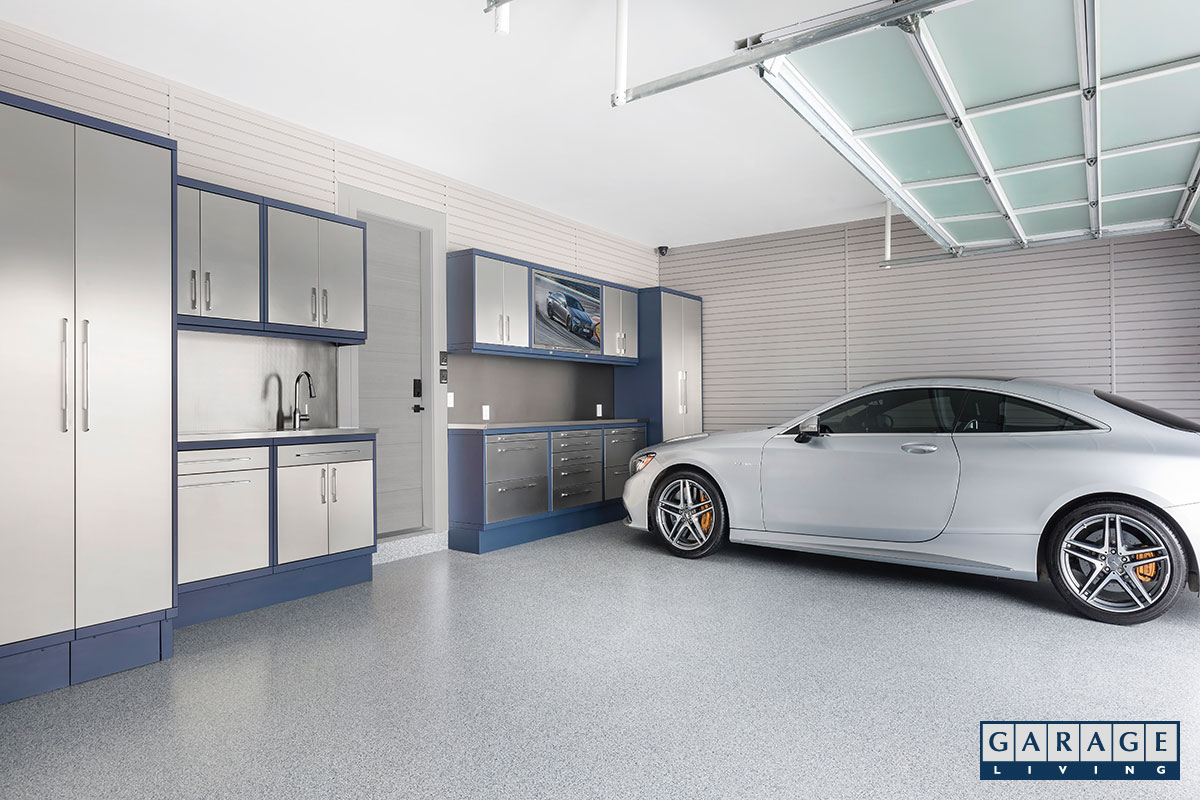 Garage Living specializes in luxury garage makeovers that we think are befitting of any home, whether you own a mansion or a more modestly sized residence.
We believe that experiencing the feeling of luxury the moment you arrive home is important. There's no better way to make that happen than to transform a garage space into a true home showpiece.
And if you own luxury vehicles, you're doing them a disservice by parking them in a shabby-looking garage that doesn't complement their high-end appearance.
This project includes all the must-have features of any luxury garage:
a clean, modern, and high-end look
cabinetry for hidden storage that maintains the garage's tidy appearance (including customized recessed cabinets that hide an electrical panel, central vac system, and the home's elevator motor)
superior quality flooring that provides long-lasting floor protection
slatwall for hanging items to keep the floor clutter-free
Get a better look at this luxury garage gallery.
4. The fitness room garage makeover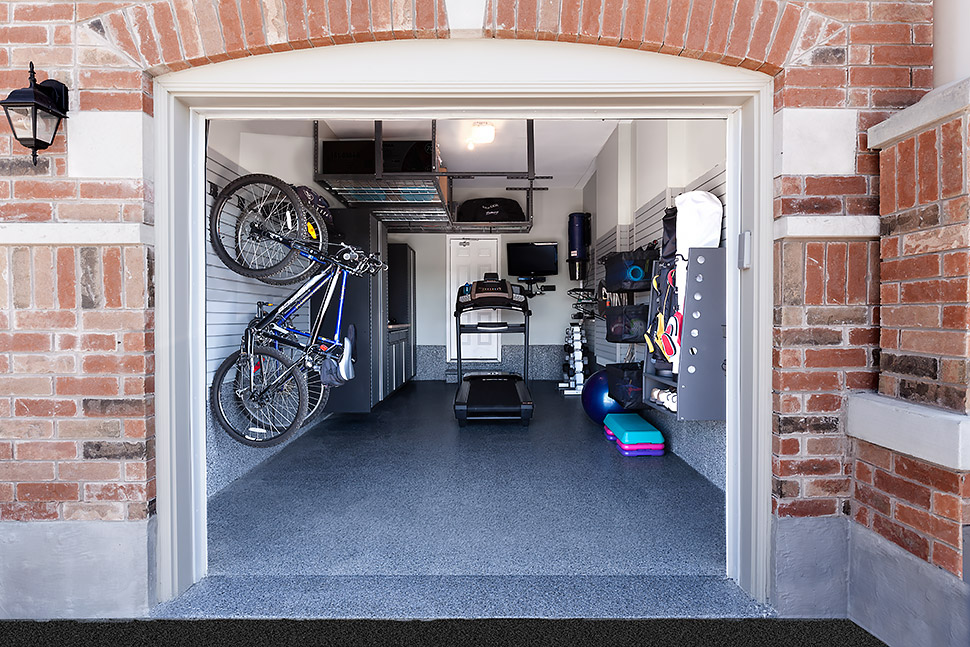 Garages aren't just for parking cars and extra home storage. They're capable of multi-purpose functionality, such as setting up a workshop or a workout space.
The latter is what the owners of this home wanted to use their garage for. The active couple preferred to use their single-car garage as a fully functional gym instead of a parking space.
Overhead racking, a cabinet system, and slatwall on the garage's side walls provided the perfect solution for storing all of their exercise equipment.
To address the fact that the garage would need to accommodate workouts during the winter, the old garage door was replaced with an insulated steel garage door. A high lift door conversion raised the height the garage door opens at to facilitate workouts that required more vertical space.
A heater was also added which, along with the already-insulated walls, made the garage more comfortable during the cold weather months.
Rounding out the project is a floor coating that adds a professional look to the garage, is easy to clean, and can withstand the wear and tear from daily workouts.
Take a more in-depth look at this garage's gallery.
5. The his & her garage makeover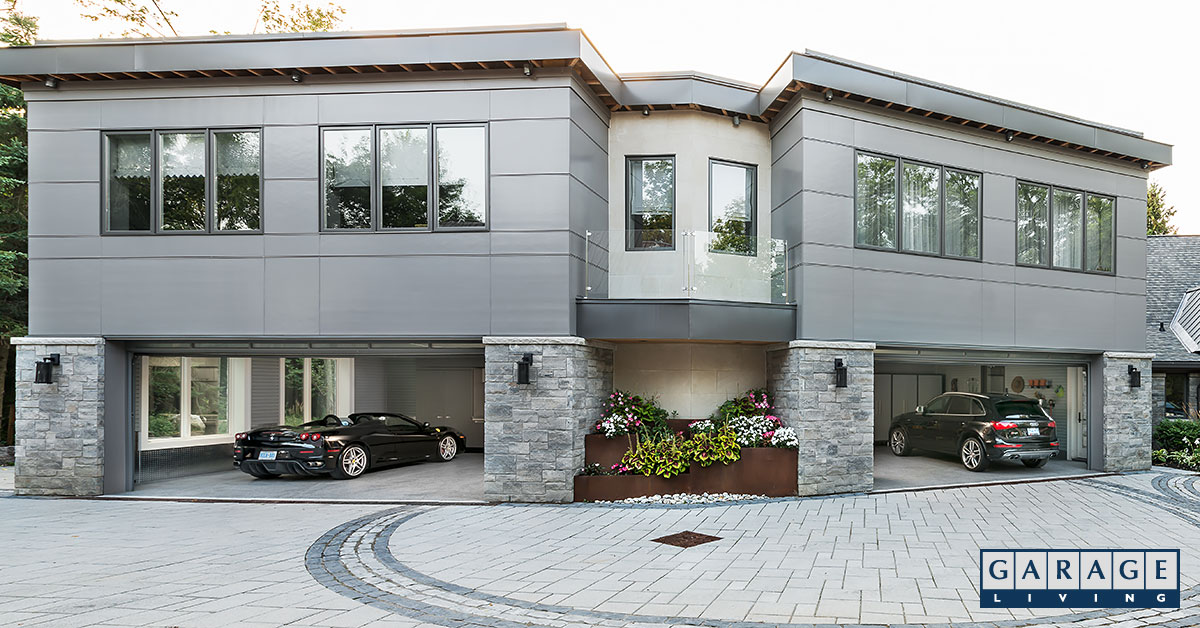 One of our most awesome garage makeovers was a remodel project for home improvement expert and TV host Bryan Baeumler.
The building of their country home was the focus of season three of his House of Bryan show on HGTV Canada.
Garage Living worked with Bryan and his wife Sarah to design and install a pair of bespoke garages (one for him and one for her and the family's kids) that were connected.
Bryan's garage provides plenty of functional space so he can work on his motorcycle and other vehicles. Naturally, Bryan has a large tool collection to store. All his tools and other garage belonging are kept organized in GL NEOS Elite cabinetry, with additional slatwall used for hanging storage.
Both garages received a Floortex™ floor coating in Blue Nightfall. For Sarah and the kids, their personalized garage space utilized a GL Premium cabinet system for storing gardening tools and accessories, as well as the kids' things.
Slatwall storage also complements the cabinet storage space and allows for hanging outdoor apparel right beside the door into the main living space. This transitional area can function as a de facto mudroom, which reduces clutter in the home's main living space.
Get more information and photos from this dual garage makeover.
6. The minimalist garage makeover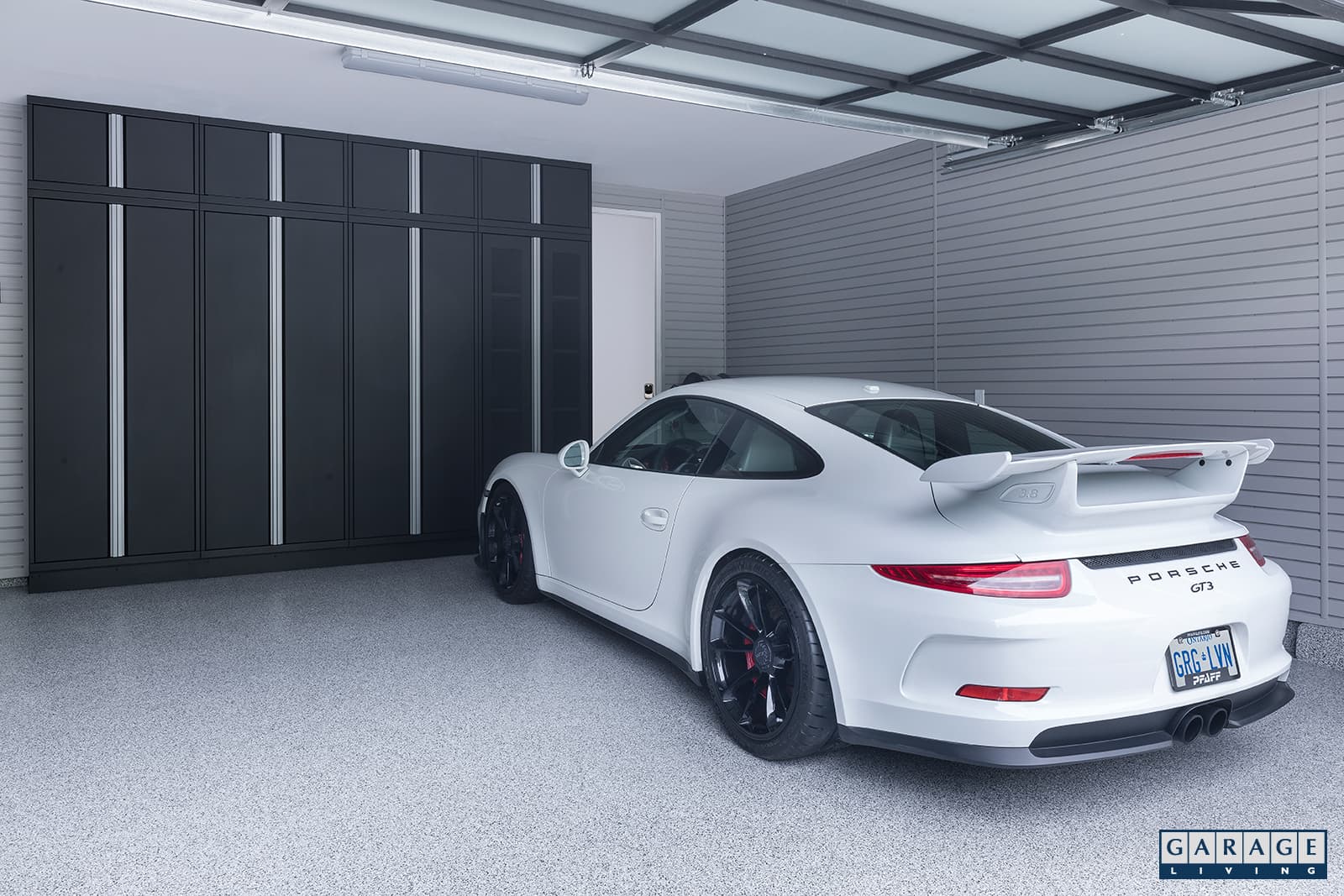 The Marie Kondo-fuelled minimalist philosophy is trendy and extends to beyond keeping homes free of clutter and too many things that don't "spark joy".
More homeowners are applying minimalism to their home décor, which is what this client did for their garage remodel. The neutral colors chosen for the garage interior project a clean and modern look, with a tasteful simplicity that's anything but boring.
The grey, black, and white colors that make up the Charcoal polyaspartic floor coating were ideal for this garage.
A black GL Custom Steel cabinet system and slatwall panels (in Gun Metal grey) adds enough storage space so the garage stays clutter-free. Even Kondo herself would approve!
The cabinets were also customized to keep an exposed circuit panel and central vac hidden. The customization extended to designing the cabinets to accommodate some home theatre components (including designing doors and shelves to provide adequate airflow).
View more photos from this gallery.
7. The Audi R8 garage makeover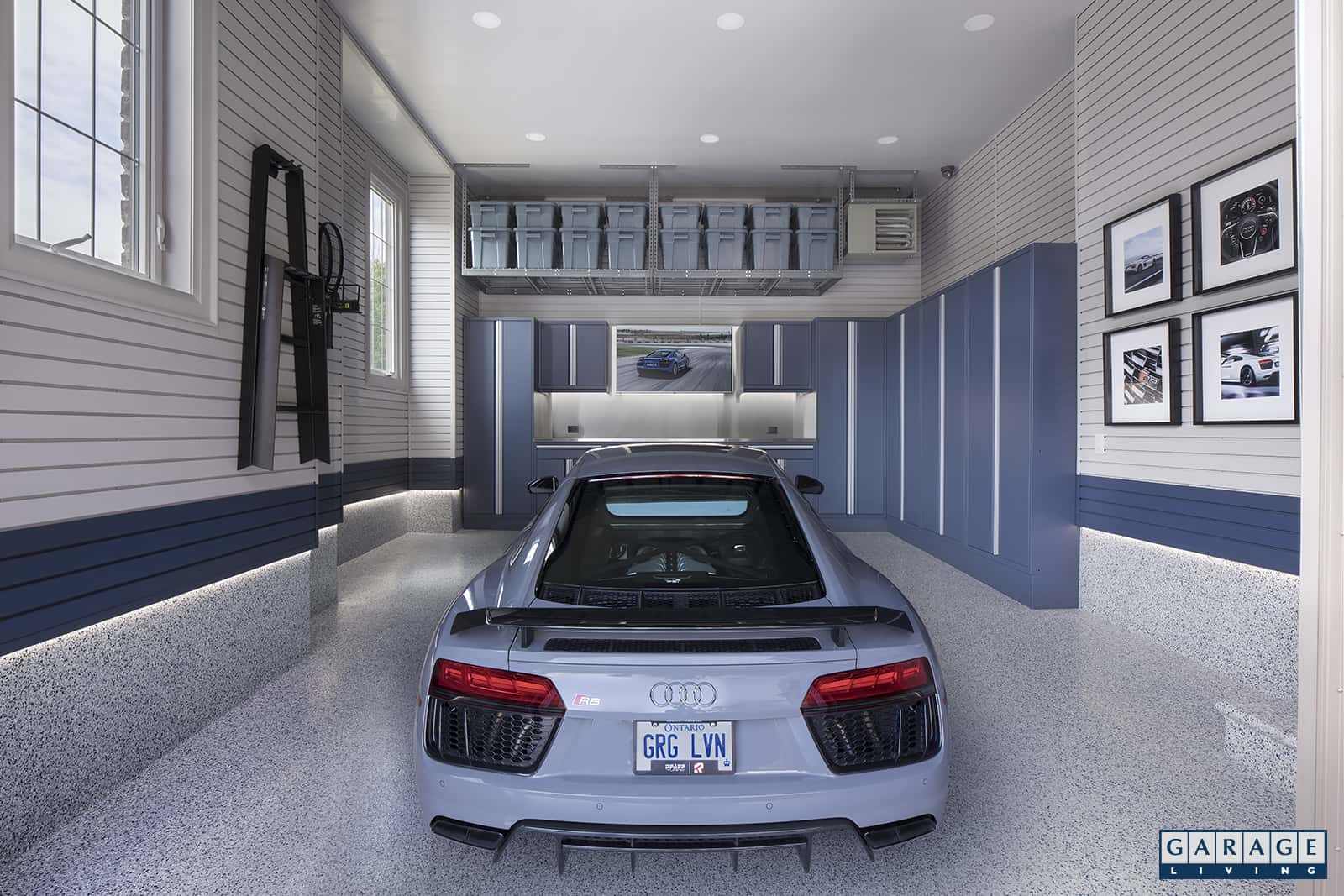 If any car is worthy of a garage redesign that can match its sharp looks, it would be an Audi R8.
This smaller garage that's home for the luxury car had the same must-have features added that just about all of the awesome garage makeovers you see on this page include. That means a new floor coating, a slatwall storage system, a cabinet system (GL Signature), and overhead racks.
Here are a few other interesting details about this project:
the color choice (Harbor Blue) for the cabinetry, slatwall strips, and flooring was influenced by the Nardo Grey color of the R8
to create a seamless and consistent look, the Floortex™ floor coating was also applied to the garage's wall base and steps into the main living space
LED lights below the slatwall strips add visual appeal and are activated by the garage door's remote control
the bright room has three windows, which made the garage door's rails visible so a high lift conversion relocated them above the windows
It all adds up to a garage that's stylish enough to make an Audi R8 look right at home. The room, which includes a TV mounted in the cabinet system, is also comfortable, clean, and organized enough for the client to use as a home entertainment space.
Find out more about what went into this garage makeover.
8. The fully rebuilt garage makeover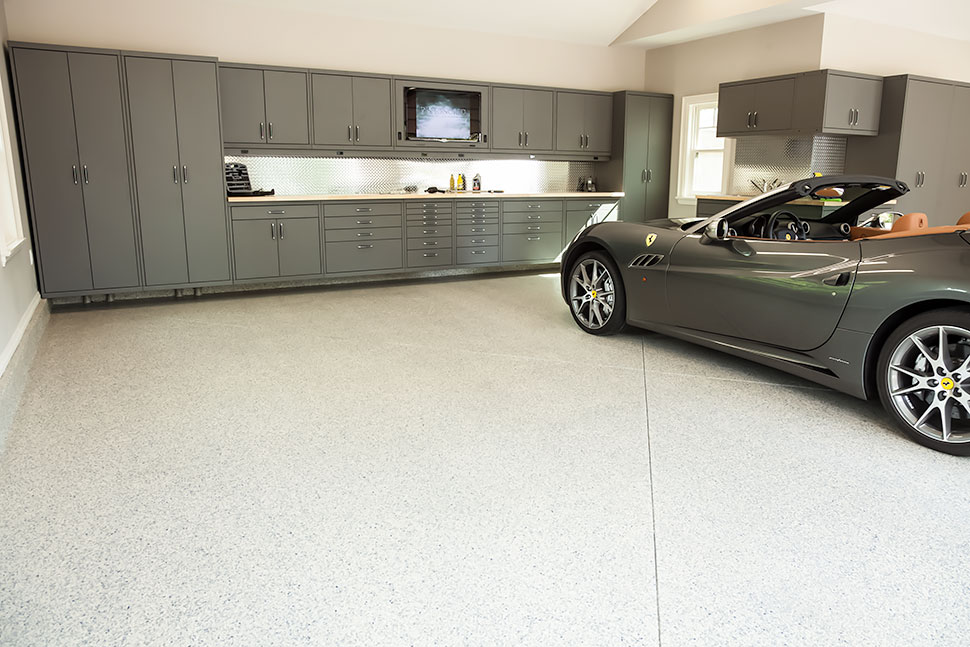 This large garage, which is approximately 1,600 sq.ft., was fully rebuilt from the ground up.
After installing new drywall and priming and painting the garage, we installed Gun Metal grey GL Custom Steel cabinets. The cabinet system includes a TV cabinet, sink, and butcher block countertop.
Two of the garage's electrical panels are hidden behind the two locker cabinets to the far left in the picture above.
A durable Pebble Beach Floortex™ coating was applied to the floor to protect it and further enhance the garage's appearance.
View our gallery featuring before and after photos of this project and many more awesome garage makeovers we've completed.
9. The driving enthusiast's garage makeover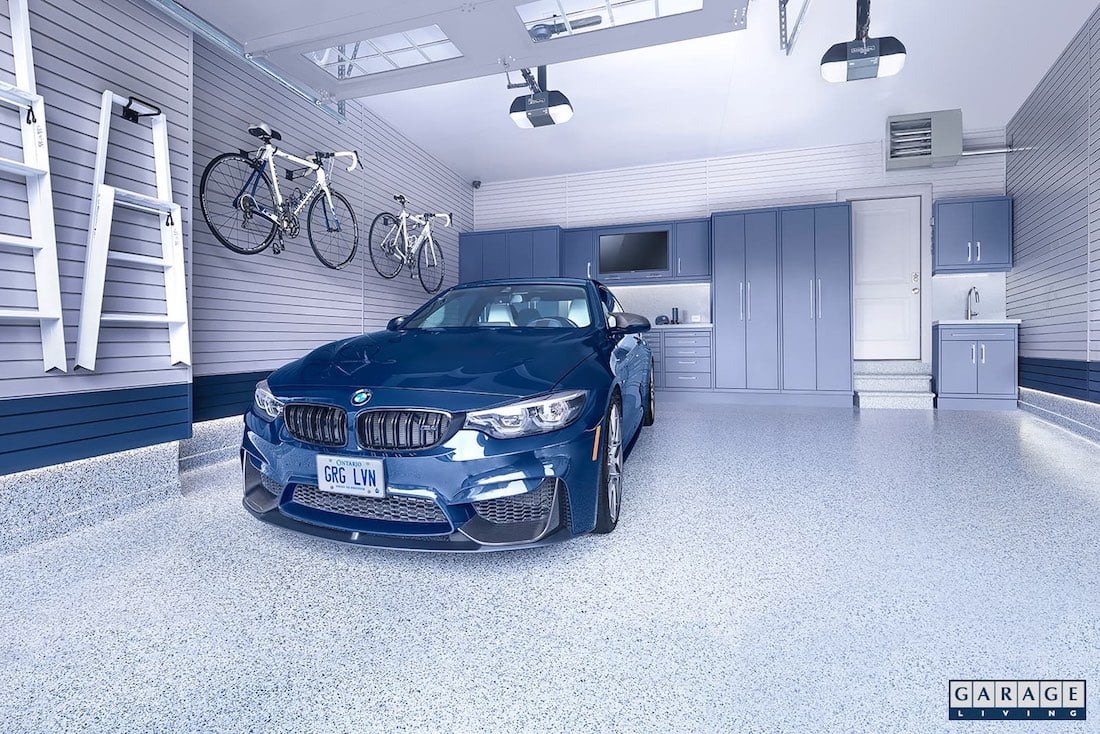 We've established that for anyone who drives a luxury vehicle, owning a garage that doesn't project a similarly upscale look makes as much sense as a screen door on a submarine.
The BMW M4 Coupé in Tanzanite Blue Metallic inspired the custom color scheme for this garage. There was a lot that went into this remodel including:
a Floortex™ floor coating in Harbor Blue
grey slatwall panels for hanging storage and Harbor Blue slatwall strips outfitted with lower LED lighting
GL Custom Steel cabinets in Harbor Blue with a built-in undermount sink and pullout shelving
a TV that is mounted in the cabinet system with a soundbar and subwoofer
a LiftMaster garage door opener that operates quietly and has features smart myQ technology
a garage heater and LED ceiling lights
Discover more about this makeover on its gallery page.
10. The home entryway garage makeover

A big reason homeowners desire awesome garage makeovers like the ones shown here is they want to make the area they most often use to enter and exit their house look nicer.
According to an online study by the Chamberlain Group (the industry leader in garage door opener sales), 55% of homeowners use the garage as their house's primary access point.
This makes perfect sense, given the numerous benefits and conveniences of parking in the garage:
you avoid being exposed to inclement weather when entering and exiting vehicles
snow and ice doesn't have to be scraped off your car or truck in the winter
vehicles are kept more secure than leaving them parked in the driveway
getting groceries from the car to the kitchen is a lot easier
For all of these reasons and a wish to create a more upscale storage space for his family's Maserati and Mercedes, we worked with one of our clients to create the garage you see here.
Slatwall, GL Premium cabinets, and wall-mounted tire racks give the owners of this home all the storage space they could possibly need. Zero floor clutter makes the pristine floor coating in Blue Nightfall look that much more impressive!
See more from this gallery here. You can also learn more about the project from an interview we did with the client.
11. The basketball court garage makeover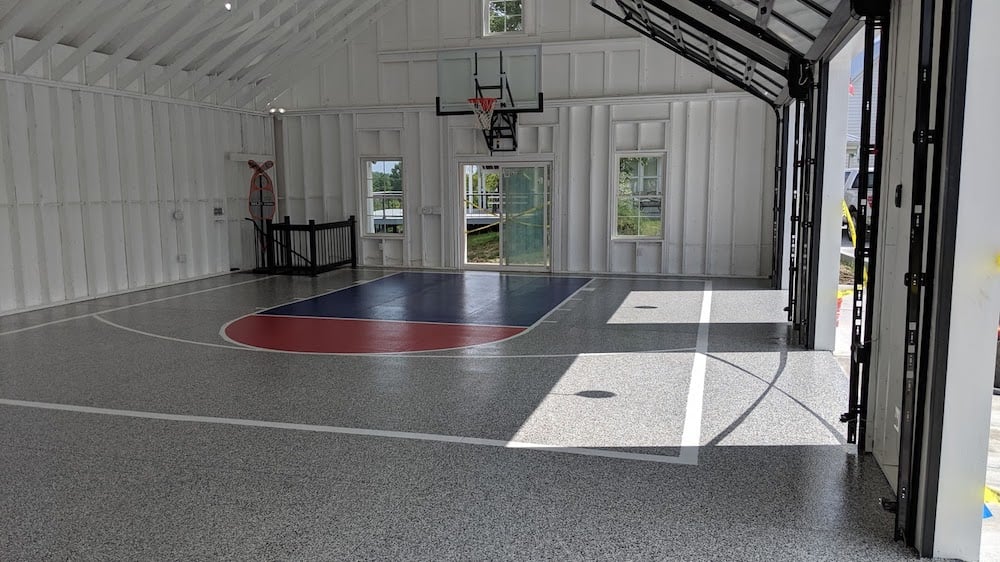 When we said our clients love getting more functionality out of their garages, we weren't kidding.
How about using the garage as a parking space and a fully functional basketball court (that looks ridiculously cool)?
The client for this project, who was amazed at the finished result, has two grandchildren who are talented, passionate basketball players. He wanted to create a space that allowed them to practice year-round and give him a chance to see his grandkids more regularly.
Here was the unique challenge presented to Garage Living: could they transform the floor of this large two-story garage (with a level below it for storing farm equipment) into a realistic mini basketball court with a three-point line, free-throw line, and colored key?
Garage Living Cincinnati owner Matt Ziebro and his team had never done a project like this before, but resourcefully found a way to get the job done.
The 1,200 square foot floor had a Charcoal Floortex™ floor coating applied. Here's why the polyaspartic coating was perfect for the job:
the court/parking surface has a glossy, professional appearance that won't fade over time
since the coating is so durable, the floor can withstand the wear and tear of regular athletic activity
the surface's appearance is preserved with the coating's ability to resist hot tire pickup (where hot tires can leave permanent floor markings)
with the textured surface, anyone playing hoops gets better foot traction
Garage Living used stencils to paint perfect lines on the court. The red and blue paint (the latter being the University of Kentucky's signature "KY Blue" color) complete the one-of-a-kind project's look.
Check out a few more photos of one of our more unique awesome garage makeovers.
12. The unfinished garage makeover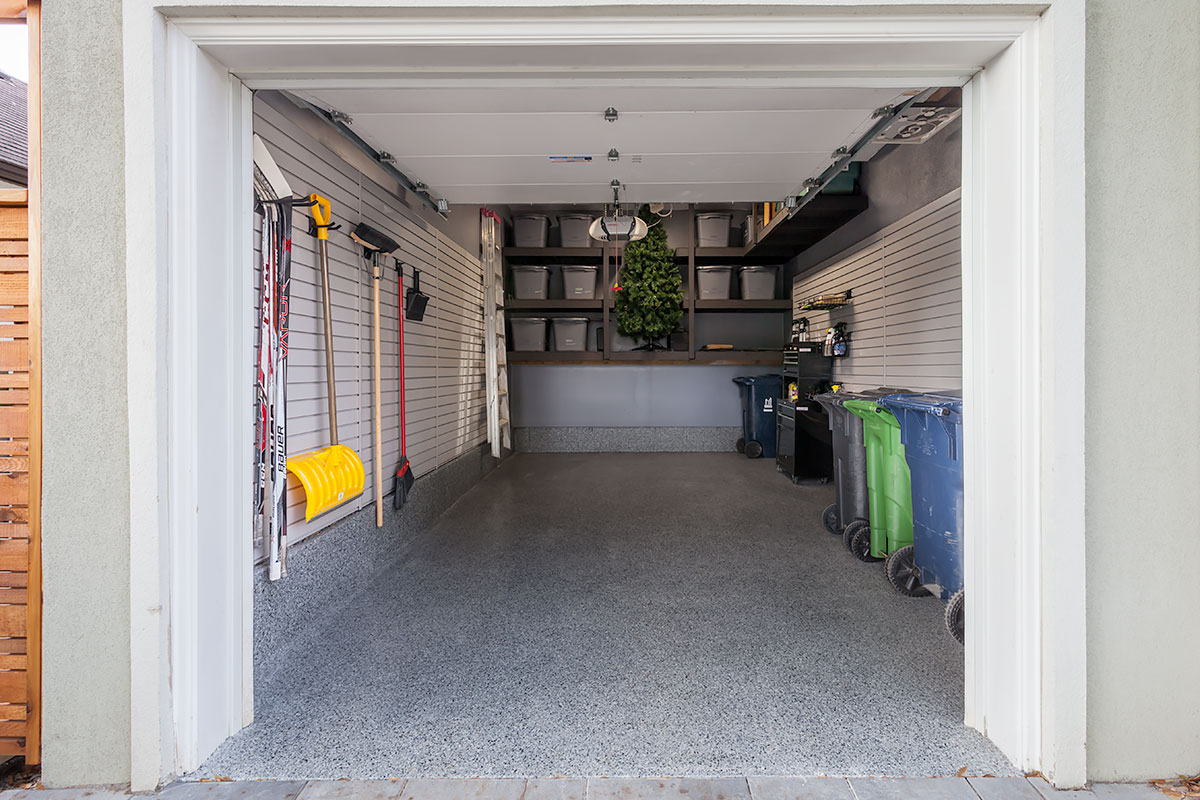 A frequent reason our clients call us to handle their garage makeover is they want to finally make the space look finished.
Unfinished garages with poor storage systems, non-existent décor, shoddy-looking flooring, and other deficiencies are ripe for the transformative touch of a pro like Garage Living.
Jay, the owner of this garage, hired us to fix all of these issues in his home. Once the project was completed, he found it to be a dramatic improvement over what previously existed.
With space at a premium in this single-car garage, there was simply no room for floor clutter. Otherwise, parking inside the garage became too problematic.
Slatwall panels with hanging accessories that best fit Jay's needs maximize the garage's storage space. Yard tools, snow shovels, a ladder, and sports equipment that were previously leaned against the wall or kept in a corner are now organized and stored off the floor.
The slatwall also provides a significant visual upgrade over the unpainted drywall that was visible for the many years he's lived in the home.
Just as the addition of slatwall creates a more finished interior appearance, so too does a fresh floor coating. Jay chose the Nightfall color for his Floortex™ floor coating and loves how much better it looks and how easy it is to clean than his old floor.
Watch our interview with Jay about his garage makeover.
13. The storage-rich garage makeover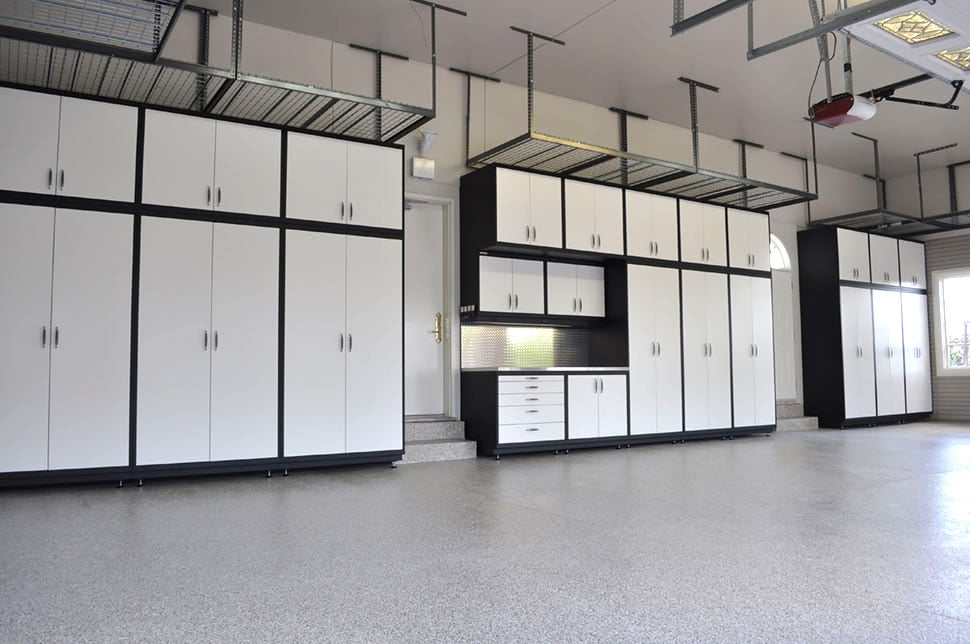 Large garages obviously give you more storage space. That means they can also hold more clutter and quickly look very untidy, however.
Clutter and a lack of storage space is (no surprise) a non-issue for the owner of the garage pictured above.
After we had completed this makeover, the garage was positively storage-rich and required much less effort to keep organized.
Before the garage renovation, the room's primary storage systems were standalone steel racking units with shelving that was overloaded with items. If you view the #7 "Before" photo on the makeover gallery page, you'll notice that patio furniture and other things are unsafely stacked high on the top shelf of both racks.
Loose items were also being left on the floor, leaned against walls, and even blocked doorways.
The garage's storage problems were solved by adding an abundance of organized storage space in the form of slatwall, overhead racking, and a GL Custom cabinet system.
Fresh paint and a Sedona Floortex™ floor coating effectively complement the rest of the garage's revitalized décor.
The finished garage looks much nicer and will never face any storage issues!
Awesome garage makeovers are what we do!
Who wouldn't want to own a garage that's so impressive it can turn their neighbors' heads?
For the 13 clients whose awesome garage makeovers are featured here, all they had to do was contact us. Together, we turned the dream garage concepts in their head into real-life spaces in their home they can be proud of.
Get your garage remodel project off the ground by scheduling a free consultation with one of our design consultants.
Please share this post if you found it useful.
See also: