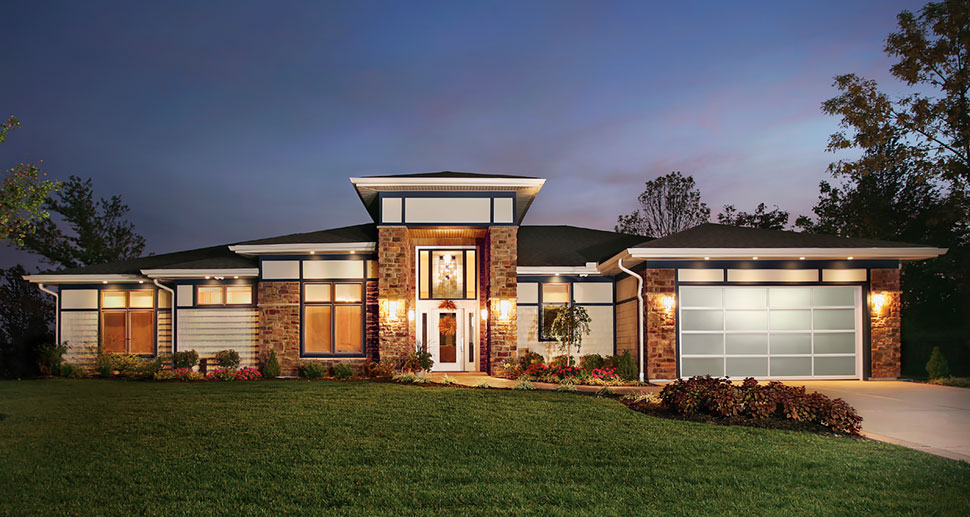 There are plenty of great choices in Garage Living's extensive collection of garage doors. Our high quality steel, fibreglass, and wood garage doors are all worth considering when the time to replace your garage door arrives.
If you're really looking to add that extra degree of flourish to your home's exterior appearance, nothing beats a full view aluminum garage door, however.
Here are nine reasons a full view aluminum garage door should be at or near the top of your list of garage door replacement choices.
1. A full view aluminum garage door has a unique look and boosts curb appeal
Aluminum might not sound like the type of garage door material that can create a striking look capable of turning the heads of passersby. In fact, when the raw industrial appearance of the aluminum garage door frame is combined with the clean and stylish look of glass panels, you get a very unique-looking garage door.
Remember that up to one third of your home's front exterior can be taken up by your garage doors. You'll really accentuate that important home space by choosing full view aluminum garage doors. They'll immediately set your home apart aesthetically from the houses of your neighbours and nicely boost your curb appeal and home value.
2. Complement your home's contemporary look with a full view aluminum garage door
If your home's architecture has a modern and contemporary look, a full view aluminum garage door is the perfect choice to complement it and add high visual appeal. Even if your home has a more traditional look, an aluminum door will add a lot to its appearance.
The high degree of customization features with aluminum garage doors make it easier to match and complement the exterior decor of your house. For example, you can coordinate the look of your garage door to match the look of your front door.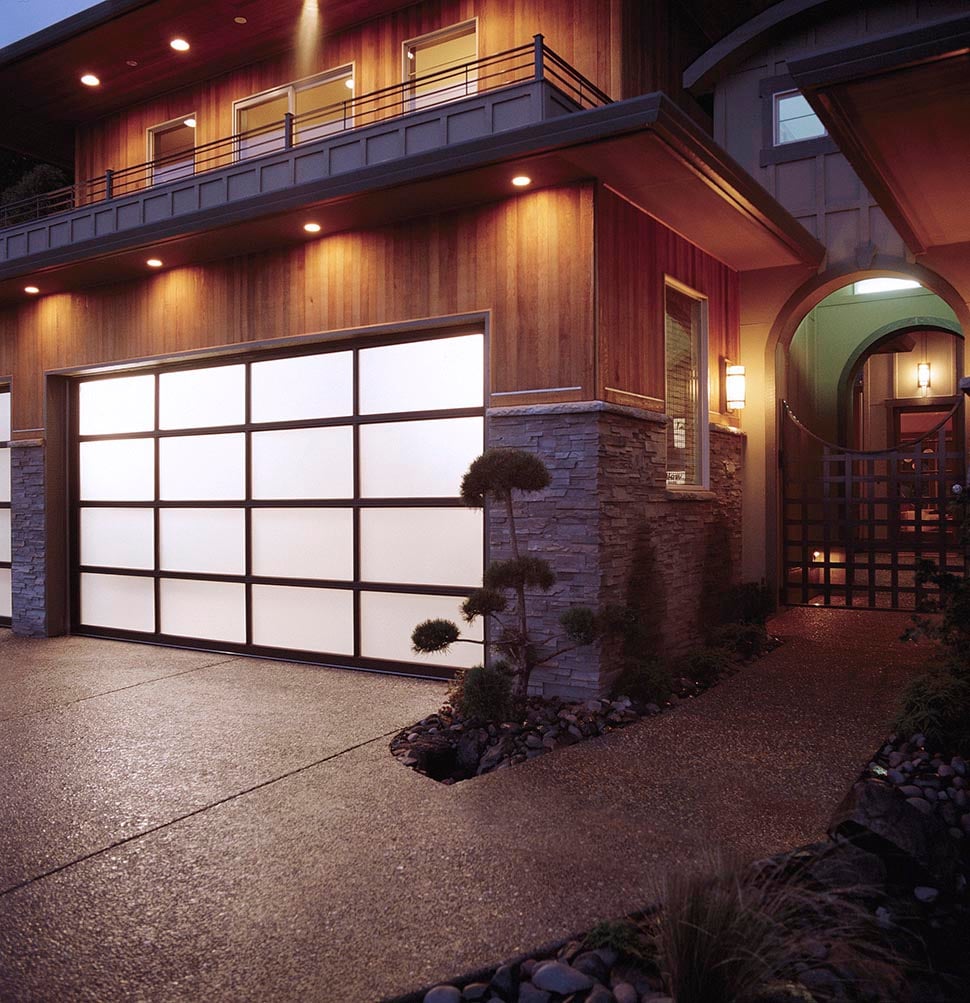 3. There are many aluminum garage door frame options to choose from
The aluminum frame of your garage door presents many design options to choose from. There are numerous glazing options available.
You can also have the aluminum on your garage door powder coated in just about any colour of your choosing. Powder coating gives the surface it's applied to a much more resilient finish than traditional paint coatings.
4. Customize your aluminum garage door
One of the big selling points with aluminum garage doors are the wide array of options when it comes to adding window and glass panels. You can choose panels and windows that let less or more light into your garage.
You can also decide where you'd like the panels and windows to be located on the garage door (horizontally, vertically, a combination of both, or other unconventional layouts). Here are other examples of the available custom features you can add:
tempered glass panels for extra durability
insulated glass panels for improved energy efficiency
acrylic and solid aluminum panels
clear glass for more light transfer to garage interior
tinted, frosted, and translucent glass panels that allow light to enter the garage, yet still maintain your privacy
decorative window and panel designs with textures
5. Enjoy the benefits of natural lighting while working in the garage
If you spend a lot of time working out or just working in the garage, you might enjoy having natural light illuminating your space. However, you may be reluctant to keep your garage door open due to bad weather or concerns of privacy and the high noise levels your work creates. Your garage may also lack any windows.
With a full view aluminum garage door, you can enjoy the benefits of natural light in your garage, even when the door is closed. Add larger clear glass windows for maximum light penetration. You can also improve the lighting in your garage by upgrading to one of our high quality LED garage lighting fixtures.
6. Add garage door insulation to improve energy efficiency
Adding insulation to any garage door will have a positive effect on the energy efficiency of your home. It's strongly recommended for aluminum garage doors because aluminum has higher conductive properties than steel. Having panels and windows on an aluminum garage door can also make it more difficult to keep cold and heat in and out of your garage. As such, look at the aforementioned insulated glass panel option.
It's also worth noting that insulation improves the strength of any garage door. One of the admitted drawbacks of aluminum doors is that the lighter nature of aluminum does make it prone to denting. You'll want the kinds to find an area other than your driveway for playing ball hockey.
7. A full view aluminum garage door is lightweight
The lightweight nature of an aluminum garage door does require a little more care to be taken around it, but there are also benefits to this. A lighter garage door puts less strain on the door system's torsion springs and your electric garage door opener.
Another plus is that it's easier to manually open a lighter garage door if the power should go out.
8. Aluminum garage doors require virtually no maintenance
The full view aluminum garage door frame is made from resilient anodized aluminum. This, combined with the powder coated finish, will ensure your door doesn't experience problems with rust or corrosion.
For homeowners living in coastal areas, that's something to consider. Along with the long-lasting durability an aluminum garage door provides, you'll also enjoy the fact that they require virtually no maintenance.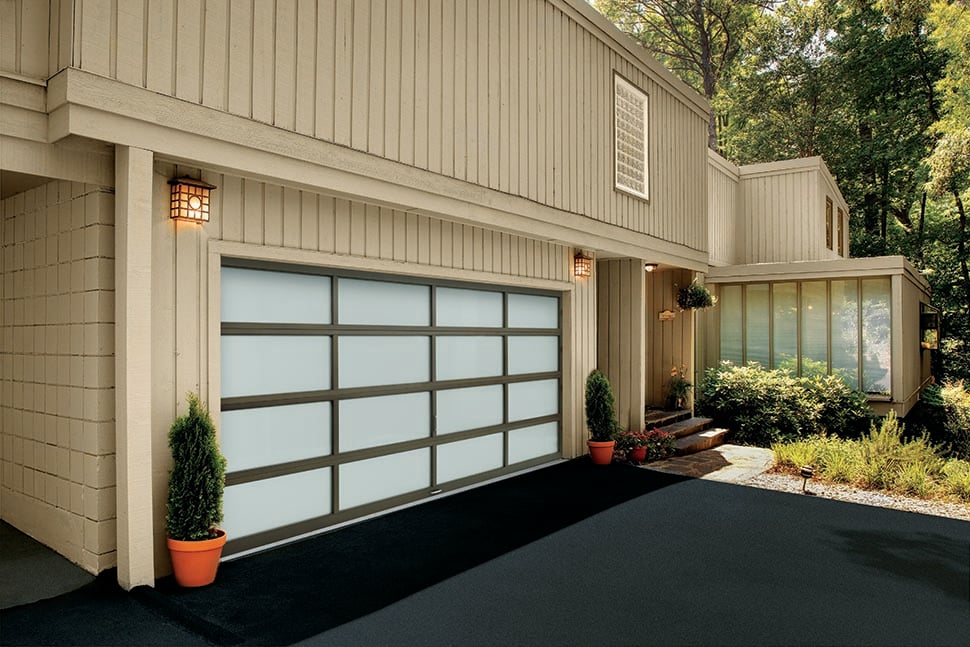 9. An aluminum garage door is more enviro-friendly
For those that are a little more conscious of the environmental footprint they create, consider that the aluminum contained in an aluminum garage door can be fully recycled when the door's lifespan has ended.
Learn more about full view aluminum garage doors by visiting our showroom
You can learn more about what a head-turning full view aluminum garage door adds to your home by visiting a Garage Living showroom.
Schedule your free consultation with one of our design experts today. They'll work with you to enhance your garage's interior and exterior to help boost your curb appeal.
See also: