Transforming your garage from a drab, cluttered, and poorly functioning space to a bright, clean, and highly functional area of your home is easier than you think. Use these three simple garage makeover tips and your garage will soon be fulfilling the potential it's always had.
1. Give your garage a great base with a Floortex™ floor coating
Upgrading your garage floor with an application of Floortex™ floor coating can transform the entire look, feel, and functionality of your garage. After all, the floor is the largest single surface in your garage and it serves as the foundation for the entire space.
A Floortex™ polyaspartic floor coating creates an attractive base and it's available in a range of colors. That makes it easy to choose a color that complements the rest of your garage interior. We can have it applied in as little as one day and in just about any temperature setting.
You can't say the same about epoxy floor coatings. Their application involves a much lengthier process that also requires very specific temperature conditions, which can be disruptive to your daily routine.
Here's some additional benefits of choosing a Floortex™ floor coating:
provides excellent resistance to most household chemicals, including oil, gas, and salt, as well as tire rubber
hides dirt and dust well and is very easy to maintain
has a UV stable topcoat that preserves the floor's glossy finish
textured surface which provides more traction than traditional epoxy coatings
provides exceptional abrasion and impact resistance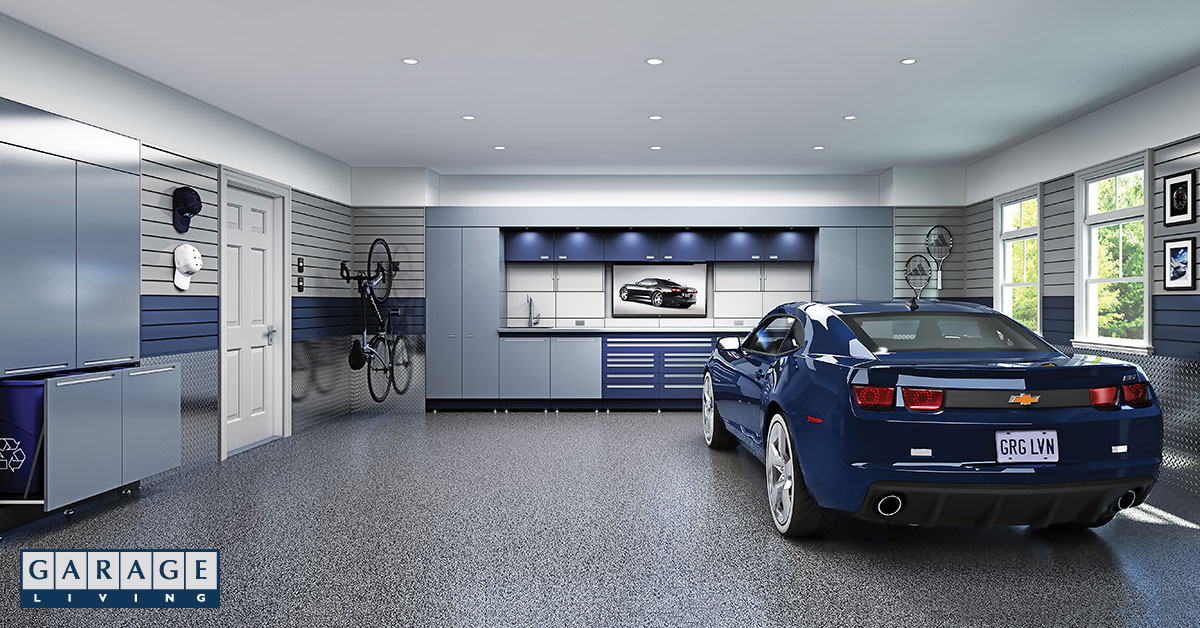 2. Get smart garage organization solutions for reducing clutter
Garages should be able to function as a multi-purpose space that serves as a work area and storage area for tools, other belongings, and vehicles. Many garages fail to function to their true potential in these areas due to poor storage and organization systems that fail to keep clutter at a minimum.
One of the garage makeover tips that will solve this problem is to simply choose smart and effective garage organization solutions. We have many to choose from, including:
Garage cabinets – choose from our wide variety of storage cabinet lines for the system that works for your needs and budget. All of our garage cabinetry is made from high quality materials that are built to last.
Slatwall storage – adding a slatwall panel system to your garage maximizes its storage space, making it one of your best weapons against clutter. Use more than 40 slatwall hanging accessories for plenty of versatility.
Specialty storage racks – our heavy duty storage solutions take care of just about anything else in your garage that can't be hung on your slatwall. We have overhead racks, tire racks, shelving units, and much more.

3. Boost your curb appeal with a new garage door
Good garage makeover tips should help you improve the functionality and looks of your garage. Adding a new garage door accomplishes both of these things and is one of the most impactful ways to boost your curb appeal. That's because garage doors can account for as much as one third of a home's front exterior.
Technological advances have made today's garage doors much more durable and energy efficient. It's also easier than ever to choose a style and design that both aligns with your aesthetic preferences and complements your exterior decor. Steel garage doors are our most popular choice for homeowners. They offer great durability, require little maintenance, and come with plenty of design options.
Our wood garage door collection offers plenty of choices for those seeking a warmer, more traditional look for their garage exterior. In contrast, full view aluminum garage doors provide a bolder, more modern appearance with their raw industrial look featuring glass panels. Durable and low-maintenance fiberglass garage doors are another sensible option to consider.

These garage makeover tips are proven to transform any garage space
These garage makeover tips work wonders for any garage space. We have thousands of garage remodel projects and satisfied customers throughout North America that prove it.
To begin your garage transformation, schedule your free consultation with one of our design experts.
See also: