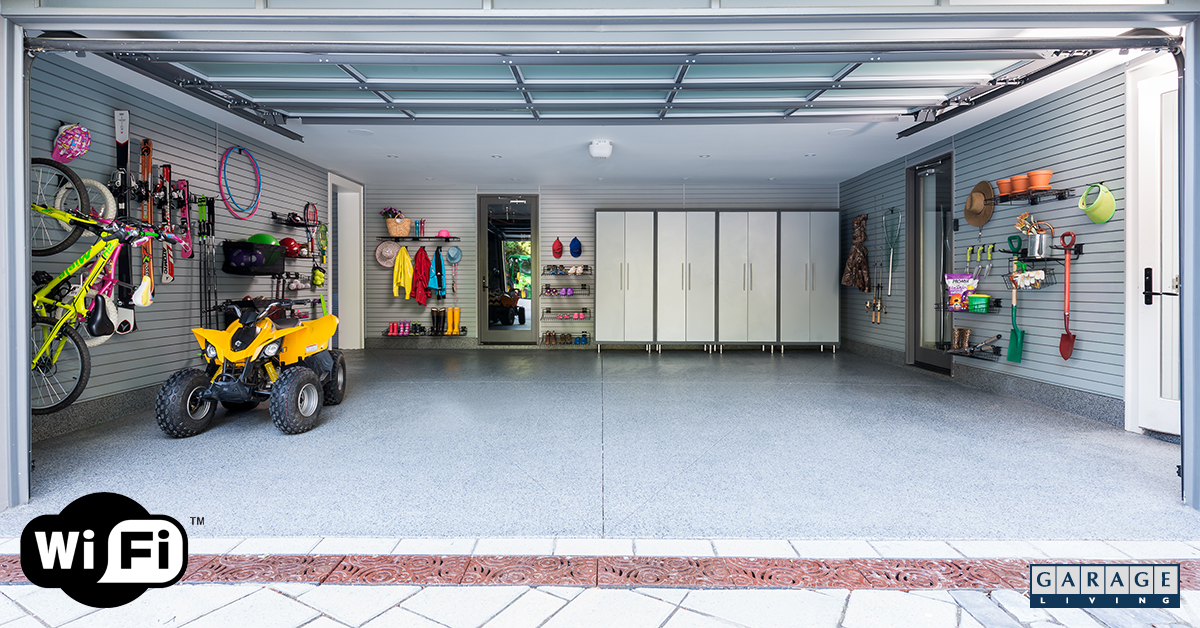 There's an ever-increasing reliance on internet connectivity with so many aspects of our daily lives.
Getting the most out of your smart tech products and mobile devices in your house means having a good WiFi signal if you don't have a data plan or want to limit your data usage while at home.
That can be a hit-or-miss thing, however, especially when it comes to getting reliable WiFi in your garage or some of the far-reaching areas of your property.
Why is the WiFi in your garage so poor?
Uneven WiFi coverage in the garage and other parts of your home and yard can occur for a number of reasons.
Here are several factors that may be causing those frustrating WiFi "dead spots":
your network hardware is in a bad location
the network hardware you're using is outdated
the firmware of your network devices hasn't been updated
your network and router settings aren't configured properly
signal interference from other electronics
your home has extra thick walls and floors
certain home construction materials (like metal, concrete, and brick walls) are obstructing your signal
How to boost your home WiFi signal
If you're struggling to get reliable WiFi in your garage, there are a number of solutions available to fix the issue.
There are many variables involved with why or why not a particular home gets effective WiFi coverage.
For example, you might have your router or WiFi extender in the perfect spot and have a fast internet connection. Despite this, you may experience poor WiFi coverage in some areas of your home due to physical obstructions like walls or floors that are particularly thick.
Maybe you have uncommonly thin walls and your WiFi signal is weak due to your networking devices being very old, or because they're located in a less-than-ideal location.
Here are several solutions to make your garage and home more network-friendly so you can experience reliable WiFi connectivity for your mobile devices and smart home products.
Solution #1: relocate your router
When your WiFi signal strength just isn't cutting it for most areas of your home and property, your first step should be to try a different location for your main router (or router/modem combo).
Clearly, a centralized location in your home is best in order to provide more even WiFi signal coverage. That means moving your router out of the basement if you live in a two or three-storey home and putting it in as central a location as possible on the main floor.
That can be easier said than done if you have a poorly located main internet connection into your home. If that's the case, you could run an ethernet cable from your main signal input to change where your router/modem gets located, but that won't be practical in some cases.
Nobody wants an unsightly tripping hazard like a cable running through the main part of their home.
And running cable through your walls and ceiling can be tricky business if you don't know what you're doing. Contact your internet service provider or an electrician for help in this area.
Solution #2: upgrade your hardware
Resolving your issue with having weak WiFi in your garage and other parts of your home may be as simple as getting a hardware upgrade.
Tech experts recommend updating your router, modem, or router/modem combo every 3-5 years. If you're using something older than that, speak with your internet service provider to see if they have newer networking devices available.
If you use a separate router and are looking for a new model, the range of choices and features can be rather dizzying to navigate through and performance can vary widely.
Do your homework, look for a reliable brand, and keep in mind that online product reviews aren't always trustworthy.
If you have your router in a good location and still aren't happy with how it performs, exchange it for a different model that will hopefully produce better results.
Solution #3: ensure everything is set up properly
It's possible your hardware is fine, but it's simply not configured properly or requires a firmware update.
Tinker with the settings until you achieve a level of performance you're satisfied with. Most modern routers have 2.4 GHz and 5 GHz wireless frequencies. Try switching from one frequency to the other to see if you get better results.
If you're not tech-savvy, fixing your internet network issues may feel somewhat overwhelming. Use your ISP's tech support if you're having a difficult time figuring things out.
And if tech support isn't of much help, have your ISP send a technician to your home to fix your network issues. Another option is to hire a home network professional to help you achieve optimal results with your setup.
Don't forget to keep your home network protected by securing any new network devices you're adding.
Solution #4: use a WiFi extender
Another solution to improve the strength of the WiFi in your garage and around your entire home is to use a WiFi extender. This device is also known as a WiFi repeater, booster, or relay.
Whatever it's called, these devices all essentially do the same thing – they simply extend the range of the WiFi signal from your main router. You can use more than one extender to expand your WiFi signal's area coverage.
Performance in these devices will be affected by features such as the quality of antennas and processors used by the manufacturer.
Higher quality WiFi extenders that feature dual radios or dual routers will minimize the speed loss that WiFi extenders typically experience.
Other features to consider are whether or not the device is universally compatible with most routers and if the extender comes with intelligent roaming capabilities. The latter improves the reliability of the wireless signal when using your mobile devices.
Solution #5: add a powerline network adapter
Powerline network adapters (also known as just a powerline adapter or powerline ethernet kit) are another option to add internet access and WiFi in your garage.
These adapters use your home's electrical circuit to transmit your internet signal. They're easy to install – here's how they work:
Plug one adapter into a power socket close to your router.
Connect that adapter to your router with an ethernet cable.
Plug a second adapter into an outlet in your garage.
Run an ethernet cable from the adapter to your computer or a smart device with an ethernet connection.
Hardwiring a particular device in your garage or throughout your home isn't always practical, so you could also pair the second adapter with another router to give you a usable WiFi signal.
Note that factors like the quality and age of your home's electrical wiring, the distance a second powerline adapter is from the main router, and interference from other electronics can all affect your signal quality.
Solution #6: install a home mesh network
Adding a mesh network is another way to improve the WiFi coverage in your home.
It's similar to a WiFi extender in that it takes your router's WiFi signal and sends it to additional strategically placed hardware devices (called nodes) to expand your signal range.
Unlike most WiFi extenders, however, a mesh network is less prone to certain performance issues. For example, they provide faster network speeds. Mesh networks are also far more reliable in delivering a consistent WiFi connection when you're using mobile devices while roaming about your home.
Performance benefits aren't the only reason mesh networks have increased in popularity with homeowners in recent years.
Aesthetics have also played a part. Mesh network hardware has a more modern, stylish look than traditional network hardware devices like WiFi extenders and routers. They're also smaller and less conspicuous.
Get a WiFi bar boost for enhanced garage functionality
Having a strong WiFi signal allows you to do things like use your mobile devices to check sports scores, the news, or reference an instructional YouTube video while working in your garage.
And now that you know how to get better WiFi in your garage, you can take advantage of the numerous smart garage products available.
Garage Living carries LiftMaster garage door openers that feature innovative MyQ smart technology. The MyQ tech is hooked up to your WiFi and allows you to monitor and operate your garage doors remotely from a smartphone app. You can also get alerts sent to your phone if there's suspicious activity with your garage doors.
In addition to these smart tech features, a garage door opener upgrade is worth considering if your current opener is more than ten years old. Modern garage door openers are more energy efficient, have better security features, and operate more quietly.
Here are three more smart home tech products worth considering that can use the WiFi in your garage:
security cameras
lighting
climate control system
Yes, setting up and troubleshooting some smart home tech products and the network they run on can require a little patience. But when everything works perfectly, you can definitely simplify some aspects of your life with the conveniences they offer.
Improve your garage's overall functionality
Upgrading your garage's tech capabilities isn't the only way to get more functionality out of the space.
Improving the storage systems and appearance of your garage will transform it into a part of your home that can serve your family better.
Schedule a free-design consultation with us to get a garage makeover quote.
Please share this post if you found it useful.
See also: