Harbor Blue is the newest custom color designed by Garage Living and it's exclusive to our flooring and cabinetry.
The inspiration for Harbor Blue came from a client's weekend getaway surrounded by water, docks, and spectacular skies. A prominent design feature on their resort community's condo building, solidified the choice of color.
Blue is a color that's well-known for its calming effects, which fit perfectly with the décor requirements of a year-round vacation home that's meant to be a destination for relaxing. Add in the fact that the home is located within a lakeside resort and the color choice (and name) makes even more sense.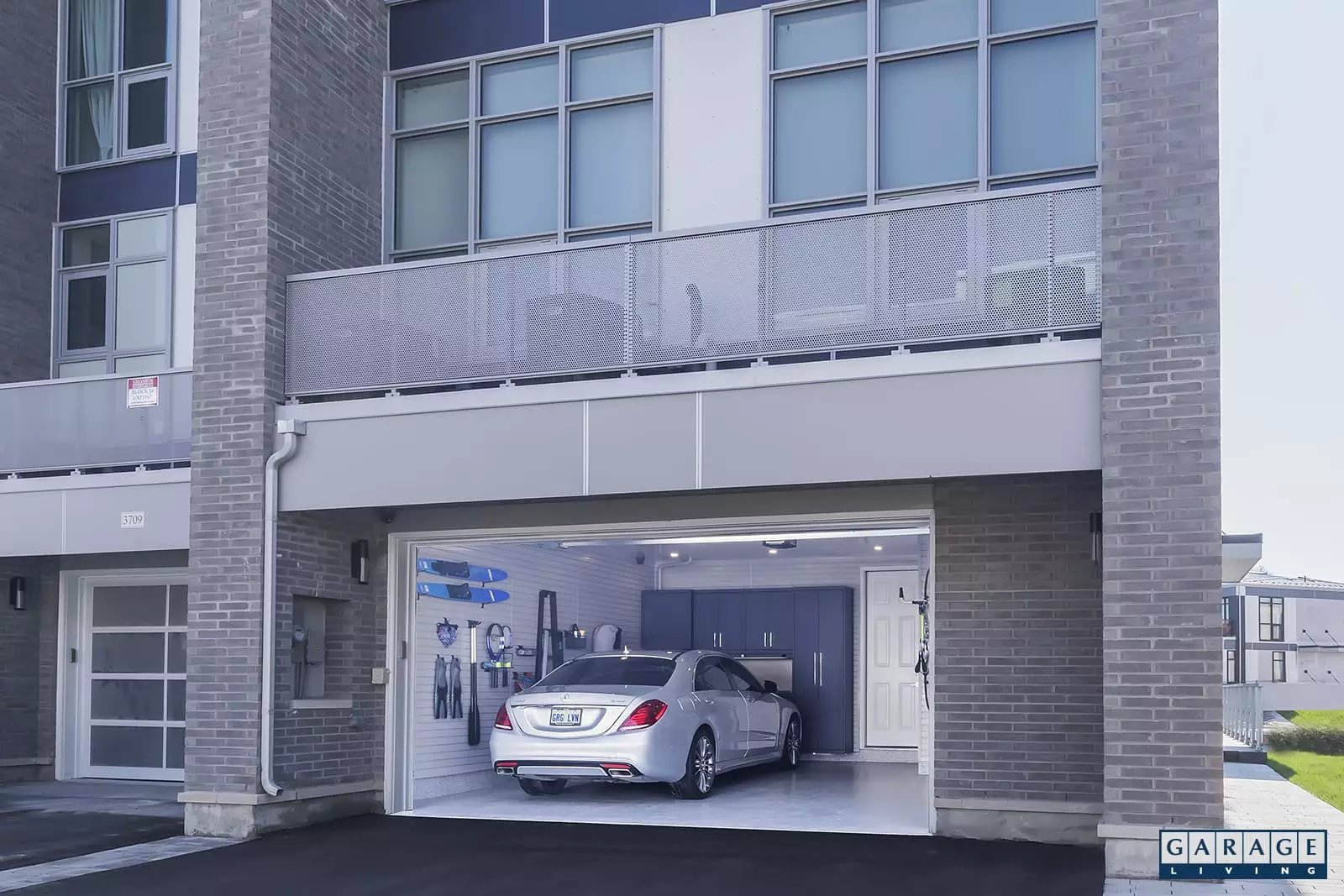 When your garage door is open, neighbors and passersby take notice. What tells them you've taken that extra level of care and pride in your home's appearance more than having your garage's interior décor customized to match the building exterior?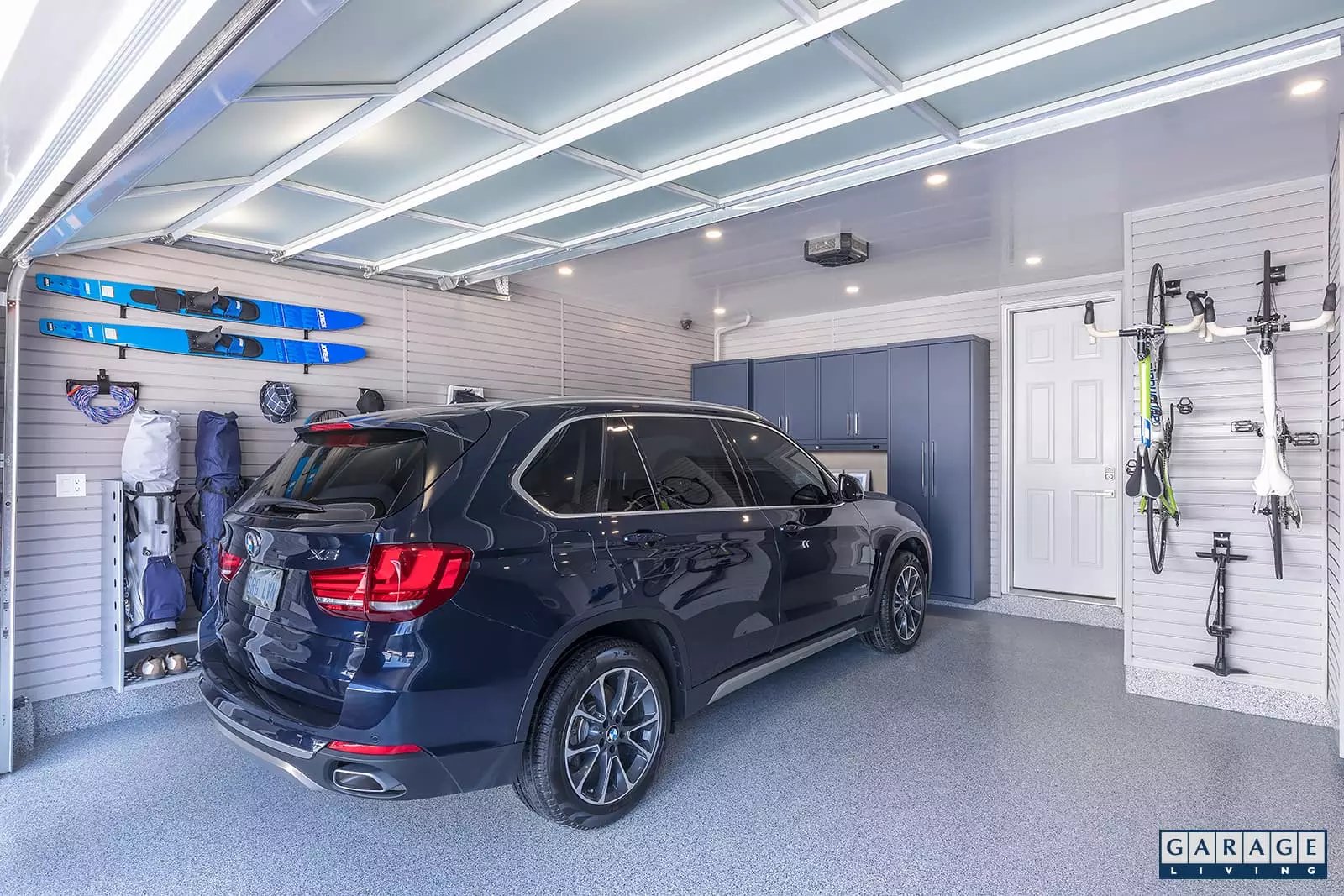 The garage comfortably fits one full-sized vehicle and can easily accommodate a motorcycle or recreational vehicles. Vertical bike hooks free up floor space.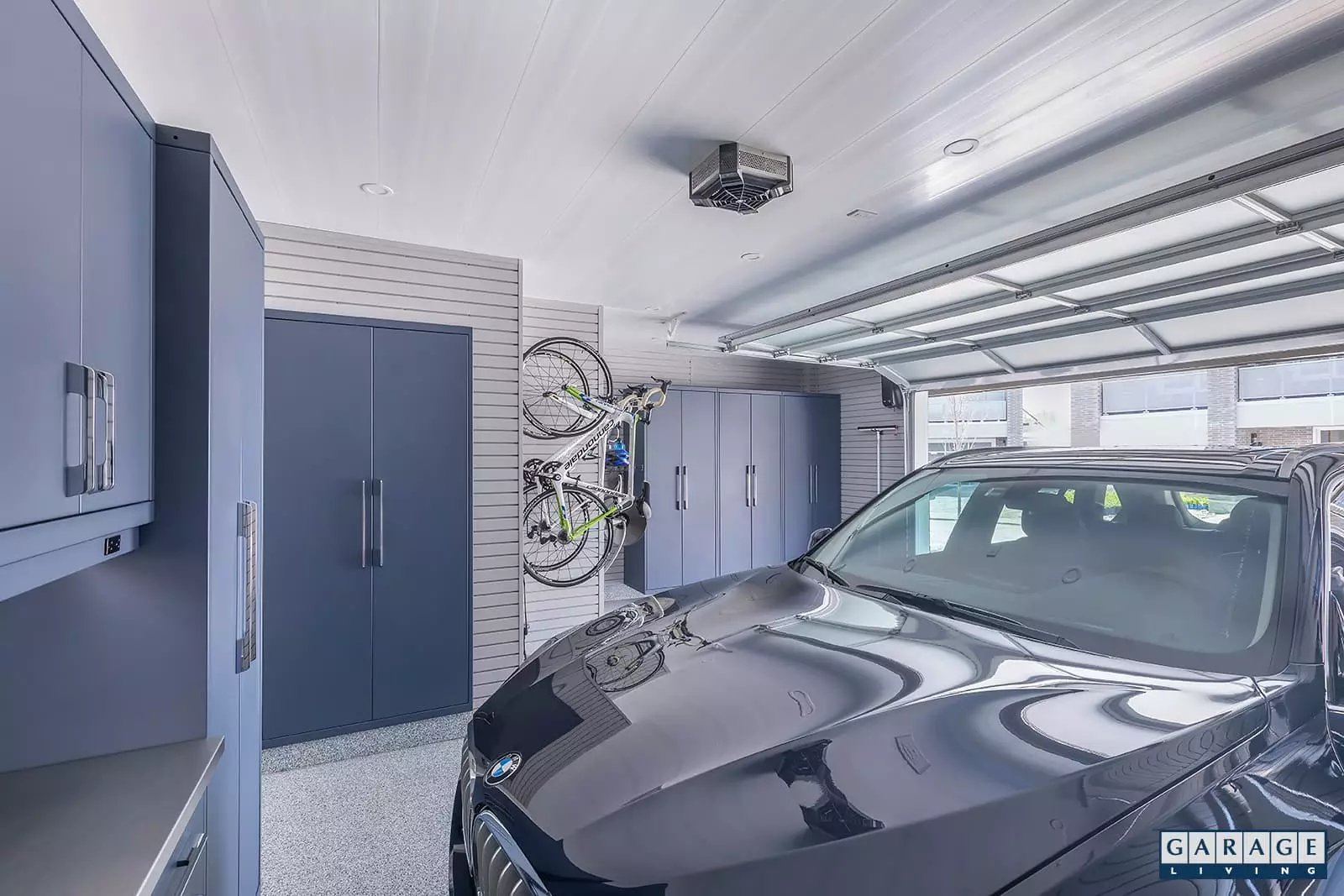 The ceiling was redone and new lighting was added to make the garage a brighter, more welcoming space that looks truly finished. A stylish heating fan provides instant heat with a low noise level.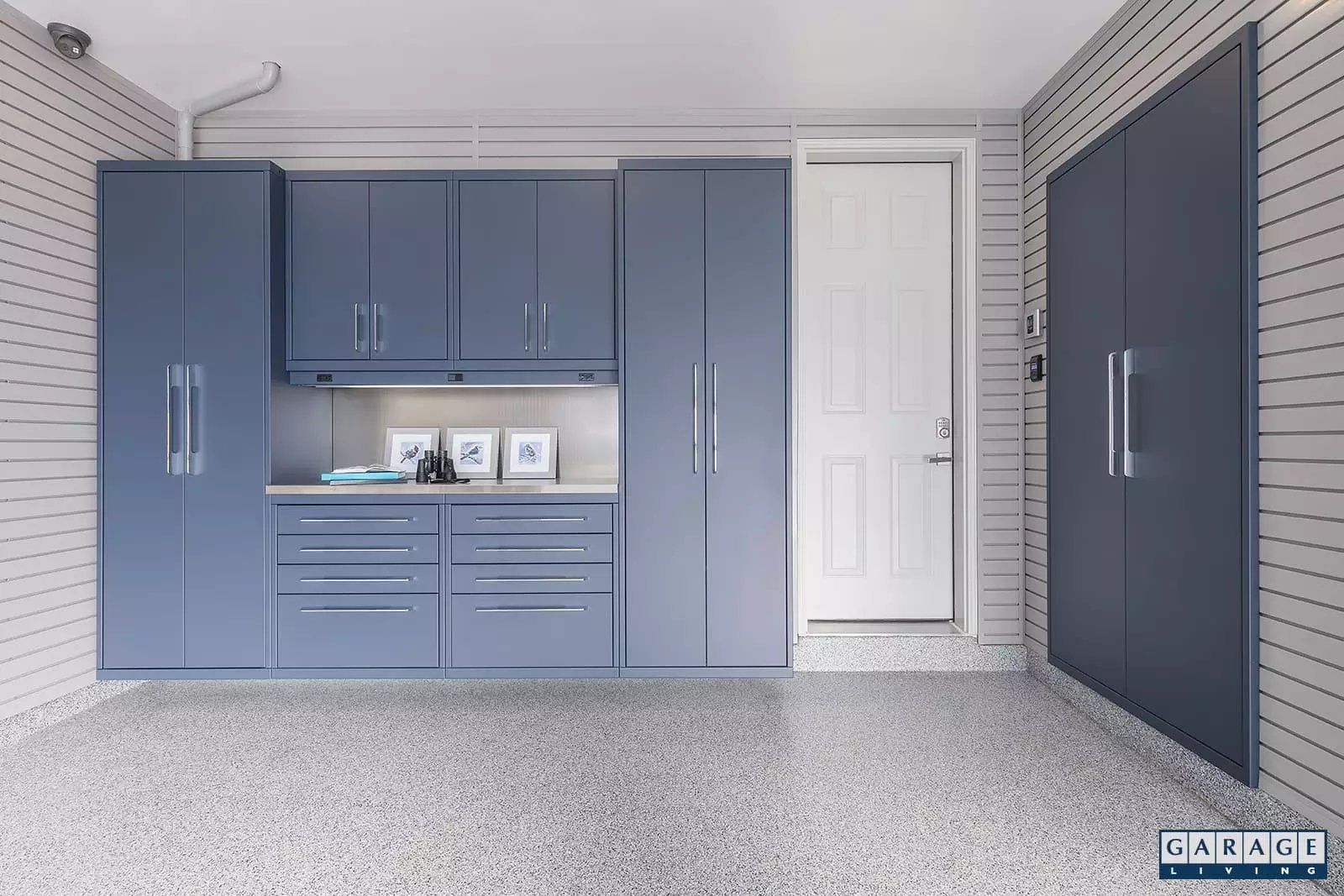 GL Custom cabinetry in Harbor Blue provide ample storage while reducing clutter. The doors on the right provide access to utilities.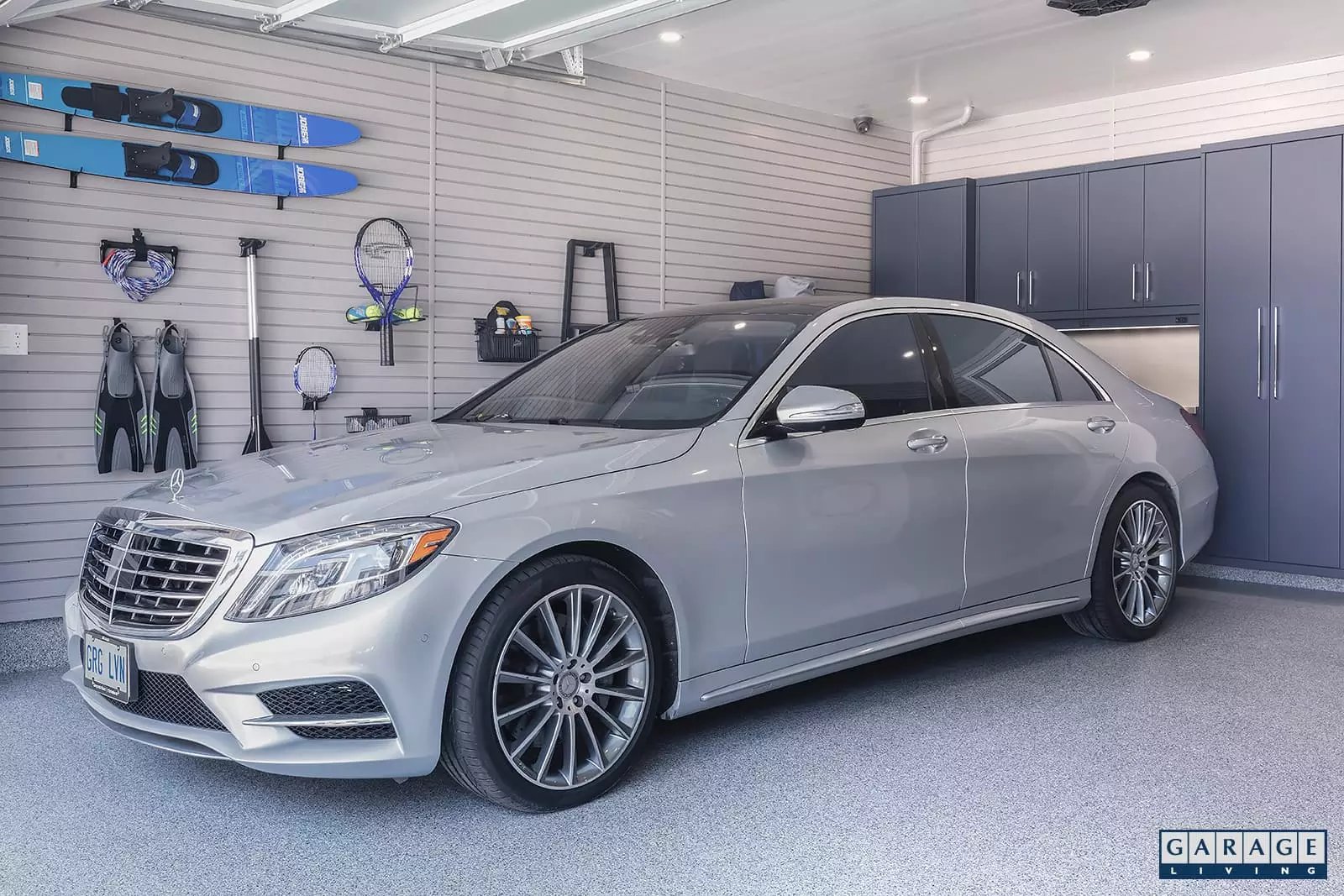 In addition to being offered as a color choice for cabinetry, Harbor Blue is also one of Garage Living's wide selection of stylish color choices for floor coatings. When paired together, your Harbor Blue-themed garage immediately stands out to visitors!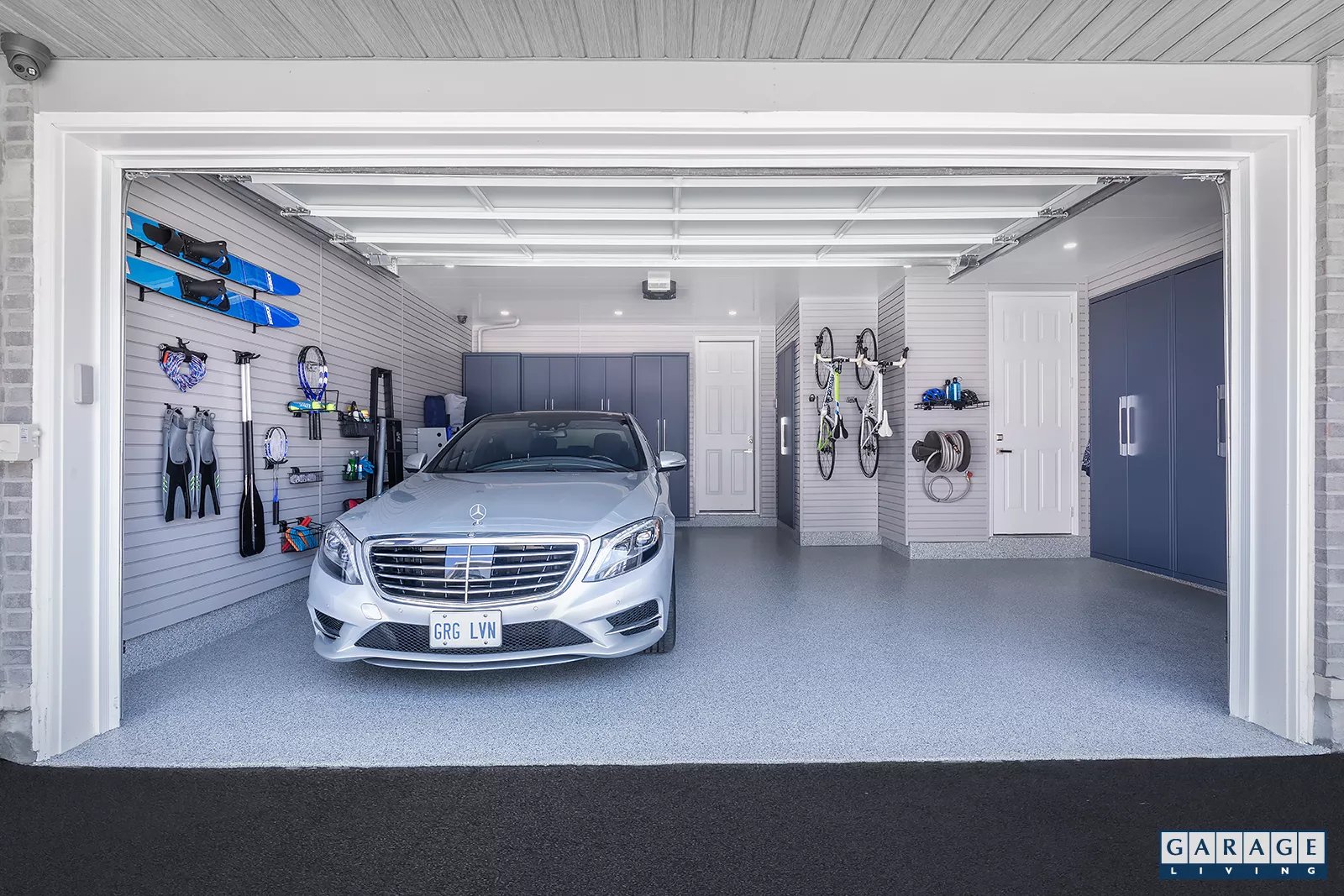 Garage Living takes great pride in fulfilling the unique requirements that come with each makeover project. This customized garage reflects the benefits of working with a creative and flexible garage professional that can handle all aspects of a garage makeover.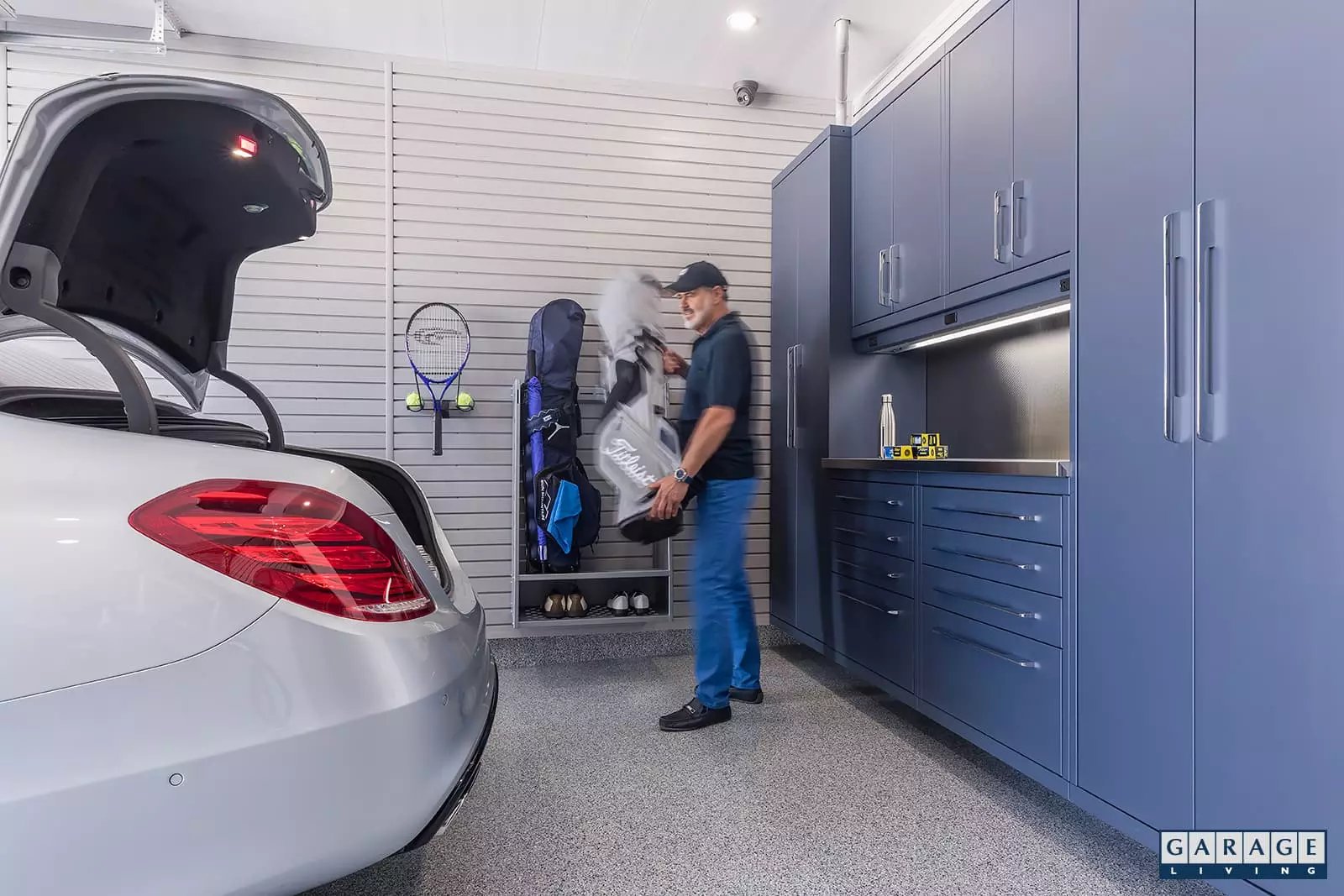 What's a resort stay without taking some time to hit the links? A slatwall-mounted golf rack provides dedicated storage space for all of your golfing equipment.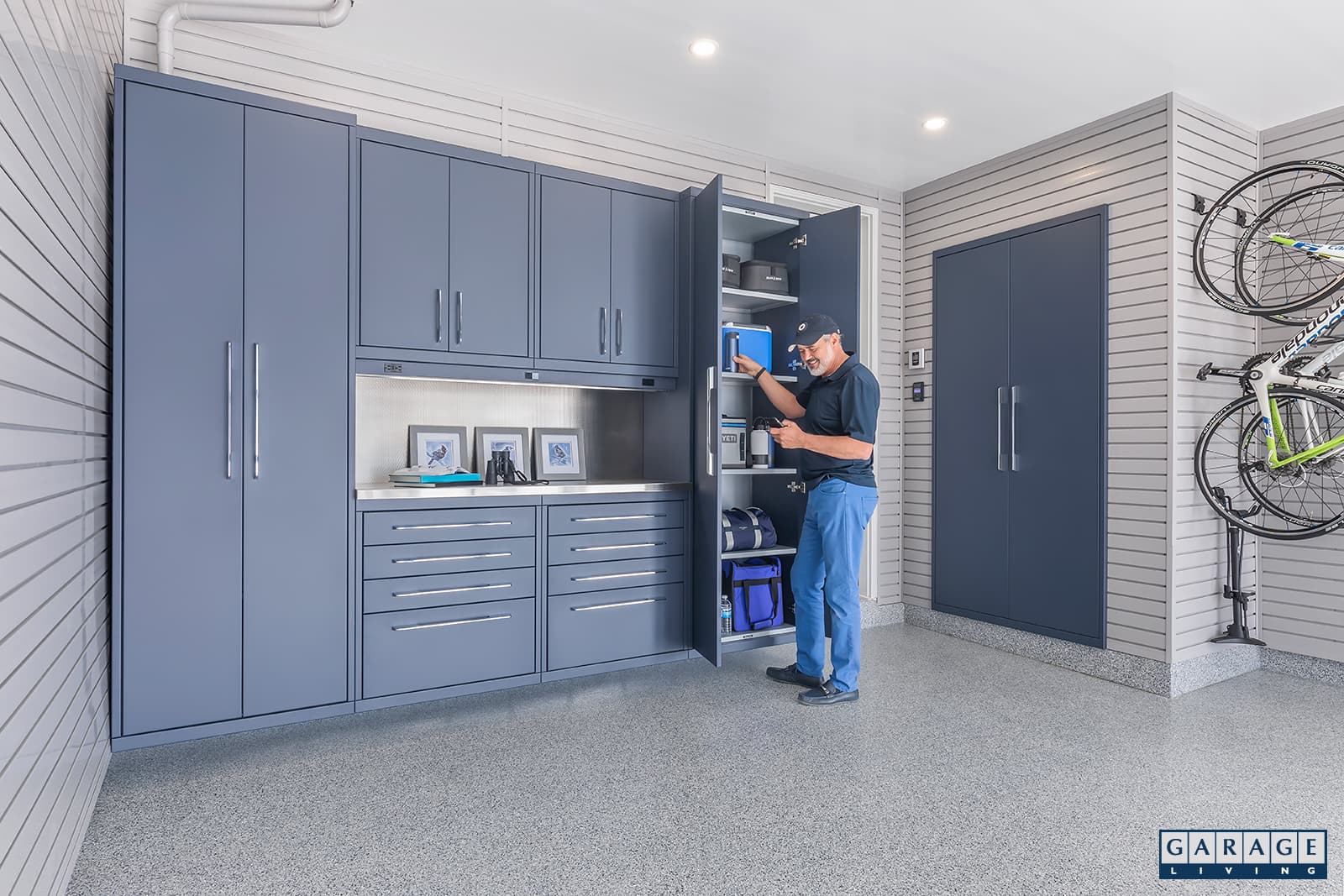 Another reason we loved working on this project was the synergy between Garage Living's brand colors and this garage's similar color scheme.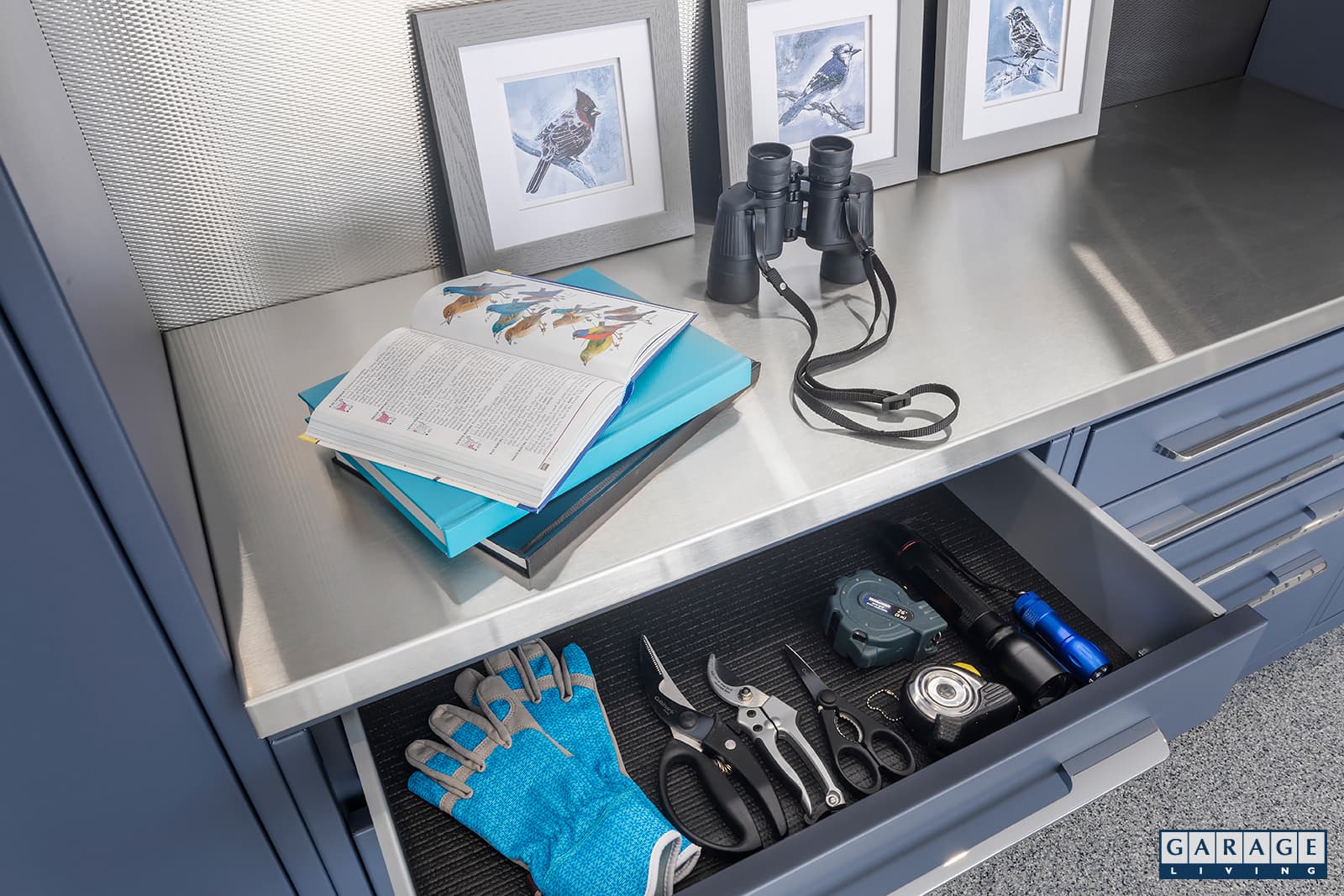 Cabinet drawers provide storage for smaller items and make them easy to find. Rubber drawer liners keep things in place when drawers are opened and closed.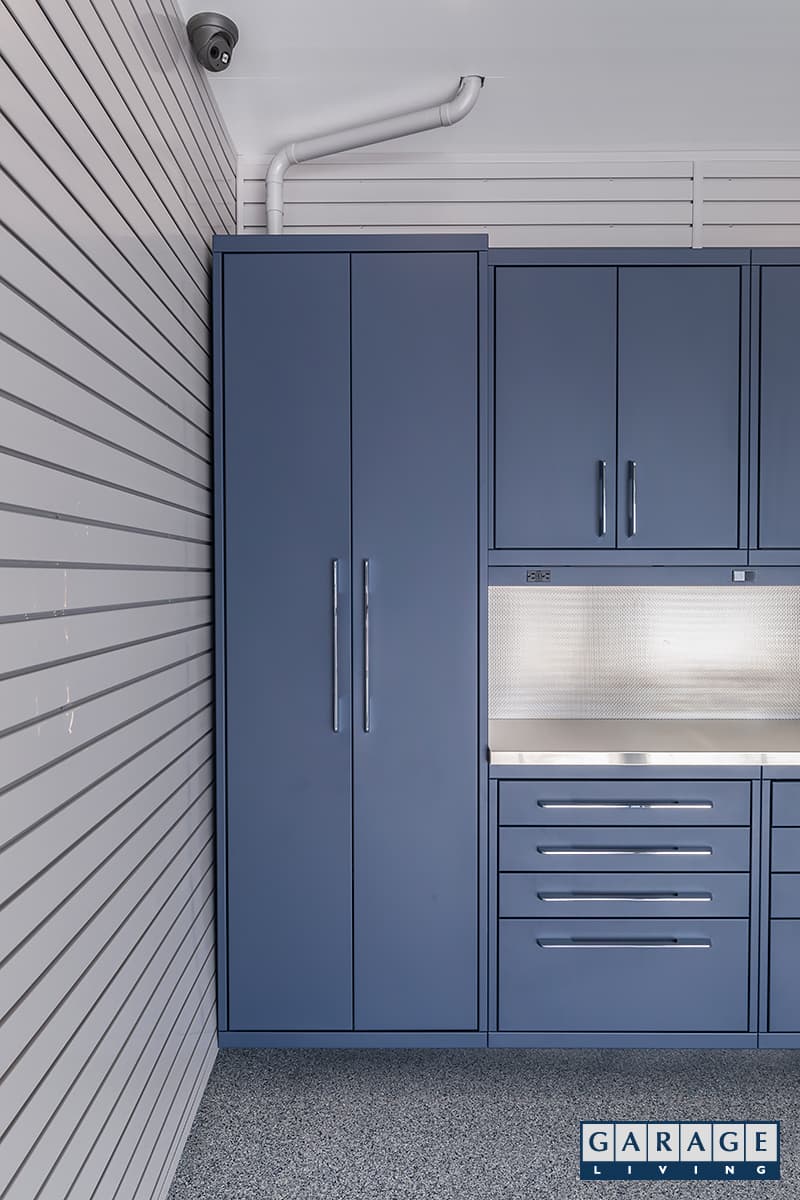 Cabinetry is ideal for storing things and reducing visual clutter, but that's not the only purpose it can serve.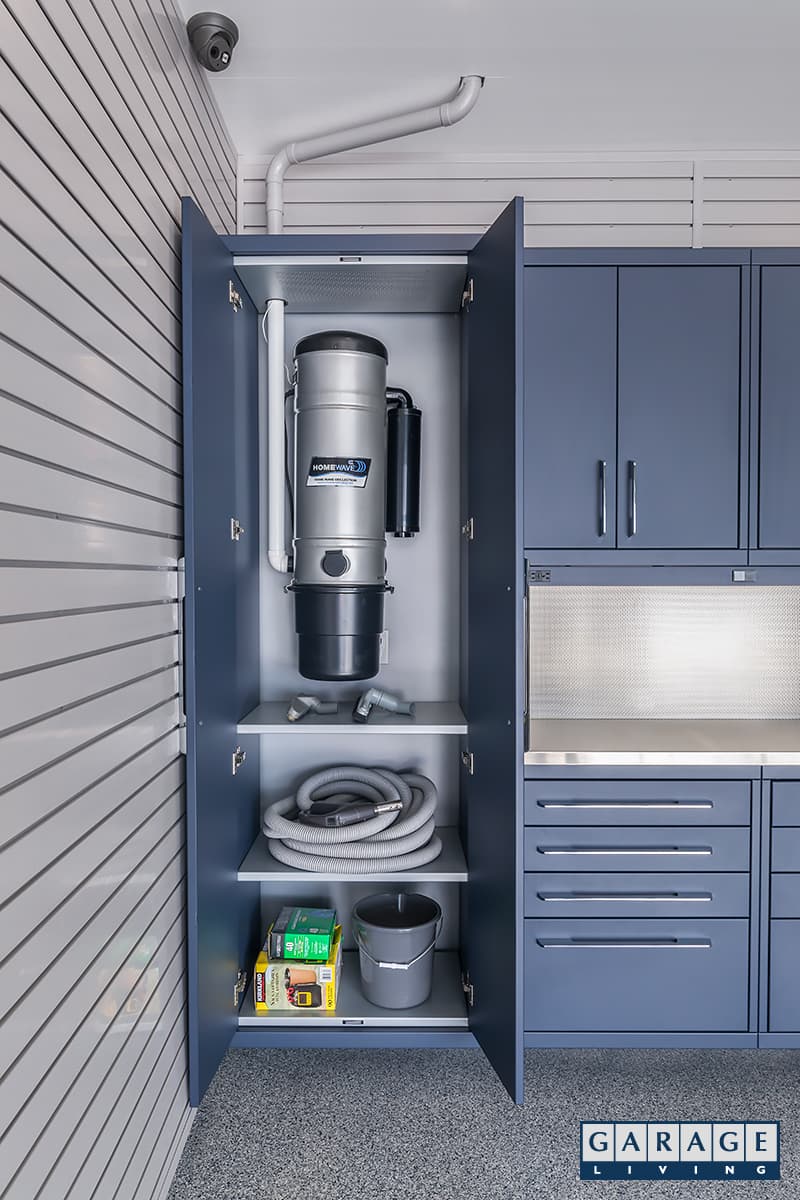 This locker contains the condo's central vac canister and was custom-fitted for the vacuum pipe. It keeps the vacuum system out of sight – and being behind closed doors doesn't hurt to cut down on the noise level when the vacuum is being used!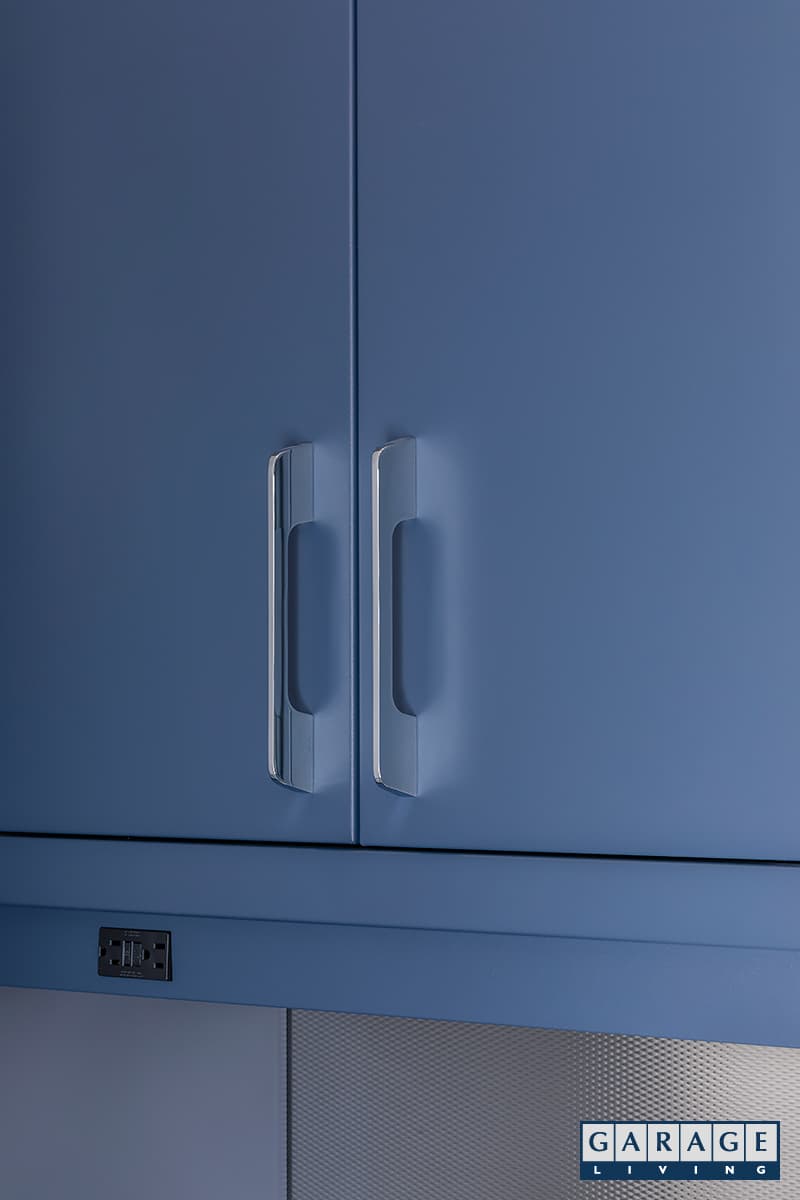 The beauty and sophisticated look of Harbor Blue becomes even more apparent when seen up close. Stainless steel handles were chosen for the cabinet system.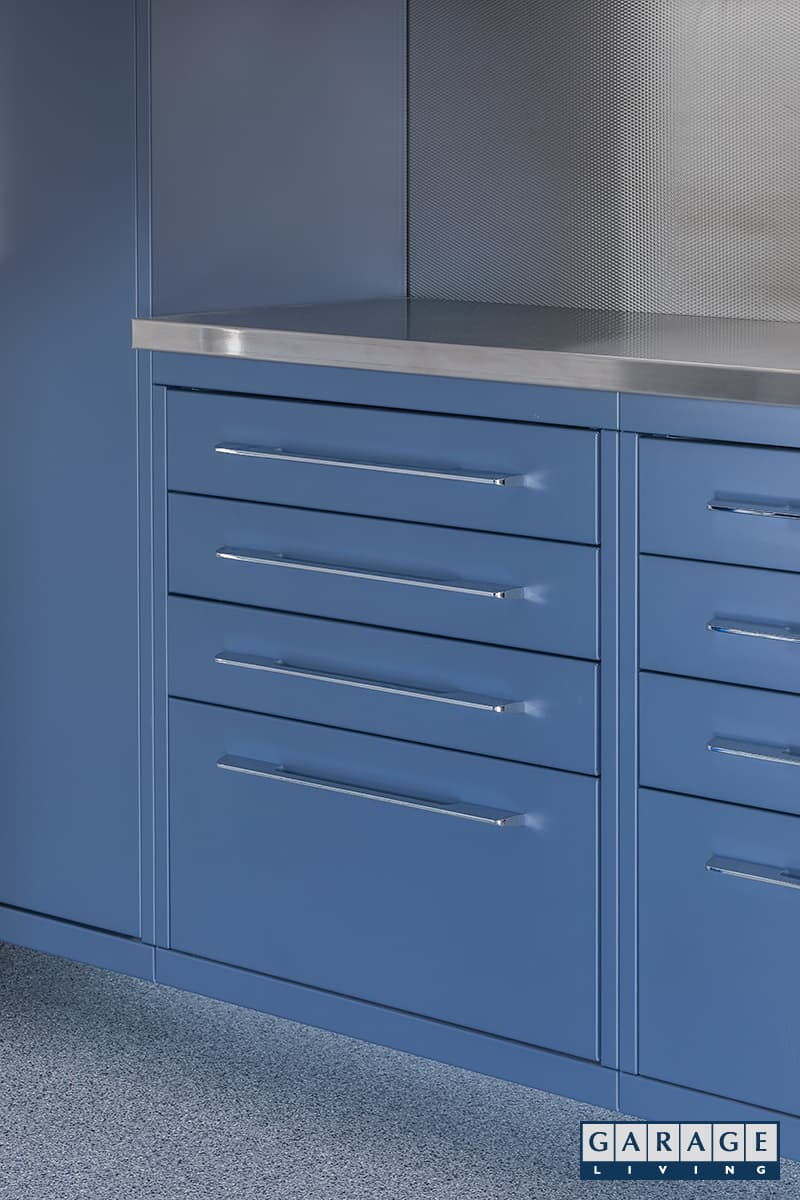 Wide stainless steel pulls were used for easy-to-open drawers that feature 150 lb ball bearing drawer sliders. A stainless steel countertop adds a sturdy work surface to the space.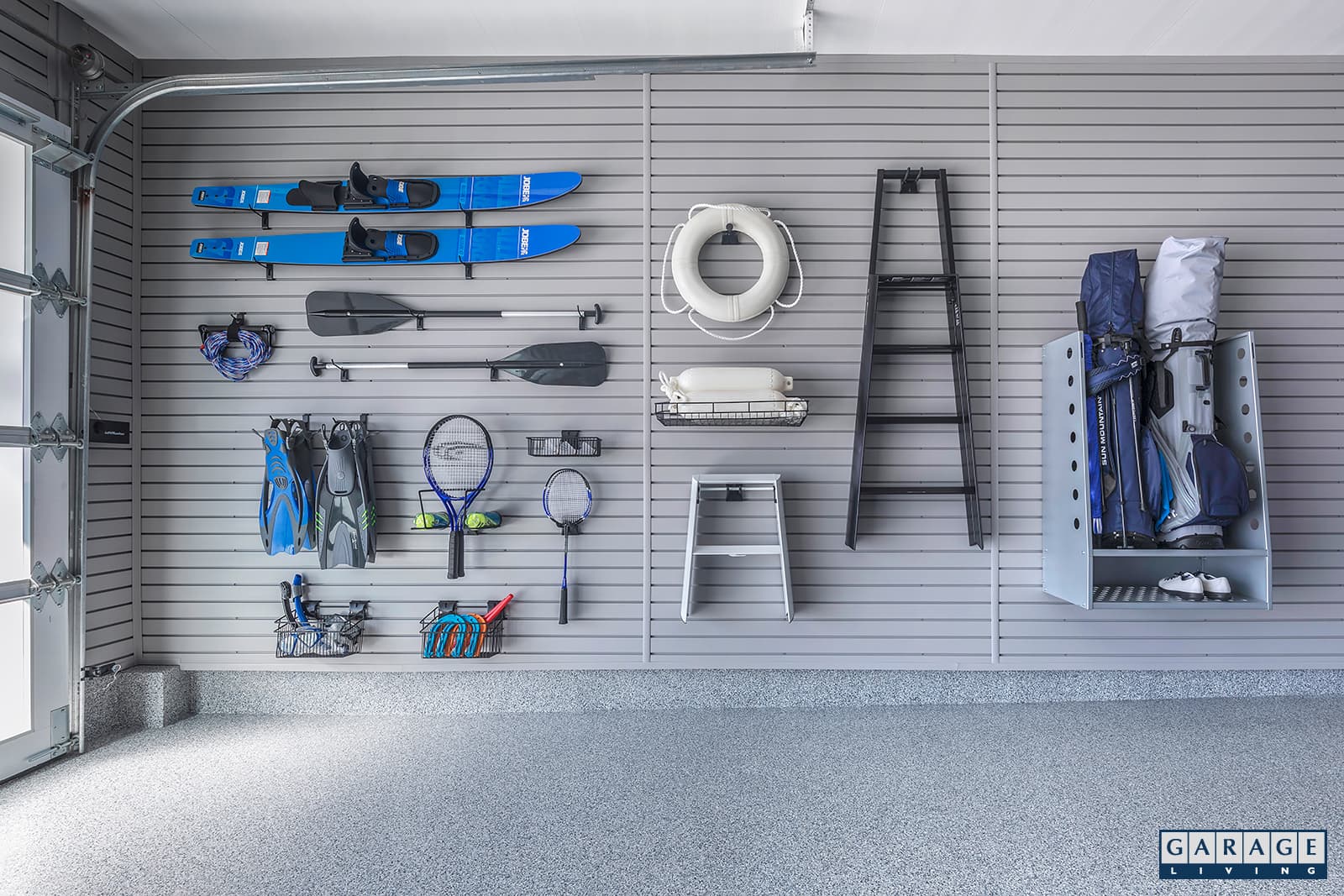 You won't be stumbling over or picking up floor clutter when a slatwall storage system is being used. These grey PVC slatwall panels provide a wealth of hanging storage space and contribute to the organized and clean look of the garage.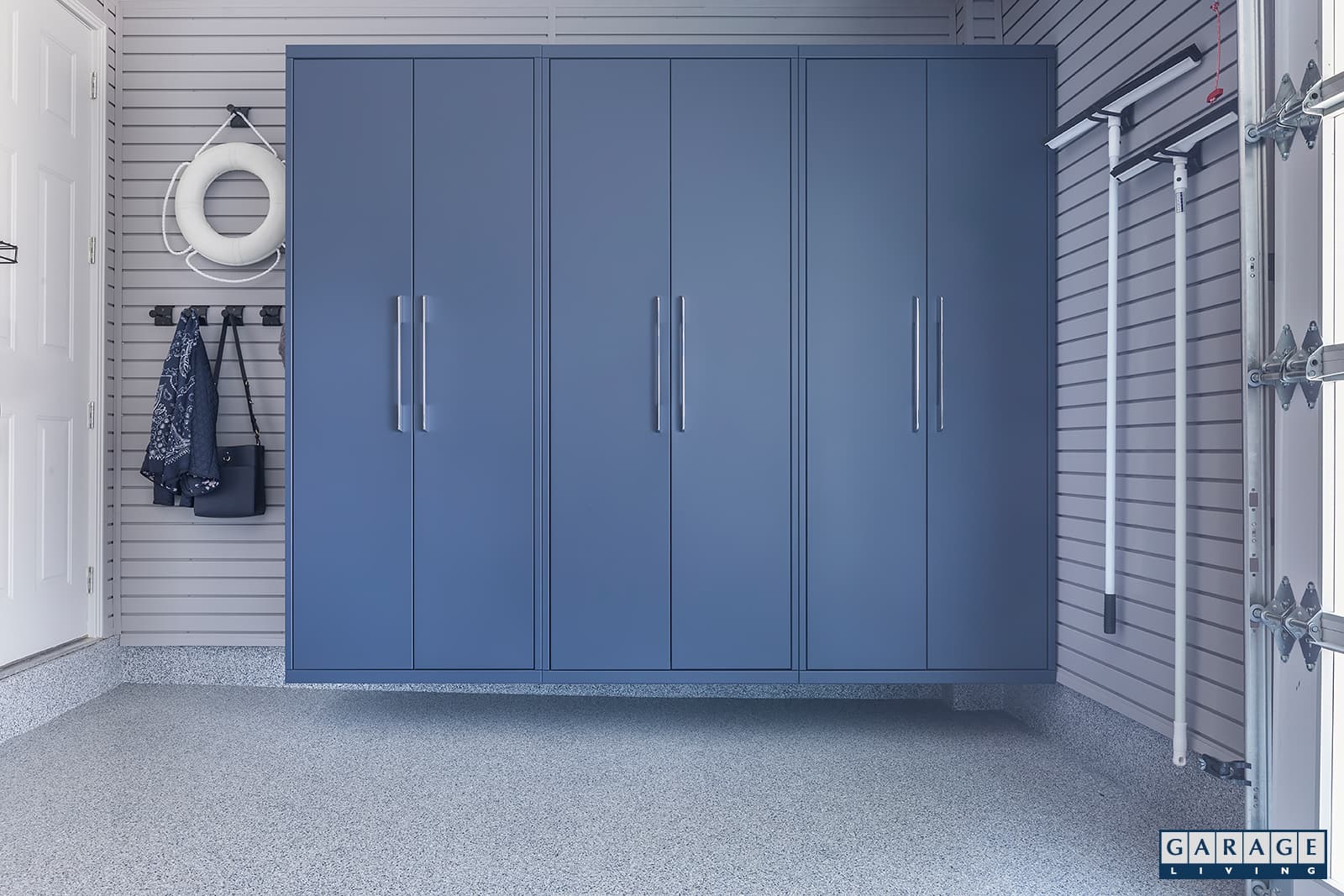 Notice that these GL Custom cabinets can be wall mounted which makes it really easy to clean underneath.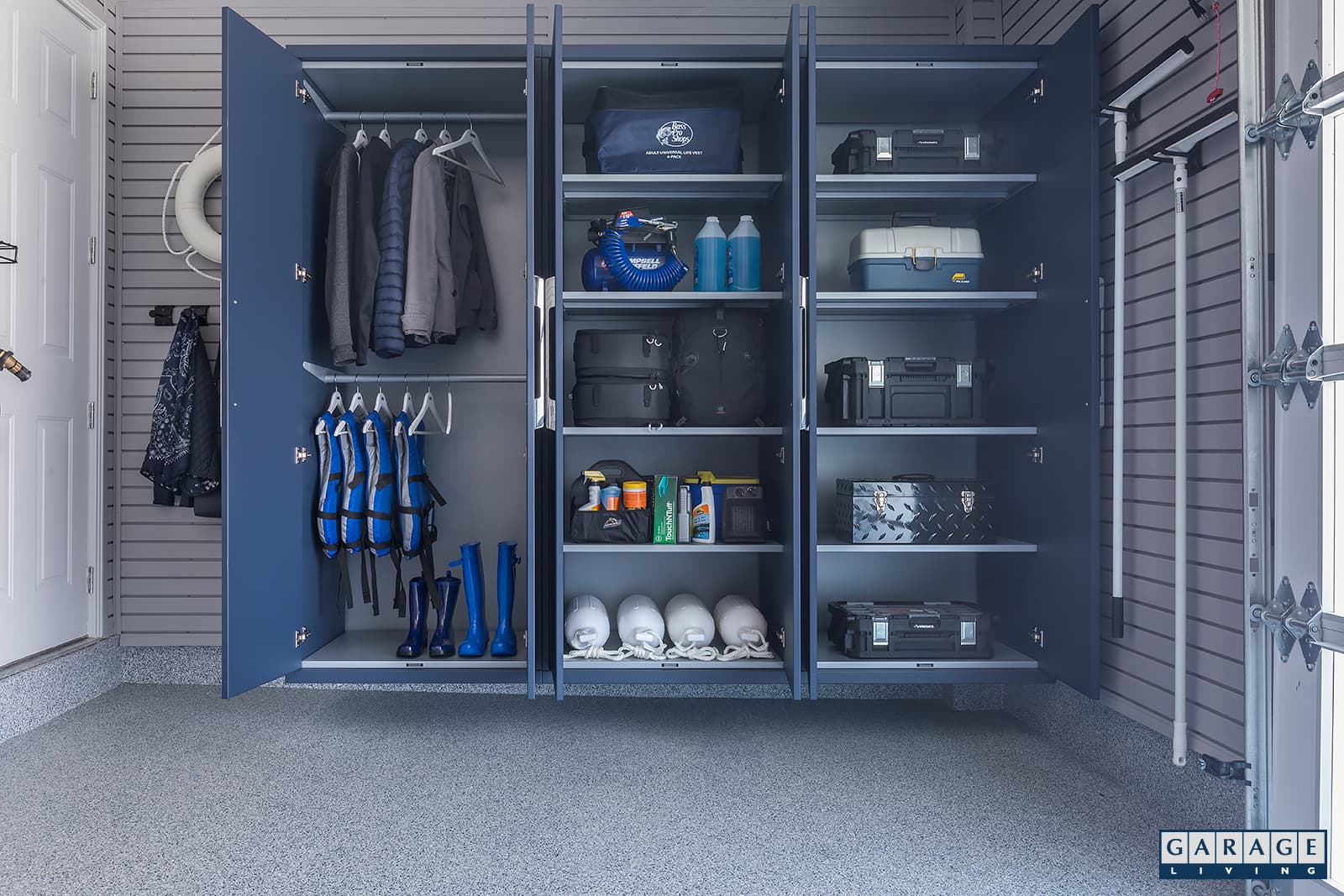 Clearly, this homeowner enjoys their outdoor water activities. All of their water apparel and gear can be kept organized and easily accessible, whether it's inside these cabinets or hanging on the slatwall. Closet rods for hanging clothes are a custom feature available in all GL Custom cabinets.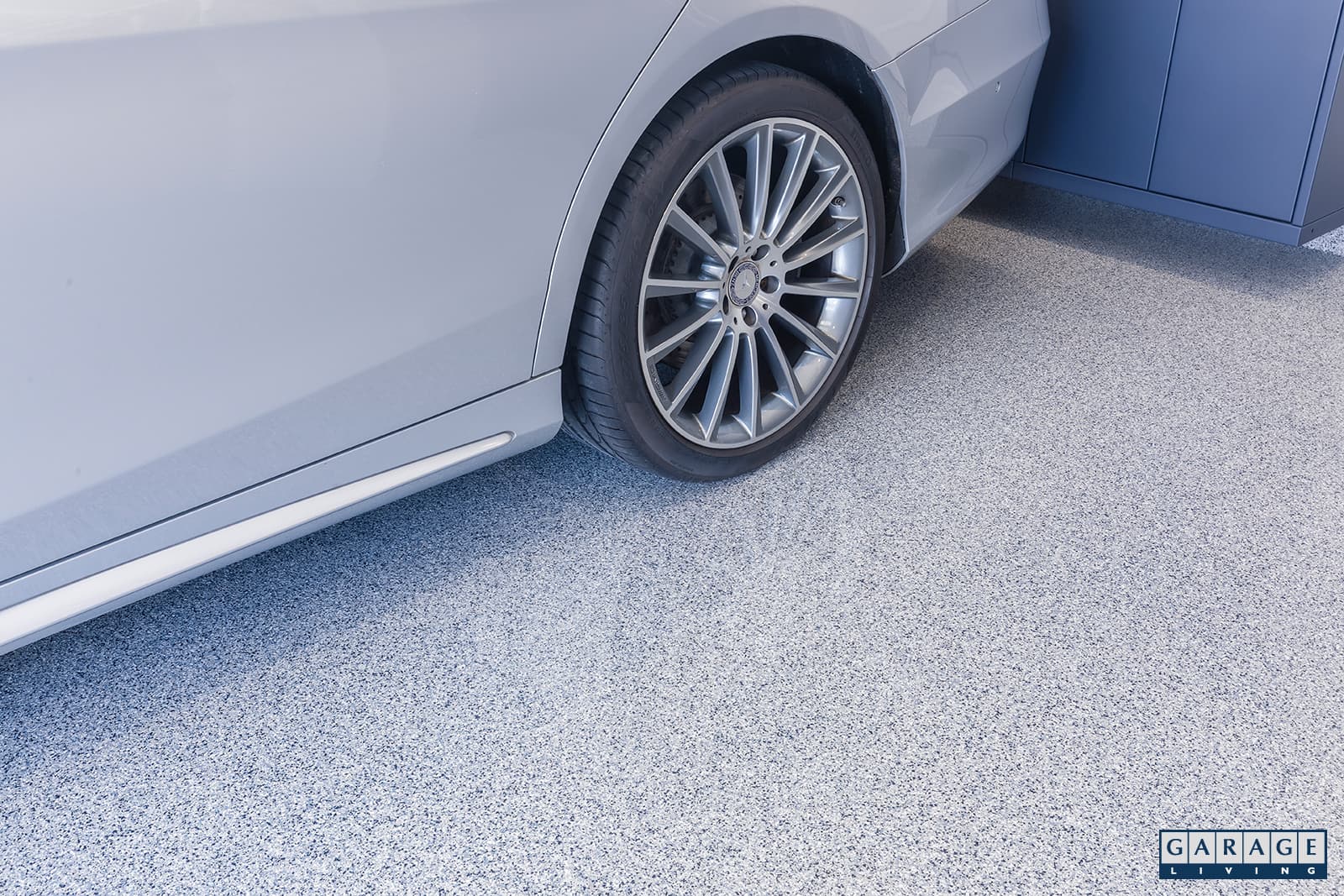 A high-performance Floortex™ floor coating provides showroom-quality looks and superior flooring protection (Harbor Blue color shown). Aesthetically, the flooring features a mixture of soft blue, indigo blue, various shades of soft grey, and white highlights.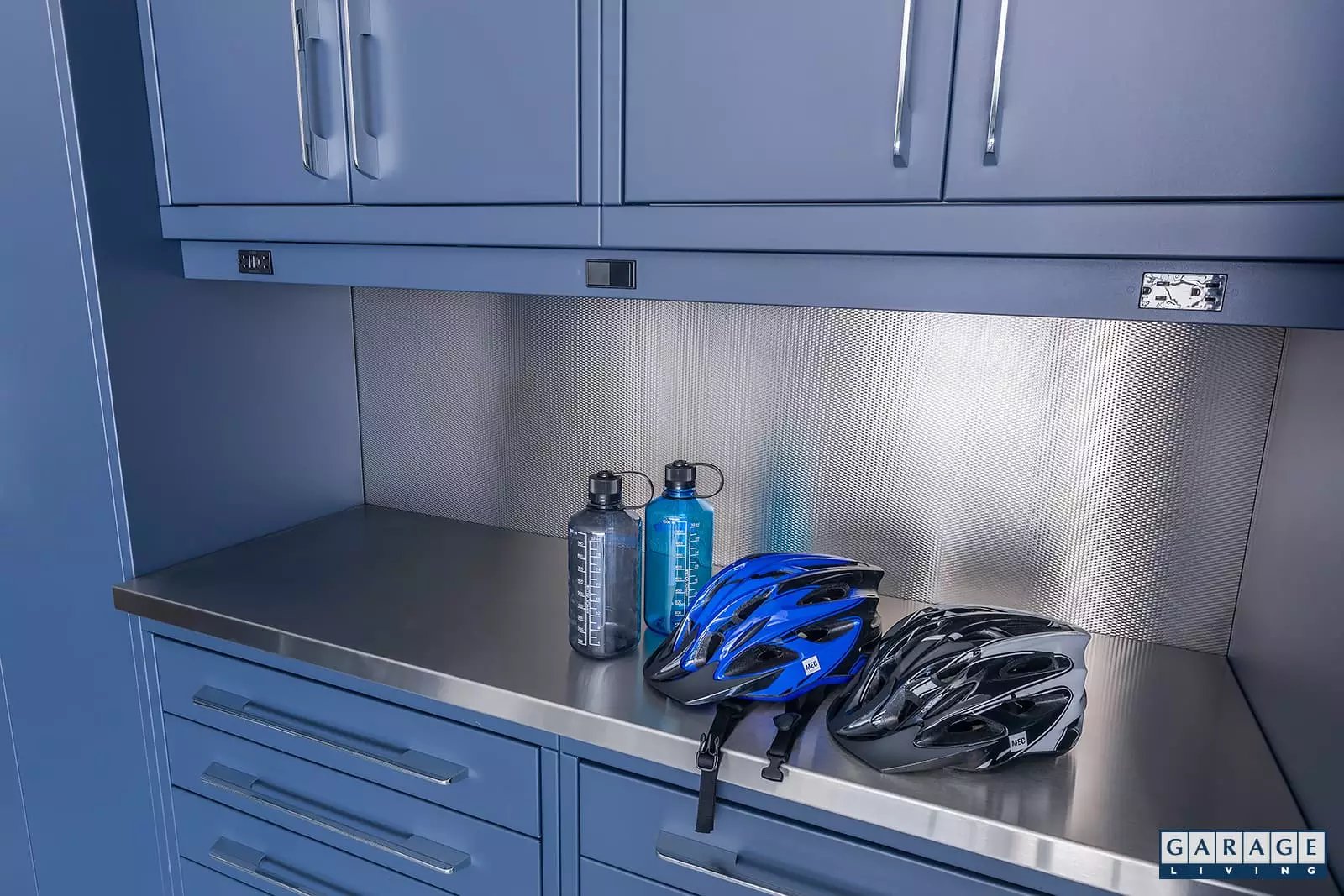 A stainless steel backsplash provides an appealing element to the cabinet's design. Valance lighting with an easily accessible switch and built-in eletrical outlets enhance the functionality of the workspace.
Tall lockers help you maximize vertical storage space. A step ladder helps provide access to upper shelves.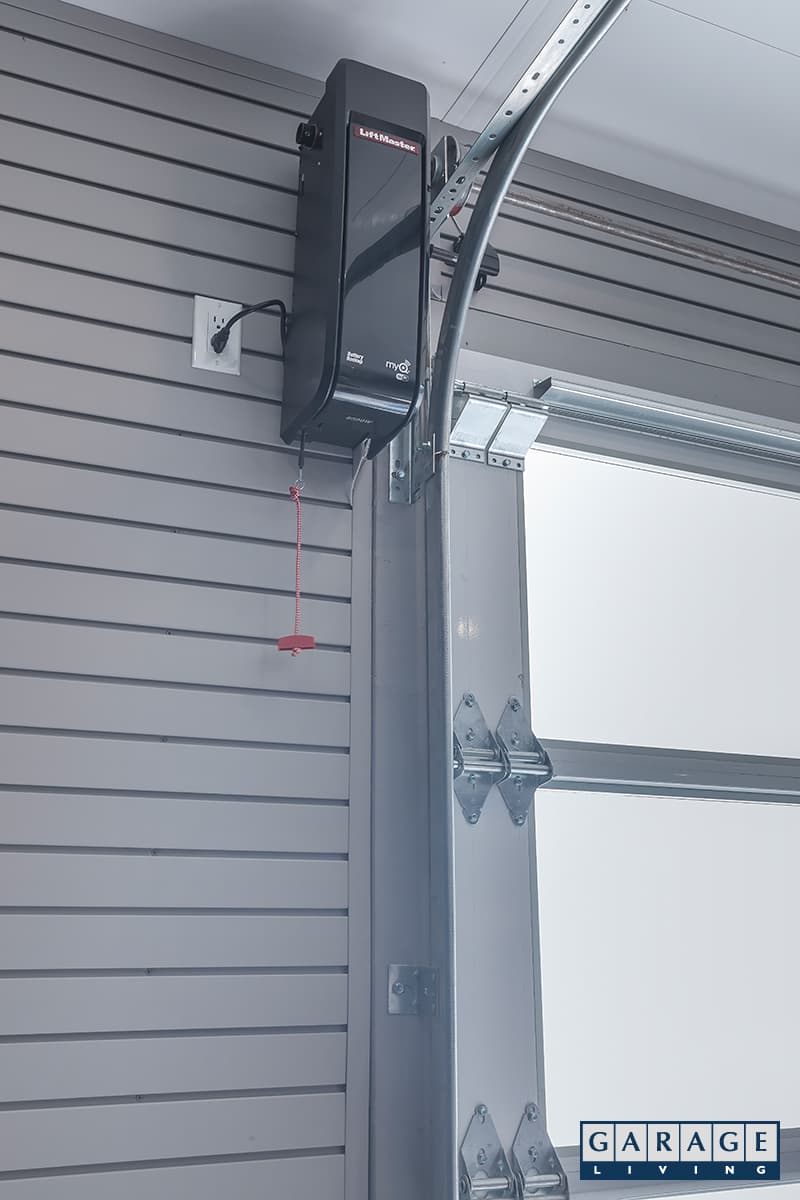 A wall-mounted LiftMaster Elite Series garage door opener provides ultra-quiet operation. The MyQ Technology feature allows for remote door operation and monitoring from anywhere via a smartphone.
COMPLIMENTARY DESIGN CONSULTATION
Let's talk about your garage remodel.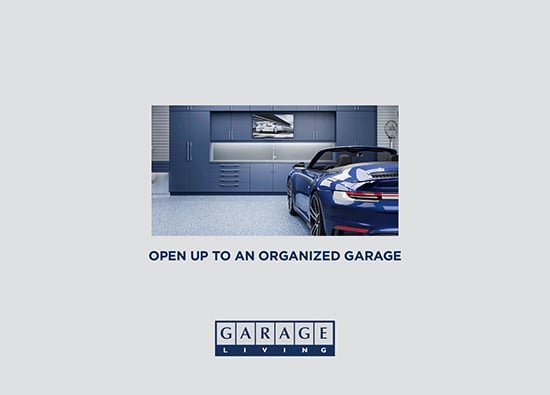 IDEA BOOK DOWNLOAD
Get inspired with a complimentary 28 page idea book.