BRIAN FRIESEN
Dr. Brian Friesen holds a Doctorate in Medical Dentistry from the University of Manitoba, where he was honoured with the Gold Medal in dentistry. The award is given to the student with the highest academic standing in the faculty.
For over 25 years, Brian has owned and operated ten dental clinics and his own dental lab. He has travelled throughout North America and Europe seeking greater experience and education and sat as the President of the Canadian Academy of Restorative Dentistry and Prosthodontics.
Currently, Brian operates a thriving dental clinic. He also owns and operates National Carpentry and Installation, which has been in the finish carpentry business since 1978. The company has developed a reputation for top-quality workmanship and completed jobs all across Canada, as well as in Saint Lucia, Bermuda, and the U.S.
Brian's passion for carpentry and Garage Living's dedication towards excellence and high-quality workmanship made the pairing a natural fit. With extensive experience as a business owner and manager, Brian has a solid track record of success and brings his strong passion for business management to the Garage Living team.
In his personal time, Dr. Friesen enjoys playing poker and collecting fine art. He also has a keen interest in road racing, ice racing, and especially drag racing. He has restored cars and displayed them at local and international car shows. Most notably, he worked alongside Terry Capp, one of Canada's most famous racers. They rebuilt the Wheeler Dealer, a top fuel dragster that roared to victories on the international circuit in the 1970s. He has since donated it to Alberta's fleet of historic vehicles at the Reynolds-Alberta Museum.
Brian has taken numerous advanced high-performance driving courses and competed in drag races throughout North America. He had a very successful run within the Top Alcohol Funny Car (TAFC) class over many seasons and appeared on TSN.
Off the racecourse, Brian enjoys being involved within the community. He happily offers pro bono dental work, restoring the smiles of those who need it the most. He has also worked closely with the Children's Hospital Foundation, as well as the Toba Centre for Children and Youth to raise funding for some of the most vulnerable members of our society. Dr. Friesen believes giving back is a personal responsibility and considers himself privileged to be able to make a difference in other people's lives.
COMPETITIVE PRICING AND A WRITTEN WARRANTY
At Garage Living, we believe in giving our clients great value. Our pricing is competitive and we know that when you're trusting your garage renovation to us, you'll be given exceptional quality, a hassle-free installation, and great service all at a fair price.
We stand behind everything we sell and give every client a written warranty which covers both products and installation. Our longevity and size guarantees that we'll be here years from now whenever you need service or would like to add on to your garage project.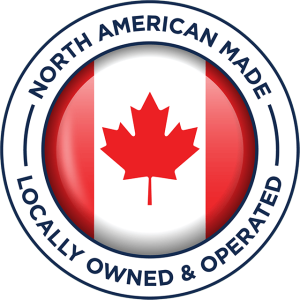 SHOP LOCAL
We are locally owned & operated with a personal commitment to care for you! Employing from within each neighborhood we serve, we train design consultants, and technicians to offer superior customer service close to home.
Our premium products are proudly Made in North America. We utilize local manufactures for higher quality products at competitive prices. Creating durable solutions that will not end up in landfills, but improve the quality and lifestyle of your home.