FORT WORTH'S SPECIALTY STORAGE RACK SOLUTIONS
When you need effective heavy-duty garage storage solutions, turn to Garage Living Fort Worth. We have storage racks that are ideal for the bulkier items you need to store in the garage, such as sports equipment, tires, large storage bins, and much more. Free standing and wall-mounted open shelving storage is also available for large items that you'd prefer to keep readily accessible.
Some of the other specialty products available from Garage Living Fort Worth include LED garage lighting, bike racks, and a unique space-saving foldaway workbench.
Garage Living's overhead storage racks are the best way to organize and store bulky seasonal items that need to be kept in the garage.
Items like patio furniture, winter tires, storage bins, and sporting equipment can be placed in overhead storage racks to maximize your underutilized garage ceiling space.
Special features:
heavy gauge steel construction allows up to 600 lbs to be safely supported
powder coated paint finish for a long life
each rack adjusts in height (up to 45 inches)
2x8, 3x6, 3x8, 4x4, 4x6, and 4x8 (feet) sizes available
storage racks can be adjusted for unique spaces as well
LED Garage Lighting
If your garage has a single light bulb or a flickering fluorescent light, then it's time for a new light fixture.
Our choice for a garage light fixture is a 4-foot LED light that delivers high quality, uniform lighting. This energy efficient LED light provides the same light output as ten 60W incandescent bulbs with 90% less energy consumption.
It also has an unbreakable lens and housing suitable for many wet locations.
Specifications:
Color temperature: 4000K
Watts: 71
Lumens: 8,310
Rated for 180,000 hours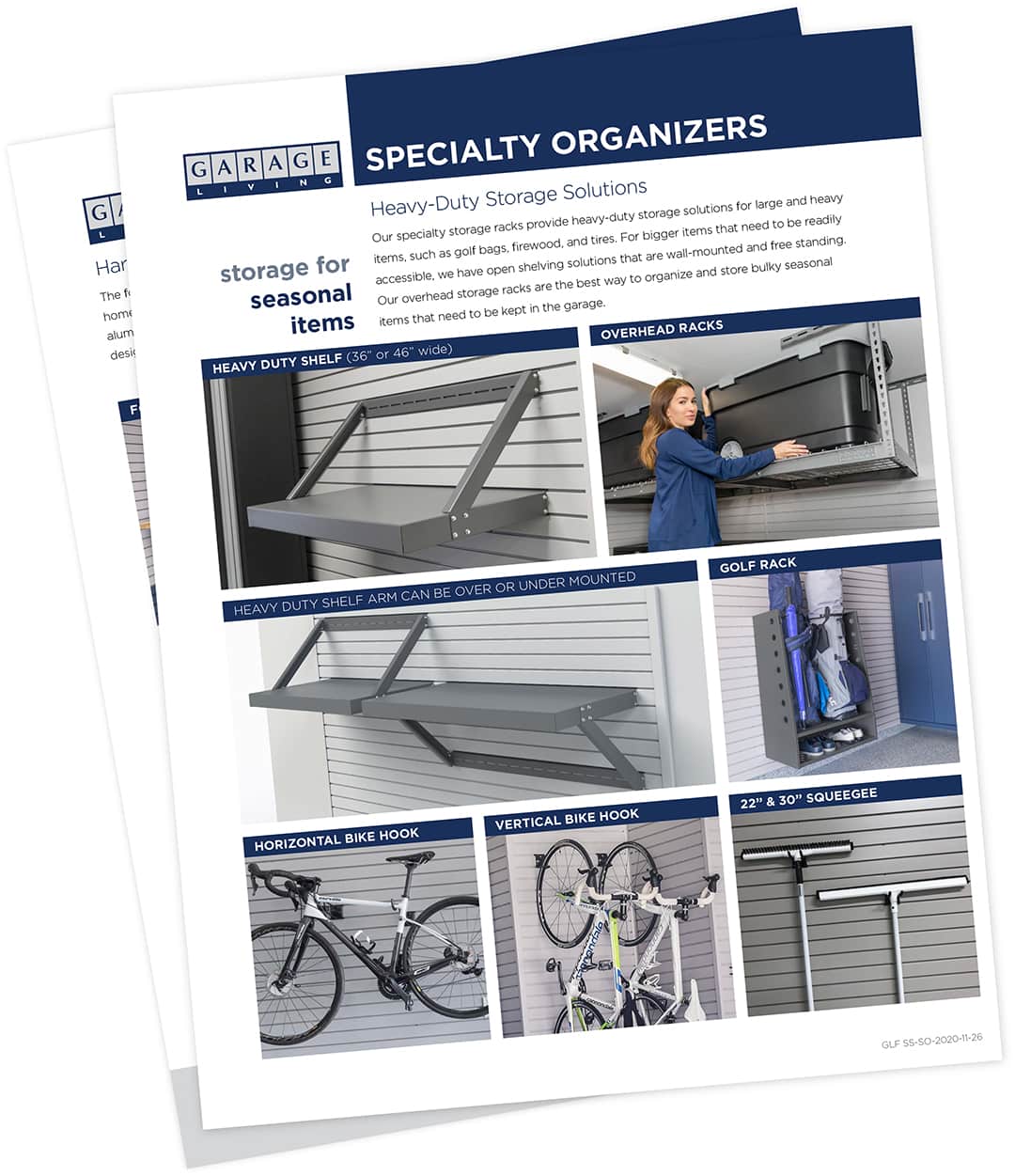 SPECIALTY STORAGE RACKS BROCHURE
Download a copy of our specialty storage racks brochure.