Replacing your garage door delivers one of the best returns on investment for home remodel and renovation projects. That's according to Remodeling Magazine's long-running annual Cost vs Value report, which estimates the costs and value retention of home renovation projects. In fact, while their 2013 report listed a 75% return on investment for garage door replacements, that number jumped up to 91.5% on their 2016 report.
Clearly, recouping such a high percentage of costs should make replacing your old garage door an even more attractive proposition. Garage doors are also important because they're a heavily used home entrance and exit and can make up as much as 30% of your home's front exterior.
If you're looking to replace your garage door, there's more options than ever to choose from. Where do you start? Familiarize yourself with the various types of garage door materials to help make an educated choice when you're ready to buy.
Garage door materials and what you need to consider
The most common garage door material types are steel, wood, fibreglass, and aluminum frame with glass panels, also known as full view aluminum. When comparing garage door materials, many factors will dictate what type of material you'll choose, including:
how long you want the garage door to last
style preference
maintenance preference
insulation options required
how your garage door choice matches with the exterior architecture of your house
It's possible that some garage door materials may not come with the specific design features you want. If that's the case, Garage Living's experts can certainly present you with many other options to choose from to help you arrive at a garage door choice you'll be thrilled with. How much time are you willing to spend on future maintenance on your garage doors, such as painting or staining? Wood doors will obviously require more attention than steel doors.
Garage doors have come a long way
Garage door construction has advanced rapidly in the past 10-15 years. The modern-day garage door offers far more benefits than the garage doors of yesteryear. All of the following improvements to garage doors help boost your home's curb appeal and value:
improved strength and rigidity
better energy-saving insulation features
far more design and style options
less maintenance required
longer-lasting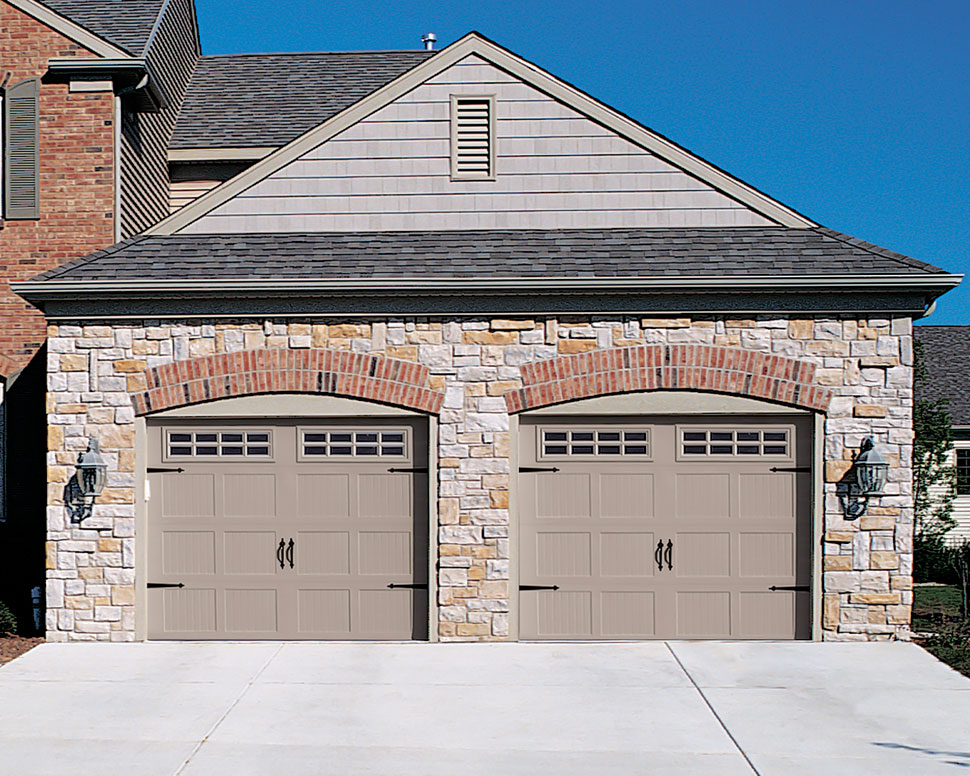 Steel garage doors are popular for many reasons
There are many reasons why steel is one of the most popular garage door materials, not the least of which is affordability. While steel can dent, it's also the most durable material because it won't delaminate, crack, or warp. Today's steel garage doors are also far less prone to rusting and needing maintenance, such as repainting. Richards-Wilcox steel garage doors from Garage Living come with a limited lifetime warranty.
Steel garage doors offer outstanding design flexibility that allow you to really draw attention to your home's exterior. If you like the look of wood but don't care for the necessary upkeep wood doors require, a faux wood overlay on your steel garage door is a great option. Carriage house style garage doors project a classic wood look, while providing the durability of steel.
Enjoy the ability to choose from numerous colours and add raised, recessed, and flush panel textures, or appealing window treatments to your steel garage doors. As far as garage door materials go, steel is also excellent when it comes to insulation options, which typically come in polystyrene or polyurethane form.
Enjoy the classic appeal of wood
If authenticity and a traditional look are what you want for your garage exterior, wood is the way to go. After all, wood is the original garage door material. Wood garage doors come in a variety of finishes and colours, along with a wide range of panel and window styles.
Cedar is a popular wood species and well-suited to the fluctuating temperatures of the Canadian climate. Another of the wood garage door materials you can choose is mahogany. It may cost a little more, but it's hard to beat mahogany's sophisticated and warm look.
Choosing wood will require more attention and maintenance on your behalf. Changing climates will make the wood contract and expand, so you'll have to stain or paint it occasionally. While there may be a small amount of extra work involved, you'll find the effort well worth it for the inviting and earthy look that only authentic wood garage doors can deliver.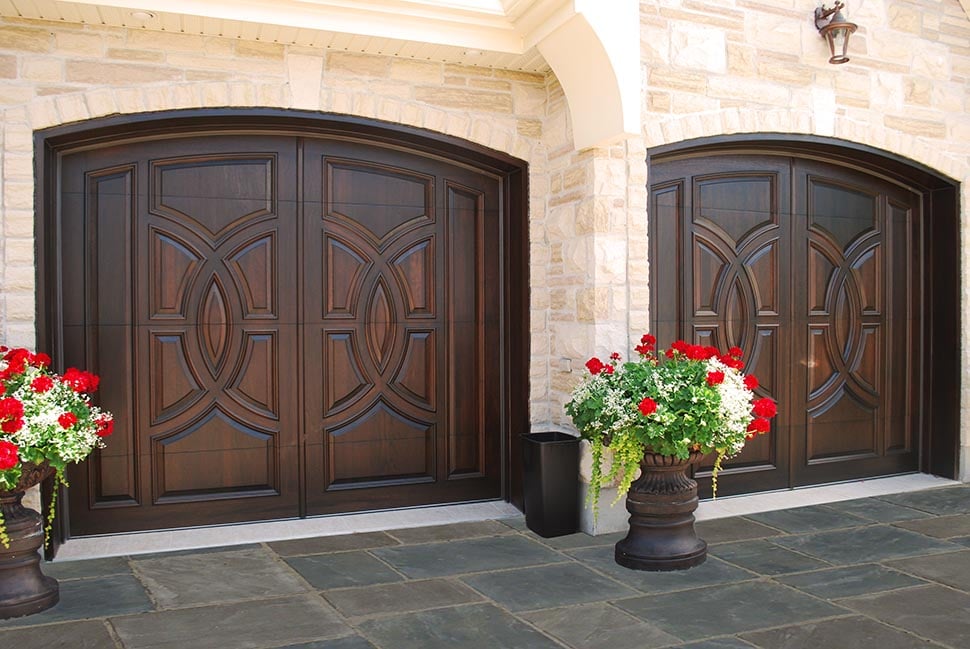 For a truly bold statement, consider full view aluminum garage doors
The raw industrial look of aluminum framing combined with glass panels results in the modern look that only comes from full view aluminum garage doors. A fitting complement to your home's modern architecture, full view aluminum doors make a bold statement and will remain stylish for years to come.
The aluminum on these garage doors can be painted almost any colour you choose, plus there's additional glazing options. Many glass options are available, such as your choice of clear, tinted, and translucent panels. Full view aluminum garage doors are also very lightweight and durable. Care does need to be taken with them, though, considering the obviously fragile nature of glass and the fact aluminum can dent.
Don't rule out fibreglass garage doors
The last of the garage door materials to consider is fibreglass. Like steel garage doors, fibreglass doors come in faux wood designs to give you the rustic look of wood. Fibreglass doors give you plenty of durability because they're less affected by environmental stress. They're also lightweight, low-maintenance, and won't rust. One of their drawbacks is that fibreglass doesn't have very strong insulating properties.
Fibreglass garage doors can be a practical option if you want to refresh the exterior look of your home when you decide to put it on the market. Remember, the garage door is a focal point for any home's exterior. Impress prospective buyers with the sharp looks that a quality fibreglass garage door can provide.
Now that you're armed with a little more knowledge about garage door materials, schedule your free consultation with us today. Together, we'll find the right garage door choice for your home.
See also: